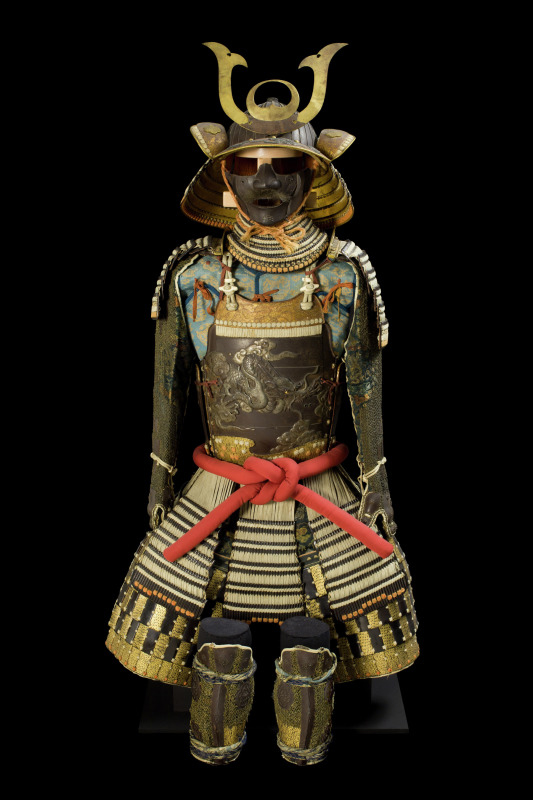 About the Art
Inspired by Suit of Armor and Helmet by Juryo Mitsumasa and Haruta Katsumitsu, 18th Century.
The suit of armor was crafted in the 1700s during the Edo period, a period of over 250 years of peace in Japanese history. This armor was not intended for actual use. By the time of its construction, war had not been part of Japanese life for more than a century.
The samurai who ordered or bought this suit admired the samurai warriors of the past and their ideals of faithfulness, loyalty, devotion, and dedication.
This suit of armor has many of the traditional elements that older suits might have had and was therefore a way to honor the past.
Guiding Question
What do you notice on the armor that hints at what was admired about samurai warriors?
(Hint: check out the details on the about the art webpage to learn more about the unique significance of each part of this armor.)
Your Turn
Create a wearable work of art that honors someone in your past using whatever materials you have (paper bags, recyclables, scissors, tape and/or glue, etc.).
Instructions:
1. Brainstorm about people in your past that you admire.
Who do you admire?
What do you admire about them?
What sorts of items and symbols and do you associate with them?
2. Experiment with creating clothes, accessories, or other items you can wear to horror the individual or group of individuals you have selected.
3. Put on your suit of admiration and show it off!
Related Creativity Resources