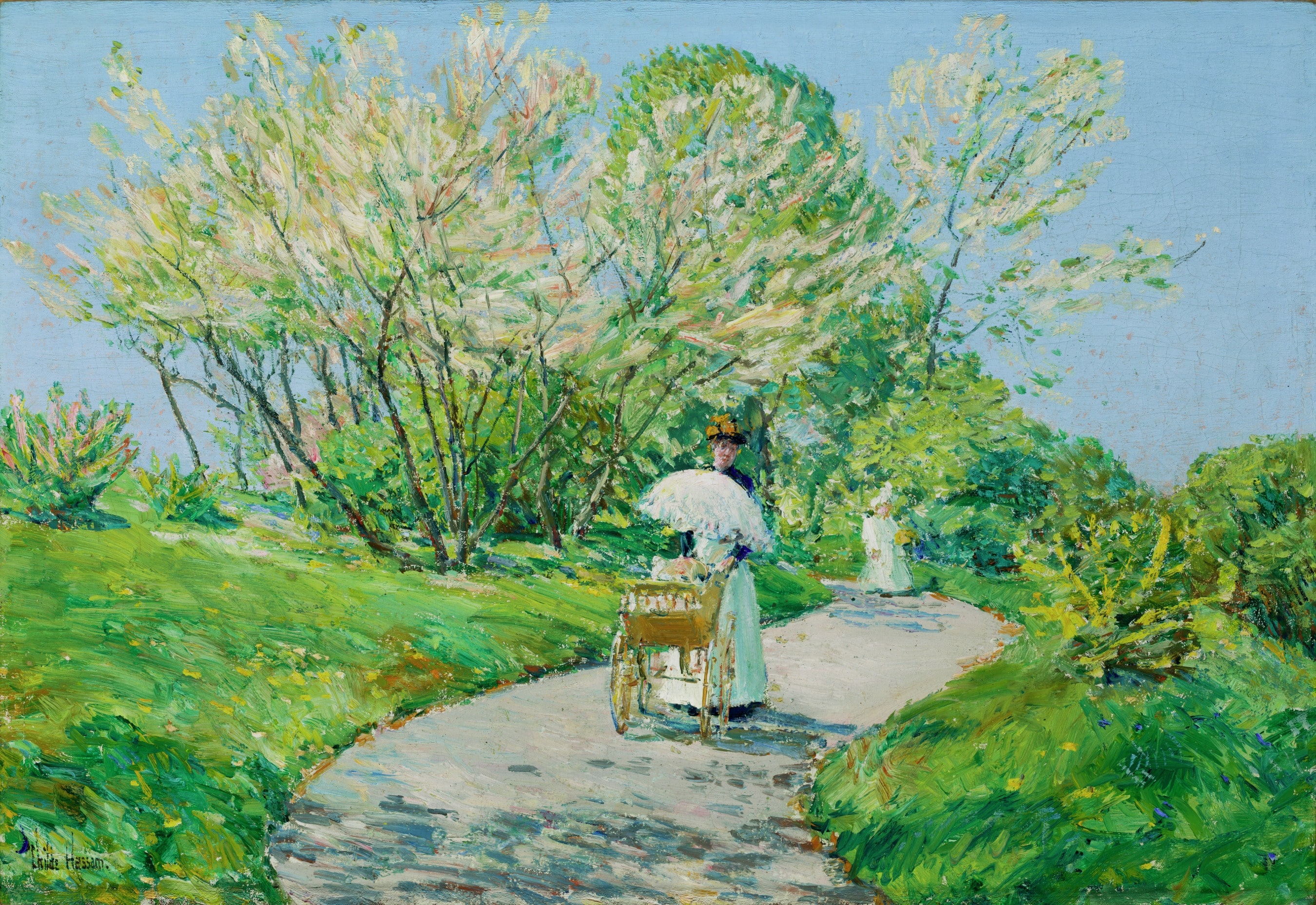 About the Artist
Frederick Childe Hassam (1859–1935), known simply as Childe Hassam, was a prominent American painter in the 1800s and early 1900s. He lived in Europe for several years, and his work was heavily influenced by French impressionism. He was attentive to the world around him and interested in depicting multiple aspects of his life: from busy cities to the charming countryside.
Look at this painting by Childe Hassam. What do you think is the main focus of the painting? What details do you think the artist saw that might be missing from this scene? If it helps, make a list of your ideas!
Guiding Questions
Look at the people in the painting. What do you think their stories are? Are they connected?
Imagine you are taking a walk in the park. What are some things you might notice? What might stand out to you?
How do you think an artist chooses what images to focus on when they are creating?
What feeling, story, or setting do you think the artist was trying to capture here? Do you think this painting is a truthful representation of the moment?
Imagine the painting was from the perspective of the person in the background. How do you think the painting would change? What would the audience be able to see (or not see) about this scene?
Materials
Blank paper
Printer
Scissors
Glue or tape
Pencils, pens, markers, or whatever else you like to draw with!
Instructions
Print this page so you have a copy of the activity and painting, A Walk in the Park or Springtime in the Park.
Add onto the painting. Draw in what you think is happening outside of the frame!
If you want more space to draw, cut out the painting and glue or tape it onto a blank piece of paper. You want to have lots of empty space around the painting.
Reflection Questions
When you make art, what are some details that your audience doesn't get to see? Try to think of a few specific examples.
When you take a photo, what parts of that moment are you trying to capture?
Think about the pictures in your life. Some examples might be family photos or pictures you post online. What stories do they tell about that moment or those people? What is left out?
Related Creativity Resources