Marie Watt models her approach to artmaking on Indigenous ways of sharing knowledge and learning. By organizing "sewing circles," she creates space for face-to-face, multigenerational gatherings of people from different backgrounds and life experiences who share stories—sometimes unscripted and at other times following a thematic prompt. She sees her role in the process as "setting the table" but allows for each person to engage at any level they wish. Each person's stitch is unique but comes together with those of others to create something larger than themselves. Canine forms and references found in her work highlight this "pack" experience. Taking part in one of her sewing circles is powerful. You can feel connections forming among those who contribute to a project. For participants, it is the time spent together creating that makes the process memorable.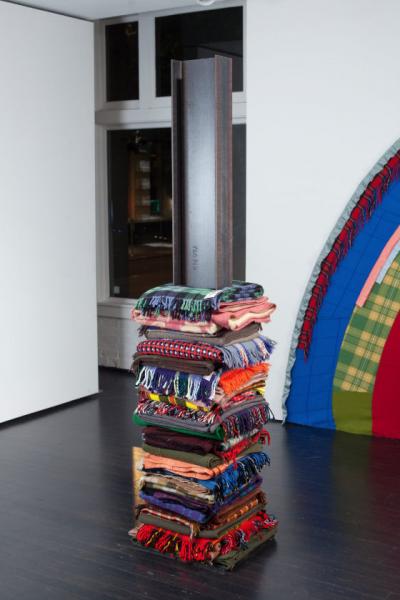 Marie Watt (Seneca and German-Scots)
Skywalker/ Skyscraper (Babel), 2012
Reclaimed wool blankets and steel I-beam
Lent by Brian A Tschumper
Courtesy and © of the artist and PDX Contemporary Art.
Tall buildings occupy the sky but remain rooted to the ground—and take a collaborative effort to build. Since 1916, Haudenosaunee (Iroquois) ironworkers, known as "skywalkers" for their renown in working on high steel beams without safety harnesses, helped build Manhattan's skyscrapers. Juxtaposing hard steel with soft blankets, Watt asks us to think about how we seek to reach the sky and the collective actions we take to achieve this dream.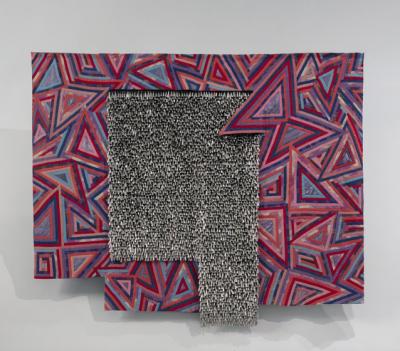 Each person's stitch is unique, like a thumbprint. As the threads intersect and blend, I see them as a metaphor for how we are all related.
Marie Watt (Seneca and German-Scots)
Butterfly, 2015
Reclaimed wool blankets, satin binding, thread, cotton twill tape, and tin jingles
Denver Art Museum: Funds from Loren G. Lipson, M.D., Vicki & Kent Logan, with additional funds from Brian A Tschumper, Nancy Benson, Jan & Mike Tansey, and JoAnn & Bob Balzer, 2016.1A-B.
© Marie Watt
In the summer of 2013, Watt was an artist-in-residence at the Denver Art Museum, where she organized sewing circles with the community to create monumental textiles. This work was inspired by two young Indigenous girls who told her about their experiences as powwow dancers: one who shared that she feels like a floating butterfly while dancing and another who told the origin story of her jingle dress and its ties to healing.
Marie Watt and sewing circle participant share stories while working on Butterfly at the Denver Art Museum's annual Friendship Powwow in 2013.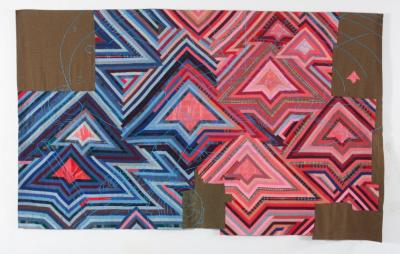 Marie Watt (Seneca and German-Scots)
Trek (Pleiades), 2014
Reclaimed wool blankets, satin binding, embroidery floss, and thread
Tia Collection, Santa Fe, NM
Image courtesy and © of the artist. Photograph by Aaron Johanson.
Inspiration can come from near and far—from family mementos to the outer reaches of space. Watt's recognition of the sources of inspiration, such as Star Trek, adds nuance to our understanding of collaboration. We are all connected through those who came before us, the stories passed down through generations, and those who we come to know. When these connections manifest themselves in an artwork, the artist engages in a form of collaboration.
Trek (Pleiades) shown during a community sewing circle hosted by Watt at the Denver Art Museum in 2013.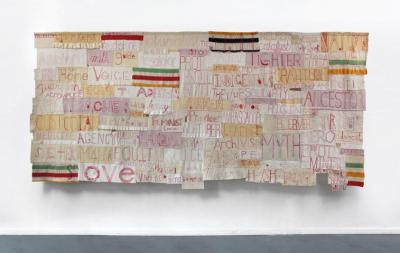 Marie Watt (Seneca and German-Scots)
Companion Species: Ferocious Mother and Canis Familiaris, 2017
Reclaimed wool blankets, thread, and embroidery floss
Portland Art Museum. © Marie Watt. Image courtesy Portland Art Museum
When Watt brings people together for sewing circles, conversations sometimes riff off a theme or prompt she provides, and at other times participants share stories on their own. In this work, conversations circulated around the theme of equity. Words stitched onto the surface—Equity, Love, Shelter, Solidarity, and Voice—help us see visual thoughts brought to life by many hands, unified by a single shared experience (the sewing circle) and the diverse life experiences shared.
Each/Other: Marie Watt and Cannupa Hanska Luger is organized by the Denver Art Museum. It is presented with the generous support of Vicki and Kent Logan, the National Endowment for the Arts, The Robert Lehman Foundation, the Adolph Coors Exhibition Endowment Fund, the donors to the Annual Fund Leadership Campaign, Stelo, Native Arts and Culture Foundation, Osage Nation Foundation, and the residents who support the Scientific and Cultural Facilities District (SCFD). Promotional support is provided by 5280 Magazine and CBS4.