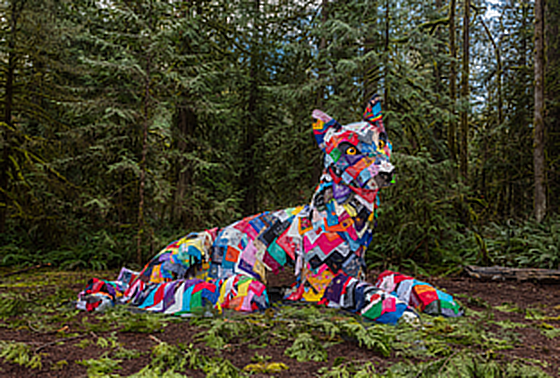 Cannupa Hanska Luger (Mandan, Hidatsa, Arikara, Lakota, European) and Marie Watt (Seneca and German-Scots)
Each/Other, 2020-2021
Metal, wool, bandanas, and embroidery thread
Courtesy and © of the artists.
You are now an accomplice. You are now a collaborator. You are now invested. That creates an empathy path, a way for us to embrace one another.
Watt and Luger merged their practices to create this sculpture with people from around the world. The artists asked participants to embroider messages while considering "if acts of collaboration help heal broken bonds with the environment and with each other." Together, these messages help us take notice of our neighbors by bringing awareness to things outside ourselves. How do they open your eyes to the experiences of others? Can you find messages that mirror your own experiences?
Hear artists Marie Watt and Cannupa Hanska Luger talk about their inspiration and creative process.
2021
Produced by Steven J. Yazzie
Duration: 5 minutes 3 seconds
Hundreds of visual messages were embroidered onto bandanas to complete Each/Other. Browse through them here.
2021
Each/Other: Marie Watt and Cannupa Hanska Luger is organized by the Denver Art Museum. It is presented with the generous support of Vicki and Kent Logan, the National Endowment for the Arts, The Robert Lehman Foundation, the Adolph Coors Exhibition Endowment Fund, the donors to the Annual Fund Leadership Campaign, Stelo, Native Arts and Culture Foundation, Osage Nation Foundation, and the residents who support the Scientific and Cultural Facilities District (SCFD). Promotional support is provided by 5280 Magazine and CBS4.