The creation and presentation of Cannupa Hanska Luger's artmaking practice interweaves performance and political action to communicate stories about 21st-century Indigeneity. He often uses social collaboration to create artistic responses to timely and site-specific issues. Using short instructional videos distributed on social media, Luger provides instruction on a simple act, such as forming a clay bead for Every One or making a mirrored surface for the Mirror Shield Project, to invite others into his creative process. This approach has a far reach and brings together the hands of many to create something monumental. Although the collaborators may never meet, each person is invested in the meaning of the work. Each project celebrates the effort it takes to collectively affect change.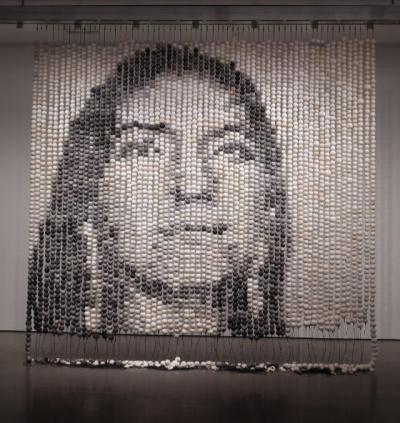 This type of engagement combines technology and handwork to mobilize action and even heal the communities who are facing immeasurable trauma from colonialization.
Cannupa Hanska Luger (Mandan, Hidatsa, Arikara, Lakota, and European)
Every One, 2018
Ceramic, social collaboration
Courtesy and © of the artist. Image courtesy of Marie Walsh Sharpe Gallery of Contemporary Art at Ent Center for the Arts, UCCS, Colorado Springs, CO.
Using over 4,000 clay beads created by many individuals, Luger interprets artist Kali Spitzer's (Kaska Dena and Jewish) 2016 photograph, Sister, calling attention to the thousands of missing and murdered Indigenous women, girls, queer, and trans people in Canada. Realizing the connection between workers hired by lumber, oil, and gas companies and increased murders and disappearances, Luger asks us to shoulder some culpability in the processes that lead to such violence and to find ways to heal.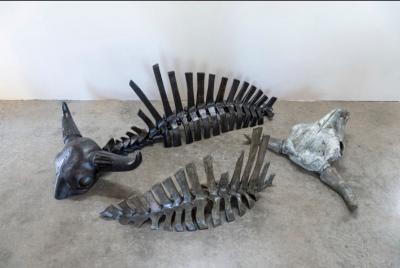 Cannupa Hanska Luger (Mandan, Hidatsa, Arikara, Lakota, and European)
Emergent, 2021
Ceramic
Courtesy and © of the artist
In the 1800s, non-Native settlers and military forces systematically slaughtered bison herds, driving the species to near extinction. This deliberate, destructive act devastated the economies, food sources, and lifeways of Plains tribes. Luger draws attention to how the loss of a single species has impacts on communities and the environment over 150 years later.
Cannupa Hanska Luger (Mandan, Hidatsa, Arikara, Lakota, and European)
Mirror Shields, 2016
Masonite, mirror adhesive foil, paracord, and social collaboration
Courtesy and © of the artist
This call to action was a direct political response to the acts of militarized police against those defending clean water during the construction of the Dakota Access Pipeline. Through an online call for collaborators and planned workshops, people across the country created mirrored, shield-like forms for the water protectors. Holding these while on the front lines of the standoff, the water protectors forced the police officers to face their own humanity reflected in the mirrored surfaces.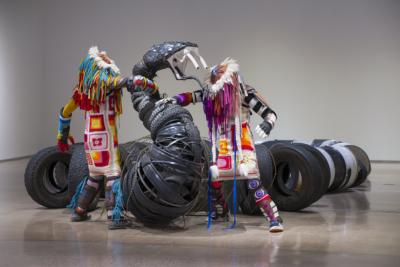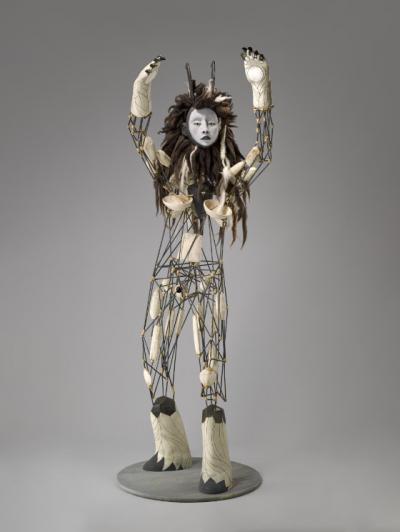 This work… requires engagement. I want to lay groundwork, to establish connections, to mobilize action.
Cannupa Hanska Luger (Mandan, Hidatsa, Arikara, Lakota and European)
This Is Not A Snake, 2017–2020
Ceramic, fire, steel, oil drums, concertina wire, ammunition cans, trash, and found objects
Courtesy and © of the artist
The One Who Checks and The One Who Balances, 2018
Ceramic, riot gear, afghan, wool surplus industrial felt, beadwork by Kathy Elkwoman Whitman
Courtesy and © of the artist. Photo courtesy of the Heard Museum, Craig Smith.
Nature, 2015
Clay, steel, and wool
Gift from Vicki and Kent Logan to the Collection of the Denver Art Museum, 2016.31A-D. © Cannupa Hanska Luger
With these three works, Luger models how we might rise up against forces, corporations, and attitudes that impact the world around us. According to the artist, the warrior twins, figures in Mandan oral stories, protect Nature (a fourth figure across the gallery) from environmental disaster caused by "industrial exploitation of Indigenous land and its minerals." While the twins tell us to act to protect nature, Luger acknowledges that nature will endure long after we are gone.
Cannupa Hanska Luger (Mandan, Hidatsa, Arikara, Lakota, European)
Costumes from Sweet Land Opera: Coyote, Coyote, Bone and Wiindigo, 2020
Mixed media
Courtesy of the artist.
Premiering in Los Angeles in 2020, the experimental opera, Sweet Land, dramatizes narratives of violence and erasure, replacing popular tales of early colonization, the rise of the United States, and its expansion into the West. Luger's collaborators included producers, another director, designers, composers, and performers who brought this opera to life, making it, at once, a collaboration with others but also a collaboration with the land, exposing the incomplete narratives too often told of colonial experiences.
Each/Other: Marie Watt and Cannupa Hanska Luger is organized by the Denver Art Museum. It is presented with the generous support of Vicki and Kent Logan, the National Endowment for the Arts, The Robert Lehman Foundation, the Adolph Coors Exhibition Endowment Fund, the donors to the Annual Fund Leadership Campaign, Stelo, Native Arts and Culture Foundation, Osage Nation Foundation, and the residents who support the Scientific and Cultural Facilities District (SCFD). Promotional support is provided by 5280 Magazine and CBS4.