Program Schedule
No Stitches Needed Origami Quilt-Making, 5-8 pm Martin Plaza
Join an origami quilting circle with We Were Wild (Meredith Feniak & Risa Friedman) and create your own folded paper quilt square. After completing your origami square, add it to the growing collaborative quilt hanging on the laundry line.
In Stitches, 5-8 pm, Level 1 & 2 Atriums
A visual storytelling collaboration from R. Alan Brooks & We Were Wild (Meredith Feniak and Risa Friedman). Find two life-size pieces of the story in the museum and take home your own copy of their zine.
Level 2 Atrium: Storytelling Installation
Level 1 Atrium: Storytelling Installation
Lower Level: Zine Takeaway
Without a Stitch: "Same Heart," 5-8 pm, Level 1 Atrium
Artist Chris Haven uses the deconstruction of his stitched Pyramid Plushies to reveal hidden human connections. Watch the video in the museum or on your personal device.
Stitching Stories: Storytelling Studio, 5-8 pm, Level 1 Atrium
Discover how artists combine visual imagery and the power of words in two interactive self-guided activities. The Denver Art Museum's interactive Storytelling Studio is a place to spark your creativity, connect with Denver's creative community, and get a new perspective on the artistic process.
The Stitch-u-ation: Offbeat Art Tour, 5-8 pm, Level 2 Gallery
Watch prize-winning comedian Sam Adams on your personal device for a humorous take on Simphiwe Ndzube's Oracles of The Pink Universe. Find the QR codes in the gallery!
Find a curated playlist for the evening on the DAM's Spotify.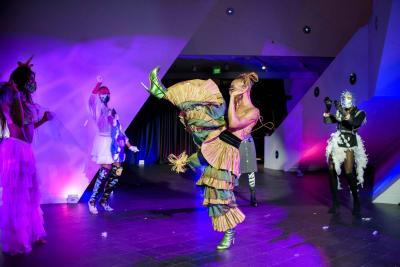 What is Untitled?
Untitled: Creative Fusions is a quarterly collaboration with local artists and creatives to create an evening full of events, performances, experimentation, and one-of-a-kind experiences. Throughout the night, artists showcase their work while providing a hands-on and engaging atmosphere.
Untitled: Creative Fusions is supported by the National Endowment for the Arts and The VF Foundation.