O day and night, but this is wondrous strange!
In Shakespeare's Hamlet, Horatio coins the perfect phrase to describe the appearance of Hamlet's murdered father's ghost ... and, it turns out, centuries later, the simultaneously intriguing and unsettling art of Andrew Wyeth and his son Jamie. (On view at the Denver Art Museum November 8-February 7)
Halloween plays a big role. The holiday, says Jamie Wyeth, has "sort of been a big thing in our family. … We dress up all the time, anyway; but it's kind of an excuse to do it not just among ourselves."
Both Wyeths delighted in costume, in infusing the fantastic into the everyday, in striking an undercurrent of mystery, discomfort, and sometimes peculiar humor through their work.
In painting, Andrew and Jamie have depicted variations on the holiday's most iconic symbols—jack-o-lanterns, masks, ghosts, scarecrows—and Jamie's most famous self-portraits feature his body with a pumpkin head.
But the artists evoked Halloween more subtly as well. Jamie's interest in subjects like Andy Warhol stemmed from the pop artist's childlike sense of wonder, his white wig, and his "endless hours of applied makeup." Warhol was, says Jamie, a "figure out of Halloween."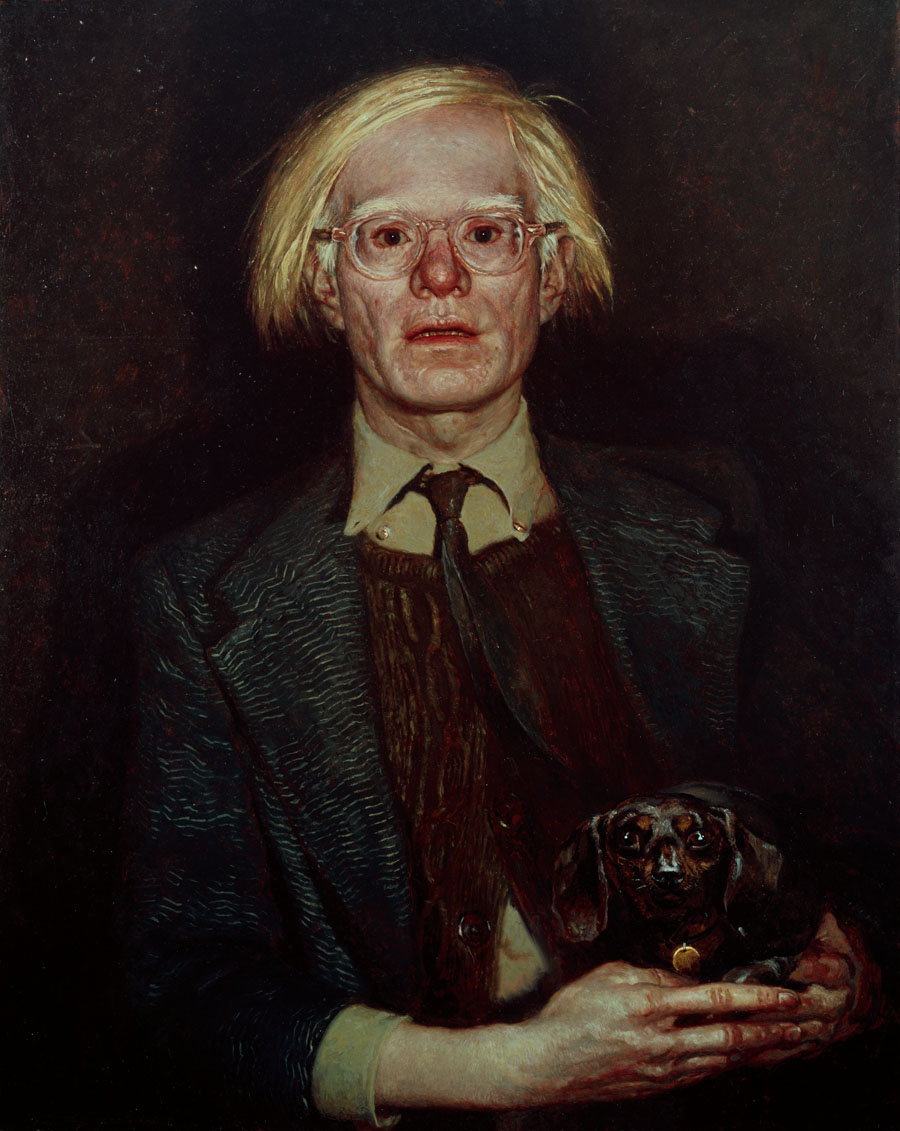 For Andrew, it's the haunting mood of the holiday that underlies much of his work: "There's witchcraft and hidden meaning there. Halloween and all that is strangely tied into [my paintings]," he once said. "For me, the paintings have that eerie feeling of goblins and witches out riding on broomsticks—damp rotting leaves and moisture—smell of make-up—as a child, the smell inside of a pumpkin when a candle is lit—the feel of your face under a mask walking down a road in the moonlight. I love all that, because then I don't exist anymore."
Andrew longed to hide, to observe the world from behind a mask. He said, "50 years after I'm dead, I'll come walking back in disguise. I'd like nothing better."
Top image credit: Jamie Wyeth, Kyle and the Influence, 2000. Combined media on toned board; 24 x 18 in. Courtesy of Haynes Galleries, Thomaston, ME, and Nashville, TN. ©Jamie Wyeth.