Women played a pivotal role in the artistic circles of Mexico during its post-Revolution period of the 1920s through the 1950s. With lives intertwined, identities expressed, and ideals voiced, these women were driving forces in defining this modern era. Frida Kahlo surrounded herself with Mexican artists Lola Álvarez Bravo and María Izquierdo along with expatriates Lucienne Bloch, Leonora Carrington, Olga Costa, Alice Rahon, and Remedios Varo, among many more.
María Izquierdo
María Izquierdo (1902–1955) was one of the most important and well-known Mexican artists in her lifetime. She formally trained and studied under los tres grandes, the three most prominent Mexican modernist muralists: José Clemente Orozco, Diego Rivera, and David Alfaro Siqueiros. Izquierdo exhibited at the New York Art Center in 1929, becoming the first Mexican woman artist with a solo show there. She then exhibited regularly in New York, Paris, and Santiago.
Izquierdo's painting Bride from Papantla (1944) could be considered as autobiographical. She was part of an arranged marriage, having been made to wed at the young age of 14 and quickly thereafter having three children. She later divorced. Scholar Dina Comisarenco Mirkin explains these female artists, including María Izquierdo, often "painted the unspeakable," in this case she explored the common theme of the "unhappy bride."
María Izquierdo helped shape these artistic circles in Mexico City as the lives of the women artists intersected. By 1934, Izquierdo had left her relationship with painter Rufino Tamayo. That same year, Lola Álvarez Bravo, then separated and raising her son alone, moved in with María Izquierdo and her children. Friends with Frida Kahlo, Izquierdo attended Kahlo's exhibition at Lola Álvarez Bravo's Gallery of Contemporary Art in Mexico.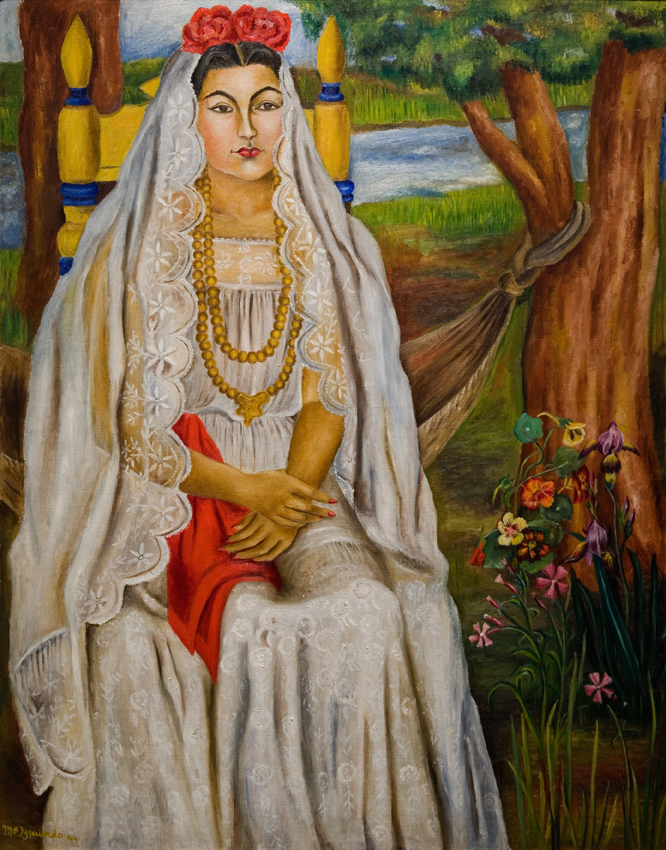 In our online course "Not Just Frida: The Women of Mexican Modernism" you can explore the diversity of works by María Izquierdo, Remedios Varo, Leonora Carrington, Lola Alvarez Bravo, and Frida, of course. December 15, 6 pm. Learn more and buy tickets.
Alice Rahon
Alice Rahon (1904–1987) lived in Paris during the 1930s where she closely associated with Surrealists, including André Breton, Joan Miró, and Man Ray. As a poet, she published three volumes while in Paris, and while there Rahon met Frida Kahlo who encouraged her to paint and move to Mexico. As Mexico emerged from the significant disruption of its 1910-1920 Revolution, it became an artistic hub, drawing artists from all over the country and world.
Rahon moved in similar circles as fellow expats Leonora Carrington and Remedios Varo, and she was a close friend of Frida Kahlo's. Like fellow artist Carlos Mérida, Rahon was greatly influenced by the petroglyphs of pre-Hispanic Mexico. Although her work is rooted in the earth as she mixed crushed stones, sand, and cement with pigments to create her own unique blend of paints, Rahon's interest in surrealism and the occult brought an otherworldly quality to her art. She explained, "I use a combination of natural components, which resonate like the wind with the tragic elements of the universe."
Lola Álvarez Bravo
A pioneer of modern photography, Lola Álvarez Bravo (1907–1993) began her career after marrying friend and photographer Manuel Álvarez Bravo at 18 years of age. He soon thereafter opened his photography studio where she was his lab assistant. Manuel taught Lola how to photograph and develop images, setting the stage for the creation of her own art. Lola sought to capture everyday subjects she described as "the life I found before me."
The Álvarez Bravos were key figures in the artist circles of Mexico, and they collaborated on projects with friends María Izquierdo, Frida Kahlo, Tina Modotti, Diego Rivera, David Alfaro Siqueiros, Rufino Tamayo, and others. In 1931, the couple opened an art gallery at their home where they showed their photographs with artworks by contemporaries, such as Orozco, Siqueiros, and Tamayo. After separating from Manuel, Lola continued to build her career as an artist, commercial photographer, photojournalist, and eventually as the chief of photography at the Instituto Nacional de Bellas Artes y Literatura, staying in this influential position for 30 years. Also during this time, Lola Álvarez Bravo opened her own art gallery in Mexico City, where she showed the art of her friend Frida Kahlo, making it Kahlo's only solo exhibition during her lifetime.
Together these women Mexican modernists wove a tapestry of powerful artistic and social influences where they explored realities juxtaposed with the fantastical, interpreted women's traditional experiences, and dealt with the psychological and emotional.