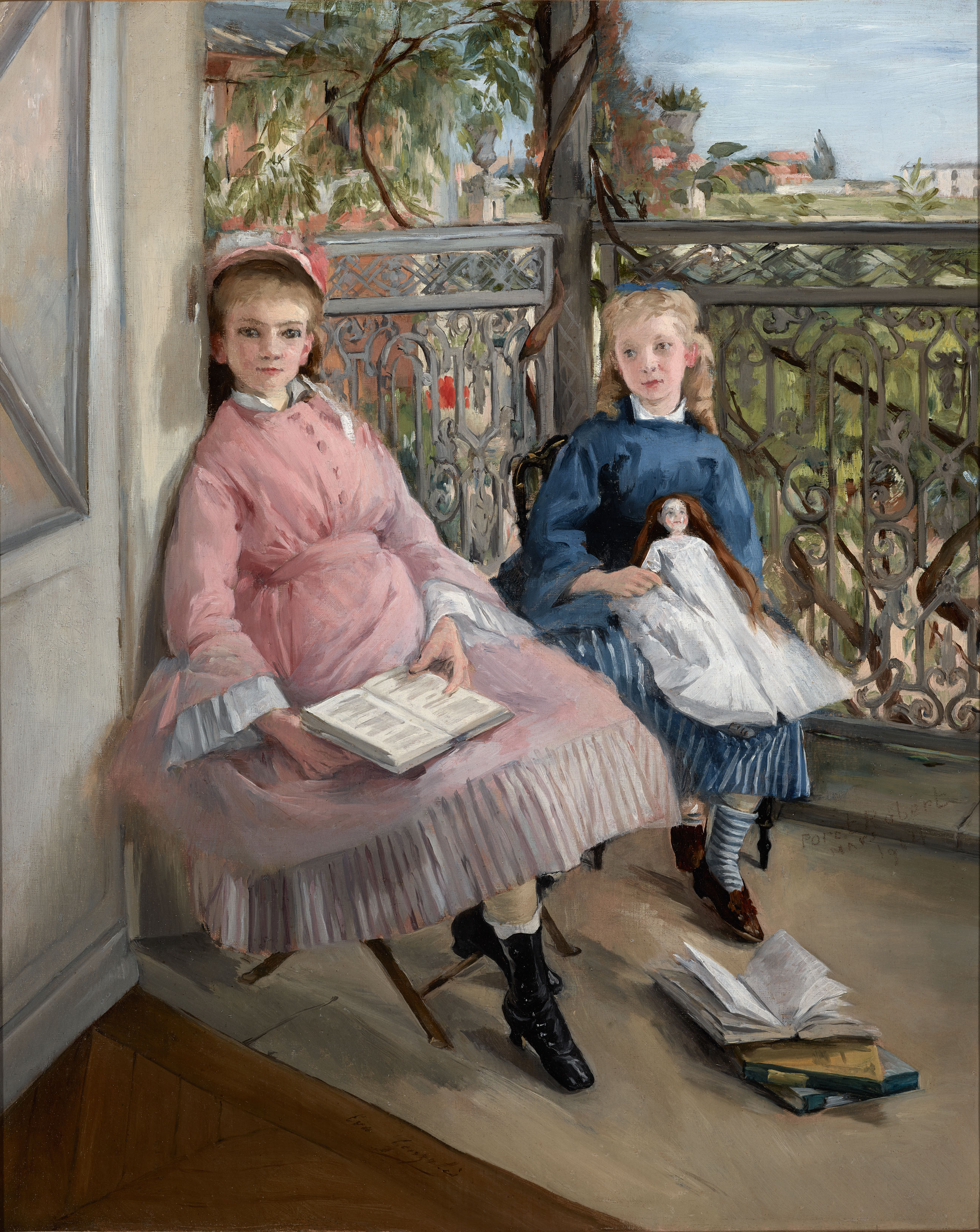 While under the instruction of Chaplin, Gonzalès set up her own studio in the Rue Bréda (now known as the Rue Henry-Monnier), a popular neighborhood for writers and artists, but in 1869 she began studying with painter Édouard Manet. She first exhibited The Little Soldier (1869, Musée de Gajac) at the 1870 Paris Salon (an annual art exhibition held by the Académie des Beaux-Arts). The painting was criticized for its harsh tones and contrast and for being similar to Manet's somber painting style. When seen next to Manet's The Fifer (1866, Musée d'Orsay), one suspects Gonzalès painted it as an homage to her teacher.
Gonzalès was the only formal student of Manet's, and with her as his muse, Manet completed two portraits of her, including Eva Gonzalès (National Gallery), which he submitted to the 1870 Paris Salon under the title Mlle E. G., and a three-quarter pastel portrait (about 1878, private collection). While under Manet's instruction, Gonzalès explored her individuality and identity through self-portraits and portraits of family members. She worked in oil paint and pastels, executing scenes of modern life and domestic interiors. Her sister, Jeanne, and husband, Henri-Charles Guérard, an engraver whom she married in 1879, were frequent models and inspiration for Gonzalès and can be seen together in A Loge at the Théâtre des Italiens (about 1874, Musée d'Orsay) as theatergoers.
In The Window (La Fenêtre) (1865–70) at the Denver Art Museum, we see a stylistic departure from Little Soldier, as she painted like her Impressionist counterparts, with looser brushstrokes and a softer color palette. In this relaxed scene, two young girls sit on a balcony—one holding an open book, the other holding a doll, and both girls seemingly distracted from their focus. A small stack of books seen in the foreground is likely a visual tribute to Gonzalès's novelist father, whom she adored.
During her career, her work was praised by realist critics such as Émile Zola, Philippe Burty, and Louis Edmond Duranty. However, her career was short lived. Sadly, Gonzalès died at age 34 on May 5, 1883, shortly after the birth of her son Jean-Raymond Guérard, and only five days after the death of her mentor, Manet. In her honor, in 1885 a retrospective of 88 works, including The Window (La Fenêtre), was held at the Salons de La Vie Moderne, organized by her husband, father, and a family friend.
Although Gonzalès was known as an Impressionist painter, like Manet, she did not exhibit with the Impressionists during her lifetime but preferred instead to submit her works to the traditional Paris Salon, which didn't view Impressionism favorably.
In 14 years of working in the studio, she managed to produce 124 paintings and works on paper. With her works scattered globally among private and public collections, we feel quite honored to be able to have such a beautiful example of Eva Gonzalès's work in our permanent collection right here in the heart of Denver. The purchase of this Gonzalès painting would not have been possible without the generous support of the museum's Friends of Painting and Sculpture.