In April of 2020, Los Angeles-based artist and designer Thomas Wimberly wanted to bring attention to the immeasurable sacrifice and hard work that the world's essential workers—doctors, nurses, grocery store employees, and even sanitation specialists, to name a few—have continued to perform for the rest of us during the COVID-19 pandemic. Wimberly's tribute, a poster titled Global Forefront, features a medical worker wearing a surgical mask displaying a map of the world.
Wimberly's work routinely focuses on current and socio-political issues to help spread awareness on issues he finds are important and designing for causes that he supports. According to Wimberly, "I wanted to create an image as a thank you to the workers deemed essential during this pandemic, and I thought that the mask was a good place to start."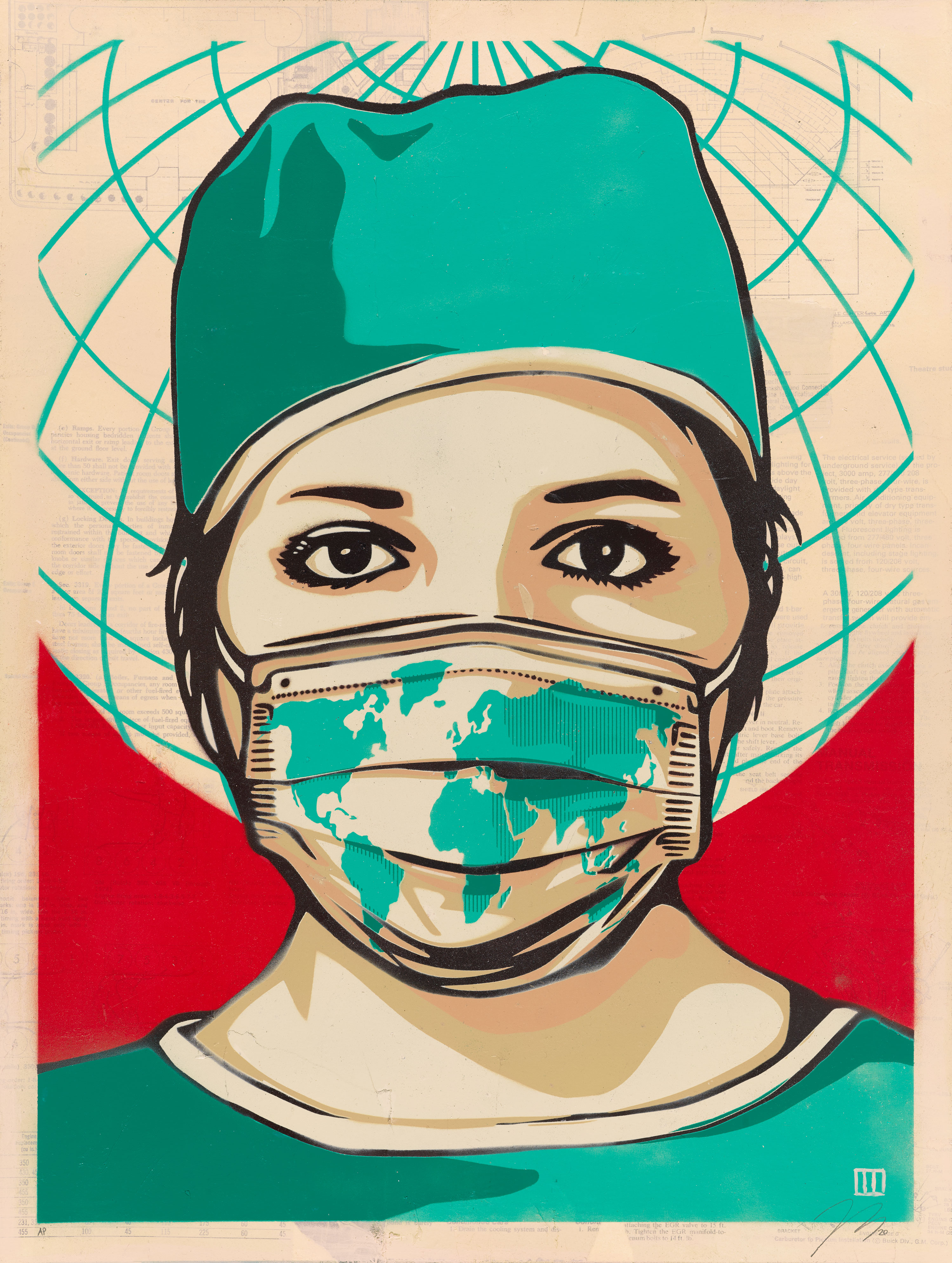 As COVID-19 began reshaping much of society last spring, the design world responded by doing what it does best: grabbing our attention with striking images. Illustrators, graphic designers, and artists came together to create public service campaigns around the world promoting health and safety, fighting bigotry and xenophobia, and thanking the remarkable efforts of healthcare professionals and first responders. Posters have historically been important as messaging tools in times of crisis, such as J. Howard Miller's World War II era poster featuring Rosie the Riveter accompanied by the words "We Can Do It!" But not all campaigns are equally effective.
Designers frequently use imagery to augment language, but some of the most effective designs employ imagery to enhance a visual message that is easy to understand. Wimberly's Global Forefront, with the globe behind the woman's head and the protective mask with the continents on her face, successfully communicates the significance of the world's essential workers during COVID-19 without the necessity for text. The work is also highly effective in its symbolism. When the viewer meets the woman's gaze, there is a sense of unspoken accountability to everyone in the world during this pandemic. (The artist looked to his wife, Brooke, as a reference for the woman's eyes and mask.)
Upon first sight, Global Forefront had enough personality to be memorable, but was simple enough to be instantly understandable. Wimberly's tribute helps paint a unique picture of the beginning of the pandemic and the pivotal role objects play within it. This is why we acquired a unique version of Wimberly's poster in May of 2020.
There is certainly something valuable in seeing how artists respond to a crisis, and the poster will be prominently displayed in the new design galleries when the renovated Martin Building reopens this fall. I know that it helped me process my own emotions, and, today, it is a reminder that we have the power to endure and resist the struggles we encounter. I hope that it will do the same for others.