Mexican Modernism was an artistic movement that flourished in Mexico in the early 1920s, following the Mexican Revolution (1910–1920). The establishment of a new constitutional republic in 1917, which was primarily centered on land reform and in guaranteeing basic human rights for all Mexicans, was one of the outcomes of the Revolution. This meant that efforts were being made towards social equality and access to economic and educational opportunities. The new government also prompted an extensive cultural shift towards the unification of the Mexican people and, with that, an aspiration to create a national identity.
The innovative artistic trend that blossomed after the 1920s was not homogeneous in style, but had a desire to truly reflect Mexican culture and heritage. It was also focused on honoring the country's working and agrarian classes, as well as its Indigenous population, and pre-Hispanic traditions. Art's goal was to be instructive, to reproduce the layered histories of Mexico, the life and customs of its people, and to be accessible to the public.
Murals
Muralism became the main artistic means by which these post-revolutionary ideals were transmitted. Murals were meant to be available and visible to the population, serving a didactic function with subjects that represented allegories of Mexico's history. Moreover, murals were already part of Mexico's long tradition of wall painting, which had began in pre-Hispanic times, with the Olmec, Maya, and Teotihuacan civilizations. Honoring this art form became thus another way of paying homage to the past.
Under the presidency of Alvaro Obregón (1920–24), the government began an extensive public art program, commissioning artists to paint large murals in civic buildings as a way of celebrating the unification of the country after the Revolution. José Vasconcelos, Mexico's Minister of Education, led many of the mural commissions asking artists such as Diego Rivera, José Clemente Orozco, and David Alfaro Siqueiros –later known as los tres grandes—to decorate the walls of public spaces.
In 1921, Siqueiros published the Manifesto to the Plastic Artists of America, in which he reinforced the new artistic style that was emerging after the Revolution. He declared that art should belong to the people and should tell the stories of the Indigenous populations of Mexico. Siqueiros advocated for "a monumental and heroic art, a human and public art, with the direct and living example of our great masters and the extraordinary cultures of pre-Hispanic America."
Between the 1920s and 1950s, murals embraced a style that not only helped construct a new Mexican identity, but became the base for many other artistic trends that came to define modern art in Mexico. Murals were large in scale and highly figurative, as can be seen from Orozco's Study of Torso for the Murals of the National Preparatory School, 1926. Murals also honored Mexico's past, and called attention to the socio-political conditions of the working class. In addition, they depicted the traditions of the Mexican people, juxtaposing both their Indigenous cultures with their Spanish colonial past, in what came to be known as Mexicanidad or Mexican identity embedded in Indigenous and national heritage. The interest in representing Mexicanidad became yet another central element to the Mexican Modern movement.
One could say then that the birth of modernism happened mainly through muralism in Mexico, and continued through other art forms and styles. From easel paintings to photography, figuration and abstraction, to the incorporation of geometric patterns and the creation of dreamlike landscapes; all genres and styles came together to define a new artistic trend in Mexico that was diverse and heterogeneous.
Although many artists who became part of Mexican Modernism were trained in Europe and influenced by movements such as Cubism and Surrealism, the rise of modernism in Mexico did not represent an extension of earlier European art. It was a unique national artistic expression whose goal was to be culturally and politically rooted in Mexico.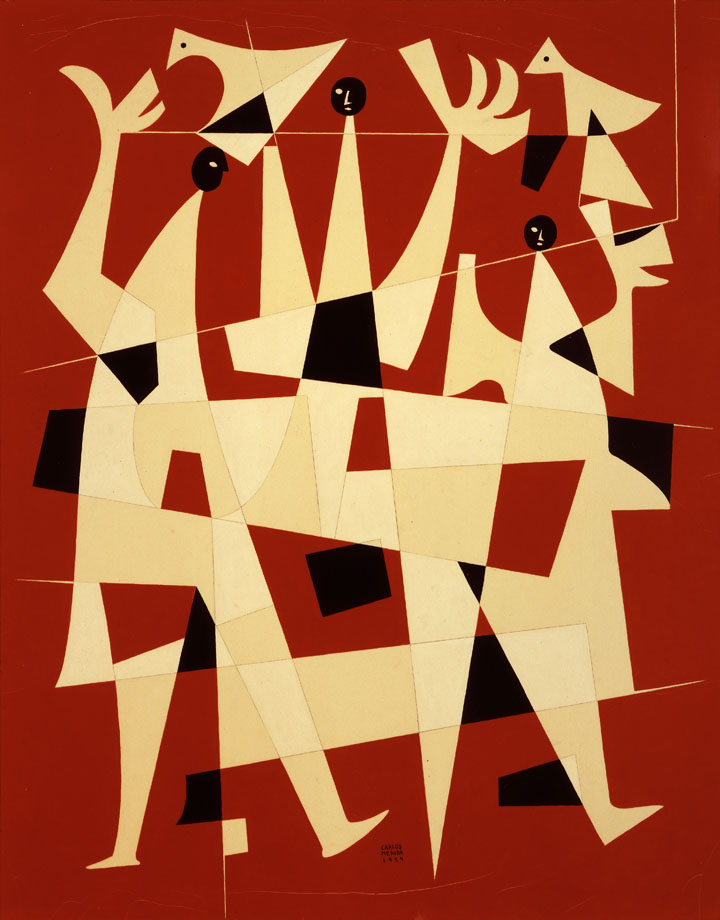 Combining Abstract & Pre-Hispanic Art
Guatemalan artist Carlos Mérida, for instance, moved to Mexico City in 1919, and combined the abstract styles found in European modernism with pre-Hispanic aesthetics. Festival of Birds, 1959, is an illustration of his approach—the inclusion of the birds above the figures' outstretched hands may be inspired by a glyph of a bird from Maya texts, which Mérida was known to admire. Mexican artist Gunther Gerzso is yet another example of a multi-faceted artist who moved from figuration to creating a unique style of geometric abstraction. Like many other Mexican Modernists, he turned to ancient artworks as models for the dynamism of his paintings.
Abstraction was also explored through the genre of photography. Mexican Modernist photographers such as Lola and Manuel Álvarez Bravo both experimented with geometry, asymmetry, strong contrast of light, and sharp focus. Their black-and-white images depicted everyday life scenes, with a particular interest in addressing social concerns and dignifying Mexico's working class.
On the other spectrum, artists such as Olga Costa, embraced figuration as their main style. Costa, who immigrated to Mexico from Germany as a young girl, was really interested in responding to Mexicanidad. Her work was focused on representing the cultural values of Mexico. She embraced the country's traditions, and centered particularly on everyday life scenes, including religious ceremonies, such as seen in Nacimiento, from 1948.
Like Costa, Frida Kahlo, was also interested in alluding to traditions as well as embracing modernist ideals. Her father was German and her mother was Spanish and Indigenous Tehuana from Oaxaca, Mexico, so Kahlo consciously adopted a layered identity as a mestiza woman in her own persona as well as in her art. Along with her husband Diego Rivera, Kahlo was a central figure in the artistic scene of Mexico. She was transgressive and innovative, painting her own reality and struggles as dreamscapes.
Although Mexican Modernism splintered into several artistic styles, it was movement that attempted to create a new national identity in Mexico after the Revolution through original art that reflected Mexican cultures and traditions. Artists wanted to distance themselves from European influence and, in turn, cultivated a style that spoke to the transformations of Mexico after the 1920s.