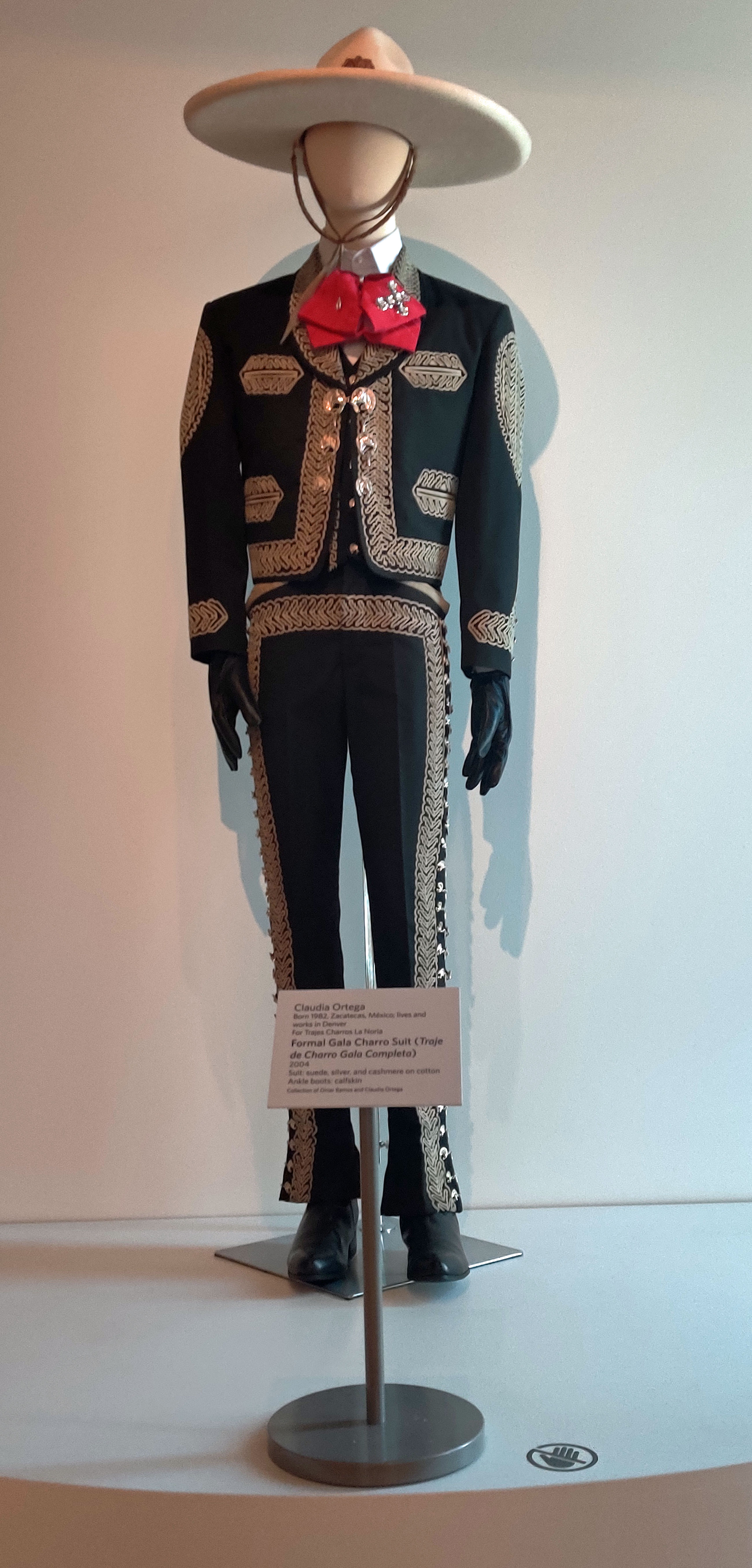 For 30 years, fashion designer Carla Fernández has worked with Indigenous communities to create handmade textiles and crafts that she then incorporates into her designs (always giving credit to her collaborators). For the Thread Studio, I worked with Carla and her team to create unique samples of these techniques, drawn from centuries of practice across Mexico that visitors can touch and examine up close.
One of the techniques on view here that particularly inspires Carla is the leather fretwork that adorns suits worn in the charrería—a livestock herding competition born during the colonial period in Mexico. Horse riders (charros) compete in rodeos with a performative flair. At the Federal Indoor Flea Market in Denver, members of the DAM team met Omar Ramos and Claudia Ortega, the owners of Trajes Charros La Noria. Claudia hand crafts the shop's gorgeous clothing, much of it for special occasions within the Mexican diasporic community, including charro suits.
After they realized our interest in these garments in particular, Claudia pulled out a hidden gem—the charro suit she made for Omar before they immigrated to Denver several years ago, when he was 18, then a practicing charro himself. They agreed to lend us this special suit so that museum visitors could see the type of incredible craftsmanship that has so inspired Carla Fernández and, we hope, our visitors.
Explore & Learn in the Thread Studio
What inspires fashion designers and textile artists? Find out in the Thread Studio, a space where visitors can engage with fibers and thread—how designers, artists, and other makers use them to shape objects for our well-being, joy, survival, spirituality, connectedness, and creative expression, and how we innovate and experiment with them to help sustain our planet. Through displays, interactive components, activities, and storytelling, the Thread Studio demonstrates the role that textiles play and have played in our daily lives and celebrates the creativity and ingenuity of textile artists and engineers, fashion designers, and related practitioners around the world.
It is currently designed in conjunction with Carla Fernández Casa de Moda: A Mexican Fashion Manifesto, which is on view through October 16. This exhibition and activities in the Thread Studio are included with general admission, which is free for members and everyone 18 and younger. Both are located on level 6 of the Martin Building.