Like so many places, the Denver Art Museum's day-to-day operations have shifted drastically in recent months. While some of our staff have been working from home—planning, researching, designing, collaborating, producing, and more—members of our facilities and protective services teams continued diligent work onsite to ensure the cleanliness of the museum's buildings and the safety and preservation of the art inside.
We've seen various types of heroes emerge in all sectors of the community during the past months. So before we reopen to the public on Friday, June 26, we wanted to shine a light on our own heroes for the work they've done to care for the museum and prepare it for returning visitors.
Lilly Torres, director of protective services, and Mark Baker, director of facilities, head up the teams that have been involved with these efforts. They've been able to see the museum in a way that few others have—partially-lit and much quieter than usual but still full of creativity and inspiration. We caught up with them to learn more about what's been happening behind the scenes these past few weeks and months.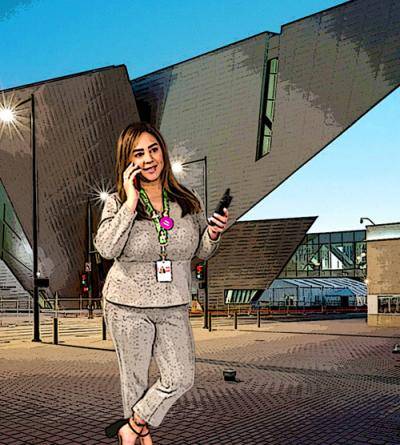 How long have you worked at the Denver Art Museum?
Lilly Torres: It will be five years in August; I started on August 5, 2015.
Mark Baker: One year for me.
Before COVID-19, what was your "normal," day-to-day job?
Lilly: I'm responsible for the operationalization of life and art safety, emergency preparedness, fire prevention, and other programs designed to keep the museum's staff, volunteers, visitors, buildings, and artworks safe and well-cared for. Before COVID-19, I would arrive in the morning and, after checking in with my team, carry on with the typical agenda items of meetings and briefs.
Mark: Pretty much what we continue to do now: take care of the buildings (keep the lights on, the water running and the temperature and humidity all operational).
How has your job shifted since the museum closed March 13? And what work have you been doing to keep the art safe and to get ready for visitors?
Lilly: Immediately following our closure, we shifted operations from eight-hour shifts to 12-hour shifts for the protective services team. This allowed us to minimize the amount and frequency of time employees had to be out of their homes and on campus. I incorporated myself into this new model to support my team.
In collaboration with the facilities team, we also have implemented new protective measures that follow CDC guidelines to keep all staff and visitors safe. I've always considered the museum to be one of the cleanest facilities in the city, now even more so!
Mark: We have placed a much greater focus on the cleanliness and sanitizing of the facilities. We have been working hard to make sure every surface and every space has been thoroughly cleaned and sanitized.
Has anything interesting, surprising, or unexpected happened while you've been at the museum since closure?
Lilly: This is more humorous than anything; I was conducting a patrol of the new Martin building, and every time I entered the elevator lobby on each floor, the elevator doors would magically open. I was pretty spooked by the time I finished, and then found out it was my team in the operations center playing a trick on me. Moments like that provided some levity (albeit at my expense) during the long hours.
Mark: We had to deal with a complete loss of City steam to all the buildings when a contractor for the City doing repairs in Civic Center Park had Xcel Energy shut down all the central steam for downtown.
Describe some of your feelings when you're in the museum. How does it feel to be in the museum at this moment compared to before closure?
Lilly: Gratitude. Working in the museum every day, it is easy to get caught up in the mechanics of what happens behind the scenes and lose sight of the intended purpose of the museum. Walking the galleries alone, taking in the quiet and the stillness, is like experiencing the art for the first time again. It has been a blessing in disguise.
Mark: It is very spiritual. To walk amongst the art and view the paintings in partially-lit galleries (for energy savings) and realize that, even as we deal with the current pandemic, mankind has experienced great tragedies in the past and managed to rise above them and emerge stronger. Many of the works show how powerful and valuable these cultural icons can be in difficult times by providing hope and inspiration for our communities.
What do you miss most about the museum, and what are you most looking forward to seeing eventually return?
Lilly: PEOPLE!!! And by that I mean staff and visitors alike. I miss interacting with my fellow collaborators and hearing visitors react to a certain art piece or exhibition.
Mark: I've been here since closing keeping everything running, so I haven't missed the place at all. But I am excited to see people returning. The energy everyone brings is what I have missed the most.
In what ways have you seen the power and importance of art and creativity exhibited, even with the museum closed and while people around the world have been social distancing?
Lilly: I have seen the power of creativity in full force with the museum staff who have been working diligently to adapt to this new "normal" and modify exhibitions and programming so that the museum can still present art in engaging and delightful ways while remaining safe for all.
Mark: I think many people have finally found an opportunity to slow down and be creative. I think art can provide a physical manifestation of our soul and spirit in ways others can relate to in their current circumstance or environment.