In June 2017, a rare opportunity presented itself for the Native arts department to acquire a major painting by T.C. Cannon titled, Beef Issue at Fort Sill (1973).
Cannon (1946-1978) is considered among the most influential Indigenous artists of the twentieth century; however, prior to this acquisition, his work was not represented in the Denver Art Museum's collection.
Beef Issue at Fort Sill depicts two women in the act of butchering a cow to distribute the meat while two dogs watch close at their sides. Dark clouds and a rainstorm occupy the sky in the distance. The boundaries of the land on which they work appear clearly defined. Beef Issue exhibits a brilliant use of color and composition and it is situated firmly within the figurative arts movement; however, Cannon's subject draws from his life experience as an Indigenous person who has seen the effects of culture change as well as history.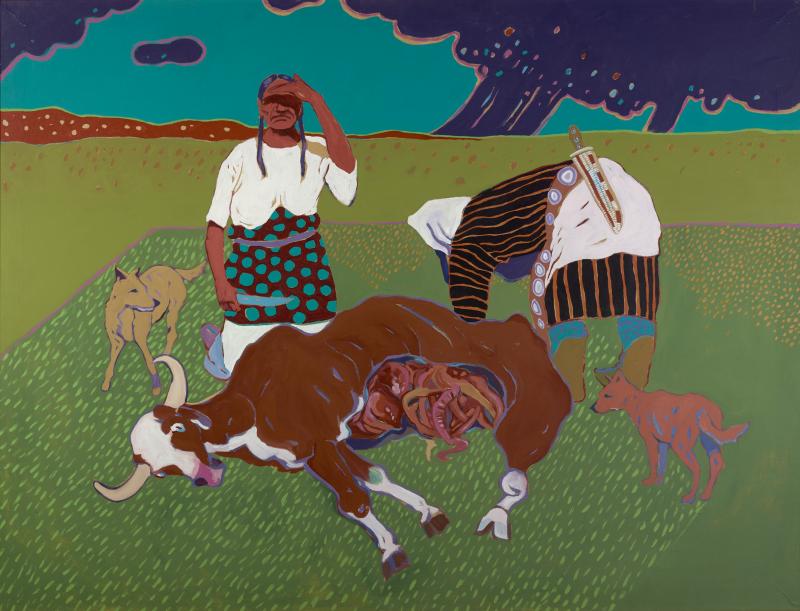 Blending Past & Present
During the reservation era, Cannon's Kiowa people in Indian Territory (now Oklahoma) received beef rations from the US government near the Fort Sill Army post.
Women would butcher the animal as they previously did with buffalo in earlier days and with knowledge passed down through generations.
Cannon developed a masterful way of blending the past and present in his work while exploring the tensions between the two. He was a visionary in many ways, but his ability to make meaningful the present by drawing inspiration from the past without being bound by it set him apart. Additionally, he understood and shared the experiences of many Indigenous people and had the ability to represent these experiences through diverse media, including painting, drawing, poetry, and music, making him a voice of a generation.
Largely considered an art prodigy, Cannon was a student of Fritz Scholder and Allan Houser (both artists well represented at the DAM) as a student at the Institute of American Indian Arts in Santa Fe in the mid-1960s. As a student, he influenced Scholder's style and, along with Scholder, led what was coined the "New Indian" art movement, or what we now call the first generation of American Indian contemporary artists. In 1972, he and Fritz Scholder were the focus of a major travelling exhibition organized by the Smithsonian Institution's National Collection of Fine Arts, titled Two American Painters, which traveled across Europe. Sadly, his life was tragically cut short at the age of 31.
Beef Issue at Fort Sill was lent to the Peabody Essex Museum in Salem, Massachusetts and subsequent venues in 2018-2019 for the exhibition T.C. Cannon: At the Edge of America.
Poem
Cannon wrote this poem about the painting and it was displayed along with the painting in the exhibition at the Peabody Essex Museum.
Beef Issue
Everything must be used
then else returned to the earth
for even now
the grass is black with blood
the rainsmell fills the breeze
and the children are hungry
i can see that the sky
is yellowing again
the fuzzy face soldiers are laughing
they are never hungry
the dogs are eager for the bones
the sky is burning down overhead
everything must be used
the grass is black with blood
"Beef Issue," mid-1970s, from a facsimile of the original manuscript, Collection of Robert Neff Harcourt