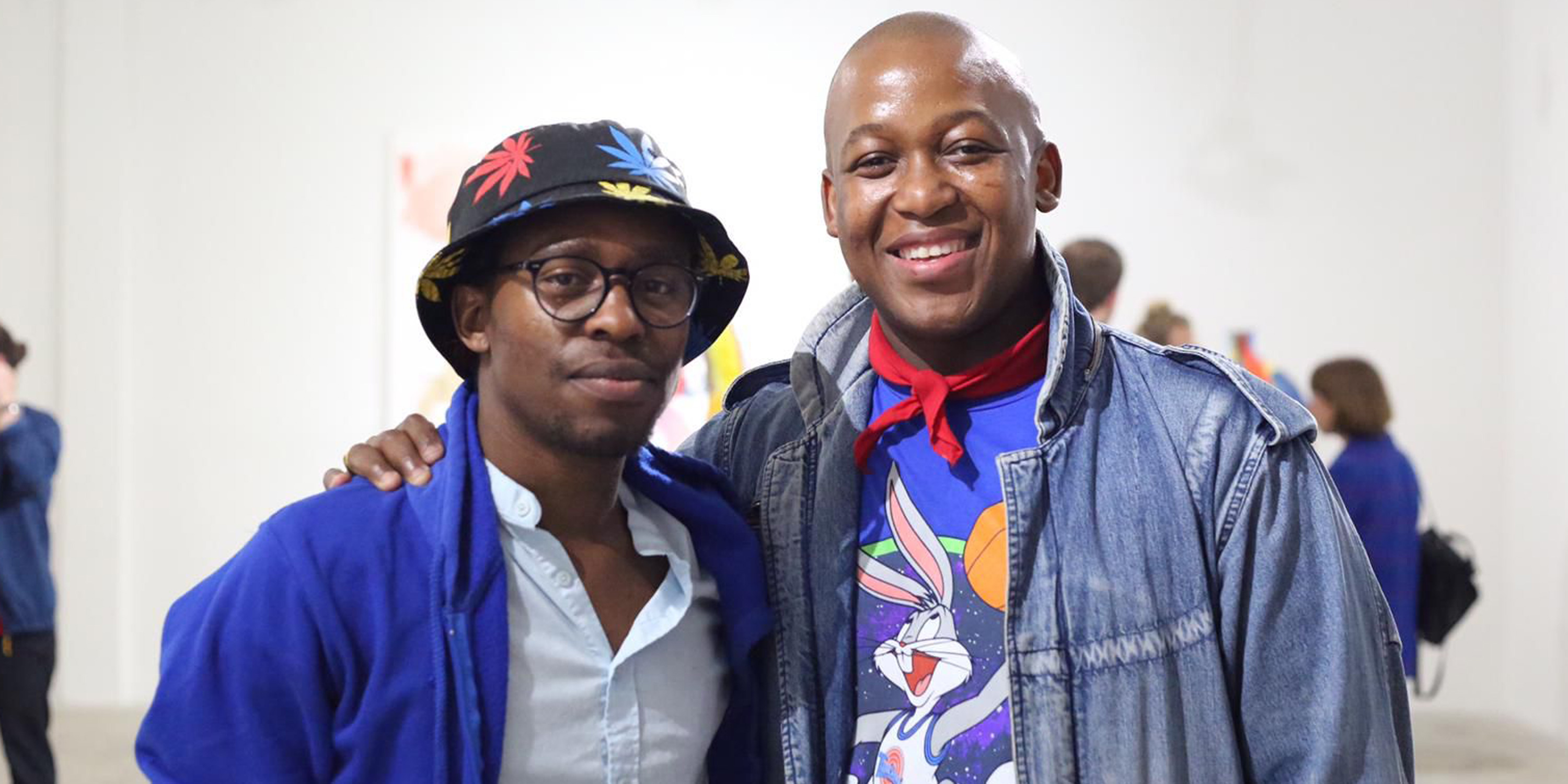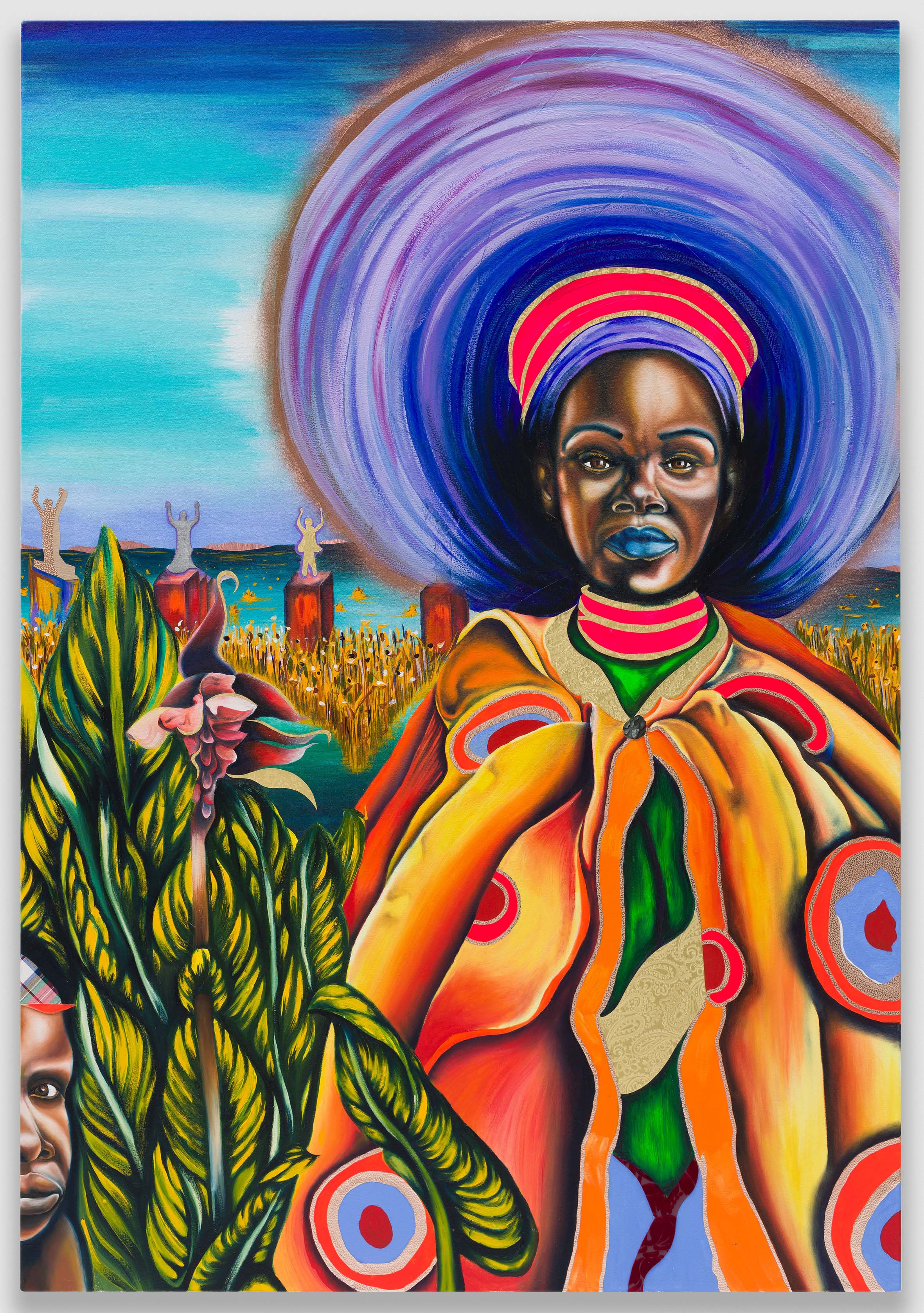 Meet artist Phumelele Tshabalala (born in 1987 in Johannesburg), a dear friend of Simphiwe Ndzube. Ndzube and Tshabalala developed a deep friendship rooted in their vocations as artists, a shared location as both have studios in Los Angeles, and their South African upbringing. Tshabalala contributed to Oracles of the Pink Universe (on view through October 10) by conducting two interviews with Ndzube: one for the exhibition catalog and the other for the online video segments that accompany the show.
Tshabalala is known for creating figural works that are autobiographical and that reflect the world around him. Trained primarily as a printmaker, his works include mixed-media paintings on canvas as well as paint and collage on wood panels. Tshabalala's subject matter often comments on the socio-political condition of the Black population in post-apartheid South Africa and its reverberations in a global discourse. The artist intentionally puts himself in situations where he is the observer. Tshabalala generally discusses the importance of being an artist who is a catalyst for change. Very much a witness and a truth-teller, he depicts conflicts, incongruities, and unspoken realities.
In a recent conversation with the artist, Tshabalala mentioned that he knew he wanted to become an artist since he was in middle school. His first exposure to art was through biology classes where teachers would assign drawings of the human body and sketches of plants and animals, which very much fascinated him. After high school, Tshabalala left to study Fine and Applied Arts at Tshwane University of Technology, Pretoria, South Africa (2009), specializing in printmaking and painting.
His interest in printmaking developed from a long tradition of the media in South Africa and its political power. Tshabalala explained that during apartheid—the system of racial segregation that was in place in South Africa from 1948 to 1994—printmaking was fundamental to overcoming strict state policies because it could communicate ideas without explicit text. Since the printed image was an accessible way to convey meaning to illiterate populations, and could be highly reproduced on wood, cardboard, and on walls, it became ingrained in South African culture, especially among Blacks, who suffered long patterns of exclusion from the education system. As Tshabalala said:
The creative ethos in South Africa is embedded with creative making and in telling our stories in so many different ways.
A few years after graduating and teaching painting and printmaking to high school students, Tshabalala moved to the United States to pursue an MFA in Visual Arts at SUNY Purchase College in New York. For the artist, studying abroad is what catalyzed his work, allowing for a more global context, and expanding his worldview. Being situated among serious critics in his MFA program proved essential for his art to develop, and living in New York, an artistic hub for international contemporary art, challenged him daily.
After six years of study and studio practice between New York and Los Angeles, Tshabalala returned to Johannesburg. It was during his time in Los Angeles, however, that he met Simphiwe Ndzube in 2017. As Tshabalala recounts, at the time he was working at a print shop and Ndzube wanted to purchase a printing press. As soon as Ndzube contacted the shop, Tshabalala noticed that his last name was South African, and he decided to reach out to Ndzube. They connected right away, both on the artistic and personal levels.
Although both artists have unique visions for addressing sociopolitical themes through figural representation—Ndzube's figures traverse magical cosmos while Tshabalala captures the world he experiences with an expressionistic touch—they bonded and pushed each other forward. For several years, Tshabalala was Ndzube's studio manager and he recounts that Ndzube taught him to think more intuitively about his own art and to never throw ideas away, to always recycle and reinvent. For both artists, making art is a reflexive strategy that allows their practice to examine the inequities of race and the consequences of subjugation, particularly as it relates to apartheid.
Beyond the artist-to-artist contributions in Oracles of the Pink Universe, we are delighted to have one of Tshabalala's works enter the museum's permanent collection. A monument to the iS'pantsula as mama feeds the community (2020) is an incredible painting that commemorates a passage in Tshabalala's reentry into South African life. Tshabalala recounts that while driving from the wealthy district of Sandton, he passed through Alexandra, an impoverished township, and memorialized this scene onto the canvas.
The painting reveals a half-length portrait of a woman in embellished regalia with a violet aura that emanates behind her, and the face of a young boy looks directly at the viewer from the edge of the canvas. In the background, four figures stand on what appear to be elevated posts, performing iS'pantsula, a dance of resistance. As Tshabalala explained, iS'pantsula is based on the Sotho Mqaquanga dance and kwaito music, and it is a choreographed, fast-step street dance presented by a troupe. Developed in the 1950s when apartheid restricted the movement of Blacks, dance—ritualized, rhythmic movement—reclaimed free motion. Tshabalala was inspired by the three-generational gathering and the agency among the figures. This is the first work by Tshabalala to enter the Denver Art Museum collection and was part of his first solo show Becoming water from the same source, at Pippy Houldsworth Gallery, London (2021).