Combining sculpture and dance with a profound interest in ceremony and ritual, Senga Nengudi champions experimentation with unconventional materials and forms of expression. Using simple everyday materials in unexpected ways, she creates evocative works that are subtle and complex in their consideration of the female body, space, movement, and the role of various cultural and religious rituals.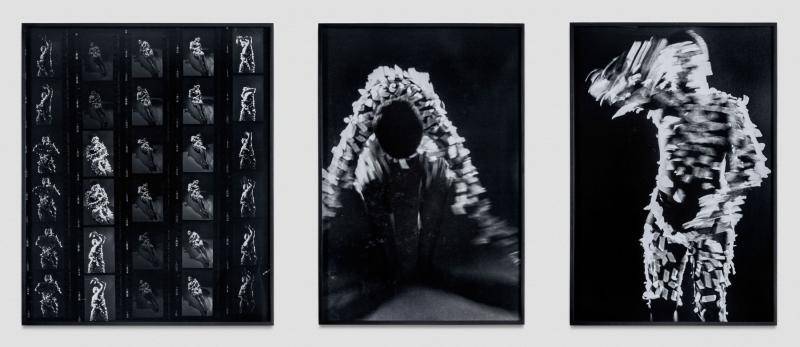 The photographic triptych Masked Taping documents Nengudi as she creates a work of performance art, a fundamental part of her conceptually based artistic practice. The artwork often incorporates four elements: time, space, bodily action (including stillness), and the presence of the artist. Performance art is commonly enacted outdoors, in a studio, or gallery context. For Masked Taping, photographer Adam Avila witnessed Nengudi's performance in Los Angeles and recorded it with a series of photographs. She covered her body with chips of paper tape and noted:
I like to use materials that people normally use in very specific ways, like masking tape. I find that there are other uses that people don't think about ... that a commonplace material, just like the average person, has a higher self.
Avila set the camera shutter speed a bit slower than the actual movement to complicate the image and, in the darkroom, enlarged the negative 30-fold causing a loss of detail. The triptych includes an enlarged contact sheet and two other moments captured during the performance. A series of choreographed sequential movements characterize contemporary dance. The photos that document Masked Taping, by contrast, emphasize single moments. Recorded as blurred images, the body merges into the background and dematerializes. Avila and Nengudi invite us to look past the physical and into the spiritual.
Integral to her practice, Nengudi chose a utilitarian material—masking tape—which became a conduit to express spirituality. She cites the pioneering dances of Katherine Dunham, one of the first Black choreographers in Hollywood, as inspiration. Dunham explored Caribbean movement and spiritual practice, including Vodun. Nengudi said in an interview with me for the exhibition:
"Even though it was just masking tape, I wanted this idea of ritual and immediacy with it. I studied [Dunham and Vodun] and was taken with the idea of being a channel for the spirit—of letting yourself go, or who you think your personal self is, and allowing something to move through you."
When I discussed a Nengudi acquisition with director Christoph Heinrich a year ago, he immediately grasped the importance of her practice. I worked with a few of Nengudi's galleries and a private dealer. Masked Taping was among the first works offered to me when I began to make inquiries about available works. It was so exciting to consider an early example of her performance art. The images capture the essence of the performance: the wisdom and spontaneity that informed her movements and the spirituality that inspired it.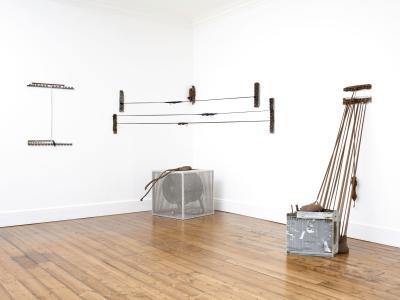 Simultaneously, the DAM also purchased A.C.Q.I. made for the 2017 Venice Biennale; it was one of Nengudi's recent sculptural suites. The museum aspires to build its contemporary collection with multiple works by a single artist to capture their creative scope over their career. Acquiring an early and late artwork fulfilled this goal.