As we move into a new year, we have the opportunity to celebrate our lives through the act of perceiving and creating. Many of us seem to know instinctively that getting creative is good for us. It's no surprise so many people turned to creative pursuits during the pandemic. Creativity invigorates the senses, connects us, and inspires renewal. It's an act that anyone can do with their choice of tools, subjects, styles, and methods. The Denver Art Museum offers a variety of free virtual programs to get your creative juices flowing.
Drop-in Drawing
In January's Drop-In Drawing, we will explore the theme of identity—the way in which we express and describe ourselves—inspired by the Denver Art Museum's newest exhibition, Senga Nengudi: Topologies.
You are invited to create artwork that explores who you are with your choice of materials and subject(s). During our session, we will view artworks from Topologies, go on a virtual tour of Narkita Gold's exhibit Black in Denver at the Arvada Center, and discover a variety of artmaking techniques (including watercolor painting, as in the photo at top).
All abilities are welcome—if you are just beginning or continuing in your creative journey; we are excited to make and explore art with you!
....paintings and poetry, music, and fashion, design and dialogue, they all define who we are as a people and provide an account of our history for the next generation.
Tips for using Zoom
Join us live a few minutes before the program start time.This session is free and open to all who would like to join. Advance registration is not required to attend Drop-In Drawing.
Need help joining by Zoom? Use these English instructions or Spanish instructions from Senior Planet.
To request a sign language interpreter, CART service, or any other service, please email access@denverartmuseum.org at least three (3) business days in advance of program.
Got "Zoom fatigue"? You can turn your camera off and use an alias, rather than your real name.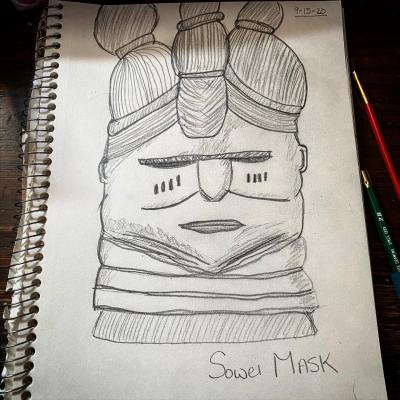 More online classes
On the fourth Tuesday of the month, explore your creativity through the written word in our Drop-In Writing sessions led by Theresa Rozul Knowles, an instructor with Lighthouse Writers Workshop. Open to all levels, from published authors to the occasional journaler.
Mindful Looking sessions invite you to slow down and spend time with a single work of art from the Denver Art Museum. Join us online the third Tuesday of each month to discover overlooked details, pose questions, and explore ideas as we linger, look, and connect from home…with art and with each other.