Of the many passions that Frida Kahlo held, perhaps one of the least known is her enthusiasm for food. Kahlo's fascination for cooking and learning recipes that reflected Mexican cuisine and culture was interwoven with her love for art. She was also known for hosting famous dinner parties at the Blue House (La Casa Azul) in Mexico City with her husband Diego Rivera, where she would entertain guests with delicious meals accompanied by pulque and mescal.
Food was also a recurring theme in Kahlo's works. For instance, she often depicted fruits as subject matter. These were generally metaphors for Kahlo's personal life and inner state. In the paintings, Kahlo's fruits are full of life, completely luscious, at times bursting with sensual energy, like we see in The Bride who Becomes Frightened when she Sees Life Opened (1943), which is on display in Frida Kahlo, Diego Rivera, and Mexican Modernism from the Jacques and Natasha Gelman Collection at the DAM through January 24.
To celebrate Kahlo's passion for food, Guadalupe Rivera, Diego Rivera's daughter from his first marriage, and author Marie-Pierre Cole published a compilation of Kahlo's recipes in Frida's Fiestas: Recipes and Reminisces of Life with Frida Kahlo (1994). According to Guadalupe Rivera, Kahlo learned most of the recipes from her mother, Lupe Marín (Diego's ex-wife), and from a cookbook that belonged to Kahlo's mother called The New Mexican Cook, a collection of traditional Mexican recipes.
In honor of the exhibition, we share Frida Kahlo's recipe for turkey or chicken mole from Frida's Fiestas.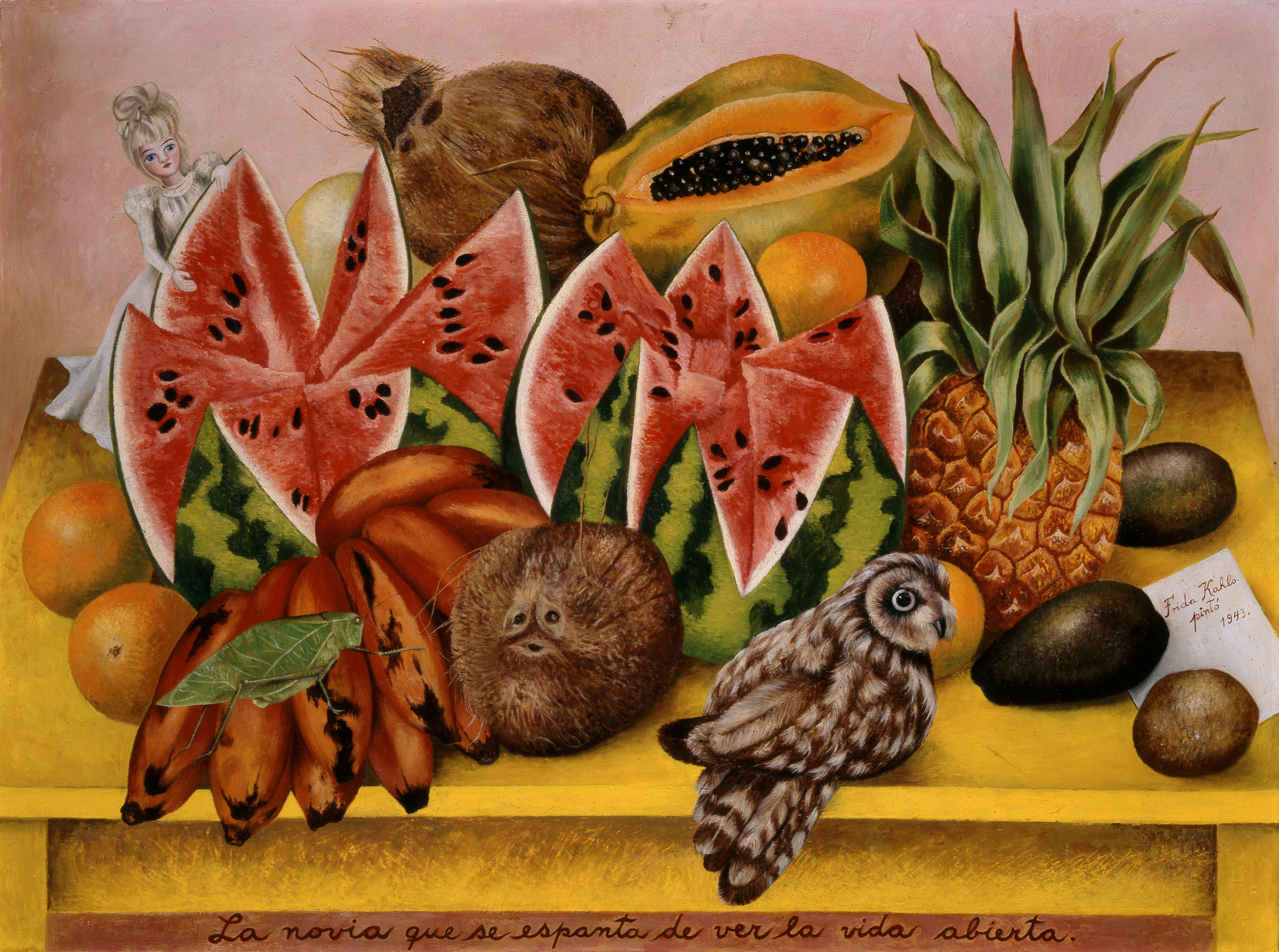 Black Mole from Oaxaca
(16 to 20 servings)
Ingredients:
500 g (1 lb) chilhuacle chiles (these are special chiles from Oaxaca; you can substitute cascabel chiles)
250 g (1/2 lb.) mulato chiles (remove veins and seeds)
250 g (1/2 lb.) pasilla chiles (remove veins and seeds)
375 g (3/4 lb.) lard
1 head garlic (roasted)
2 large onions (roasted)
3 stale tortillas
2 sliced egg bread (like a French bread roll)
100 g (3/4 cup) blanched almonds
75 g (1/2 cup) shelled peanuts
1 cinnamon stick
75 g (1/2 cup) sesame seeds
75 g (1/2 cup) shelled pumpkin seeds
Pinch of anise seeds
1 teaspoon cumin seeds
1 teaspoon dried thyme
1 teaspoon dried majoram
2 teaspoon dried oregano
10 coriander seeds
10 black peppercorns
8 cloves
100 g (3/4 cup.) raisins
3 large bars of Mexican chocolate (or semisweet chocolate)
2 kg (4 lb) ripe tomatoes (roasted and peeled)
500 g (1 lb) small green tomatoes
8 tablespoon of lard
Salt and sugar to taste
2 guajolotes (small turkeys) or 4 large chickens cut into pieces and cooked in a strong broth with carrots, onions, and herbs.
Instructions:
Quickly fry the chiles in hot lard, being careful not to let them burn. Place the fried chiles in a large saucepan in hot water to cover. Bring to a boil, then simmer until soft.
In the same hot lard, sauté the onions and garlic until translucent. Add the tortillas, bread, almonds, peanuts, cinnamon, reserved chile seeds, sesame seeds, pumpkin seeds, anise seeds, cumin seeds, thyme, marjoram, oregano, coriander seeds, peppercorns, cloves, raisins, and chocolate. Sauté for a few minutes. Puree this mixture with the tomatoes and the chiles. Strain the puree and cook in 8 tablespoons lard. Stir in sugar and salt to taste and 2 cups/500 mil of the turkey broth. Simmer for 20 minutes.
Add the turkey, and simmer for 20 to 25 minutes to blend flavors. If the mixture is too thick, add more turkey broth as needed.