Meet Rebecca Rowley: writer, Denver Art Museum gallery host, and someone who has made over 1,000 masks to help people during the pandemic!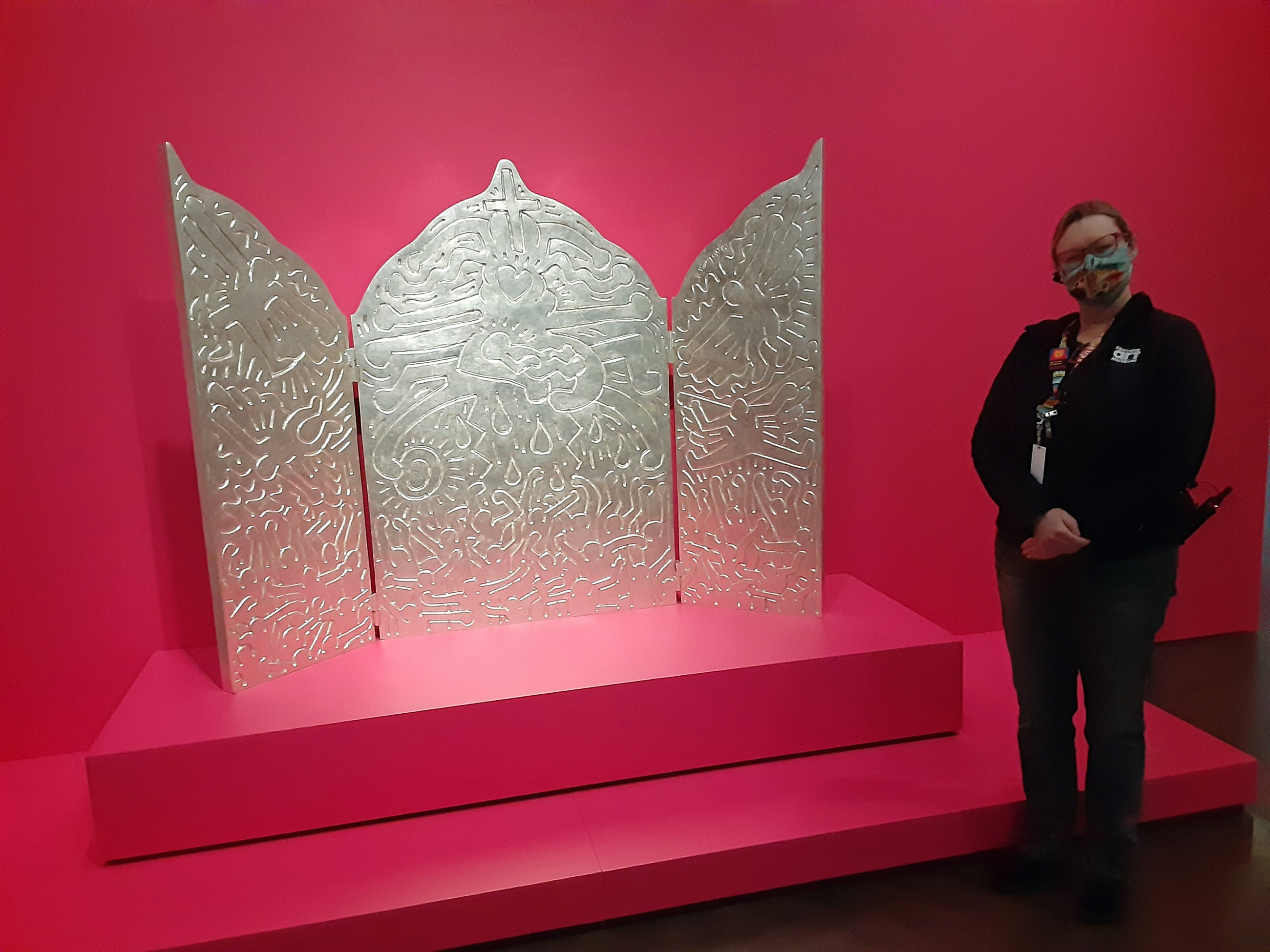 What do you do at the museum?
I am a gallery host, one of the frontline team members stationed within each exhibit and tasked with ensuring that our guests have the safest and most enjoyable trip to our museum as possible. I answer questions, educate visitors on the art, and do my part to promote the safety of all persons and artworks in the galleries.
How long have you worked here?
I've been at the DAM for just over three years.
Do you do any creative or community based work outside the museum? How would you describe it?
I'm a writer (three full-length books in print, plus I've been featured in several anthologies), baker, and fiber artist (everything from quilts to custom COVID-19 masks).
What led you to this?
My mom was the one who originally encouraged my interest in sewing, starting when I was old enough to sit at the sewing machine. She said sewing was a skill that could be useful for myself (e.g., mending clothes, tailoring items to fit better, making accessories, etc.) and helping others. I didn't fully understand the scope of that last part until the pandemic of 2020 hit.
What's your motivation for this work? Why is it important to you?
When the pandemic started, I began making masks for myself, friends, and family out of necessity. When I learned the museum was going to reopen again, I decided to make masks for my colleagues, as we were all a little nervous about returning to work with the public. I added masks to care kits that included sanitizers, gum, snacks, water bottles, and other essentials in insulated lunch bags that were donated by a friend. Soon a teacher reached out and asked for masks for her freshman class as they were preparing to return to school in person. This meant making hundreds of masks. I realized the teachers at her school needed care kits, too. So, I networked with local friends and colleagues, who happily donated supplies from fabric and thread to Clorox wipes. I put in the labor of sewing the masks and assembling dozens of kits—all of which were received with tearful gratitude by my friend's school. Soon, other teachers were asking for donations (masks and kits). Then nurses reached out from all over the country asking for extra supplies for their traveling COVID-19 teams. Over six months, I created 1,150 masks and hundreds of care kits helping those on the frontline stay safe.
Why was this important? Because even though there was nothing that I could do to stop the pandemic, I was still empowered to help others feel safe, equipped, and supported.
What advice would you offer someone who wants to get involved with mutual aid? Is there anything you wish you knew before you began this work?
Having a network of people supporting my projects with supplies and encouragement was essential. When you have a strong community of people who share your vision and have a place within it to where they feel like they are doing something positive as well, there is no limit to how far your efforts can reach. My care kits have gone all over the country from El Paso to Brooklyn, but the majority of my efforts have supported our Denver-area communities.
What's your favorite interaction you've ever had with a visitor?
Back in 2019, when we had Jordan Casteel: Returning the Gaze, I was stationed near one of her portraits called Lean. This painting featured a young child burying their face in their father's side while riding on the subway. I noticed a young man had been standing before this painting for quite some time. He covered his mouth, placed on hand on his chest, and softly began to cry. I approached him with a tissue box (since it was not uncommon for people to become emotional in this gallery). He said thank you and told me that his father had just passed away. This painting reminded him about how his father used to comfort him when he was a child—something he wished his father could do for him now. As my father had passed a few years earlier, I related to his grief. So, we stood before Lean for a while and quietly appreciated the message of Jordan's work. I was lucky enough to share this story with the artist herself a month later.
In what ways have you seen the power and importance of art and creativity exhibited both while the museum was closed and since it's reopened?
Masks can be art in their own way. They can be colorful and creative as well as practical and important. I can't paint like Monet or Frida Kahlo, but I can (and did) make Frida-themed masks for DAM employees, from gallery hosts to our custodial team to even our director, to help promote our Mexican Modernism exhibit and show unity. We are all safe. We're all stylish. And we're all so dedicated to providing access to art for the public, that we're willing to risk our lives to show up every day so that people can connect with art.
While we were closed, my team of gallery hosts stayed connected, shared our creative works, and bonded through our own creative endeavors so that when the museum reopened, our team was stronger than ever. We're now getting back to the best parts of our jobs: encouraging people to engage with the art in our galleries, sharing stories and trivia with visitors, and ensuring everyone has a safe and unique experience. My job is like no other, and I am grateful that I had the opportunity to keep my colleagues safe through the simple act of sewing.