Frida Kahlo (1907–1954) was very open about her life and ideas. She kept an illustrated journal where she documented through text and drawings the last 10 years of her life (1944–1954). Below are some quotes from her diary, as well as from letters and other writings.
Quotes about painting
Kahlo developed a unique portraiture style based in part on the Spanish ex voto tradition of religious painting.
"I don't really know if my paintings are surreal or not, but I do know that they represent the frankest expression of myself."
"Painting has made my life full. Painting has replaced everything. I don't think there's anything better than work."
"I paint flowers so they will not die."
I paint self-portraits because I am so often alone, because I am the person I know best.
Quotes about life
Frida Kahlo grew up in the Coyoacán neighborhood of Mexico City. She had a mixed heritage: her father was German and her mother was Spanish and Indigenous Tehuana from Oaxaca, Mexico. Kahlo consciously constructed a mestiza persona, pairing Spanish colonial jewelry with traditional huipil blouses or Chanel haute couture with her Indigenous jade necklace. She created a blended identity, simultaneously appropriating and reclaiming her cultures
"Nothing is absolute. Everything changes, everything moves, everything revolves, everything flies and goes away."
"Everything can have beauty, even the worst horror."
"There is nothing more precious than laughter–it is strength to laugh and lose oneself, to be light."
"…what would I do without the absurd and the ephemeral?"
Fall in love with yourself, with life and then with whoever you want.
Quotes about Diego
Kahlo became romantically involved with her future husband, Diego Rivera, in 1927 while she was still an art student.
"Diego: Nothing compares to your hands. Nothing like the green-gold of your eyes. My body is filled with you for days and days, you are the mirror of the night, the violent flash of lighting. The dampness of the earth. The hollow of your armpits is my shelter. My fingertips touch your blood. All my joy is to feel life spring from your flower-fountain that mine keeps to fill all the paths of my nerves which are yours."
"My Diego: Mirror of the night. Your eyes green swords inside my flesh. Waves between our hands. All of you in a space full of sounds—in the shade and in the light. You were called AUXOCHROME the one who captures color. I CHROMOPHORE—the one who gives color. You are all the combinations of numbers. Life. My wish is to understand lines form shades movement. You fulfill and I receive. Your word travels the entirety of space and reaches my cells which are my stars then goes to yours which are my light."
"Your presence floats for a moment or two as if wrapping my whole being in an anxious wait for the morning. I notice that I'm with you. At that instant still full of sensations, my hands are sunk in oranges, and my body feels surrounded by your arms."
"Why do I call him my Diego? He never was or will be mine. He belongs to himself."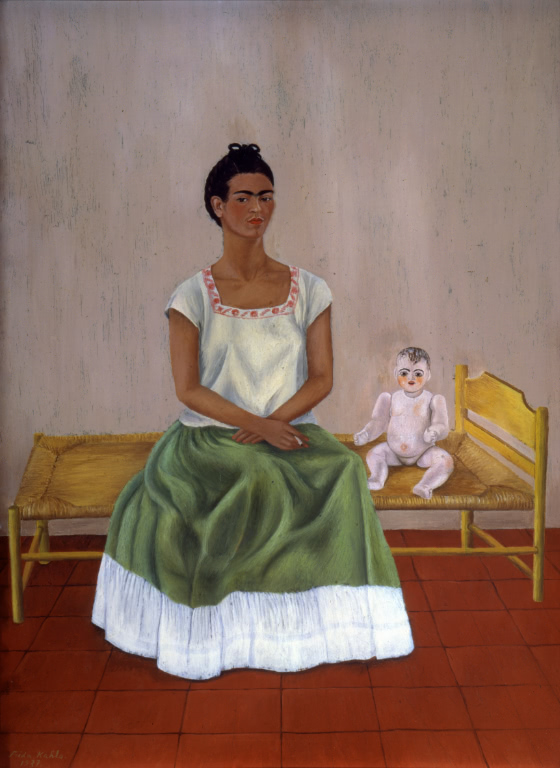 Feet, what do I need you for when I have wings to fly?
Quotes about her struggles
Frida Kahlo was a revolutionary artist and feminist. Yet it was through physical and emotional adversity that her strength grew. She lived with the lingering effects of childhood polio and in 1925 narrowly escaped death in a horrific bus accident that shattered her pelvis and spine. During her long convalescence, art became a path for survival and self-expression.
"I am not sick. I am broken. But, I am happy to be alive as long as I can paint."
"I used to think I was the strangest person in the world but then I thought there are so many people in the world, there must be someone just like me who feels bizarre and flawed in the same ways I do. I would imagine her, and imagine that she must be out there thinking of me, too. Well, I hope that if you are out there and read this and know that, yes, it's true I'm here, and I'm just as strange as you."
"At the end of the day, we can endure much more than we think we can."
"I've been sick for a year now. Seven operations on my spinal column. Doctor Farill saved me. He brought me back the joy of life. I am still in the wheelchair, and I don't know if I'll be able to walk again soon. I have a plaster corset even though it is a frightful nuisance, it helps my spine. I don't feel any pain. Only this…bloody tiredness, and naturally, quite often, despair."
Quotes about revolution
"Revolution is the harmony of form and color and everything exists, and moves, under only one law = life. Nobody is separate from anybody else – nobody fights for [themselves]. Everything is all and one, Anguish and pain – pleasure and death are no more than a process of existence. The revolutionary struggle in this process is a doorway open to intelligence."
"Rebellion against everything that chains you."
"Revolution transform[s] the world into a classless one so that we can attain a better rhythm for the oppressed classes."
"Always revolutionary. Never dead, never useless."