Diego Rivera (1886–1957), born in Guanajuato, Mexico, was among the most famous and successful artists of his day, best known for his murals in Mexico and the United States. In 1931, he was only the second artist to be honored with a solo retrospective at the Museum of Modern Art (Henri Matisse was the first). United in their shared passions for art and radical politics, Frida Kahlo and Diego Rivera married in 1929. The couple was at the center of artistic and political circles in Mexico City. Rivera openly shared his thoughts and feelings about art, life, politics, and his great love, Frida Kahlo.
On the artist's responsibility
"An artist is above all a human being, profoundly human to the core. If the artist can't feel everything that humanity feels, if the artist isn't capable of loving until he forgets himself and sacrifices himself if necessary, if he won't put down his magic brush and head the fight against the oppressor, then he isn't a great artist."
On his artistic roots
"I know now that he who hopes to be universal in his art must plant in his own soil . . . The secret of my best work is that it is Mexican."
On his wife Frida Kahlo's life and art
"Never before had a woman put such agonizing poetry on canvas as Frida did."
En medio del panorama de toda pintura mexicana de calidad, producida durante los últimos veinte años, como diamante en el centro mismo de un gran joyel, clara y dura, preciosa y cortante, esplende la pintura de Frida Kahlo Calderón. Del retablo, desaparecieron el Cristo, la Virgen y los santos. En lugar de un milagro cualquiera, es el milagro permanente lo que constituye el tema de la pintura, es decir, el contenido vital siempre fluyente, siempre diferente y siempre el mismo en su circulación venosa y sideral. Una vida contiene los elementos de todas las vidas, y si se penetra hasta el fondo de ella, se encuentra la profundidad abismal, la altura vertiginosa y los tejidos de ramificaciones infinitas prolongándose en siglos de luz y de sombra de la VIDA.
"Frida Kahlo [is] the purest and most deeply Mexican while being extremely modern in her manner."
Painting is an essential function of human life. Wherever human beings live, painting has existed and exists. Painting is a language, as with words.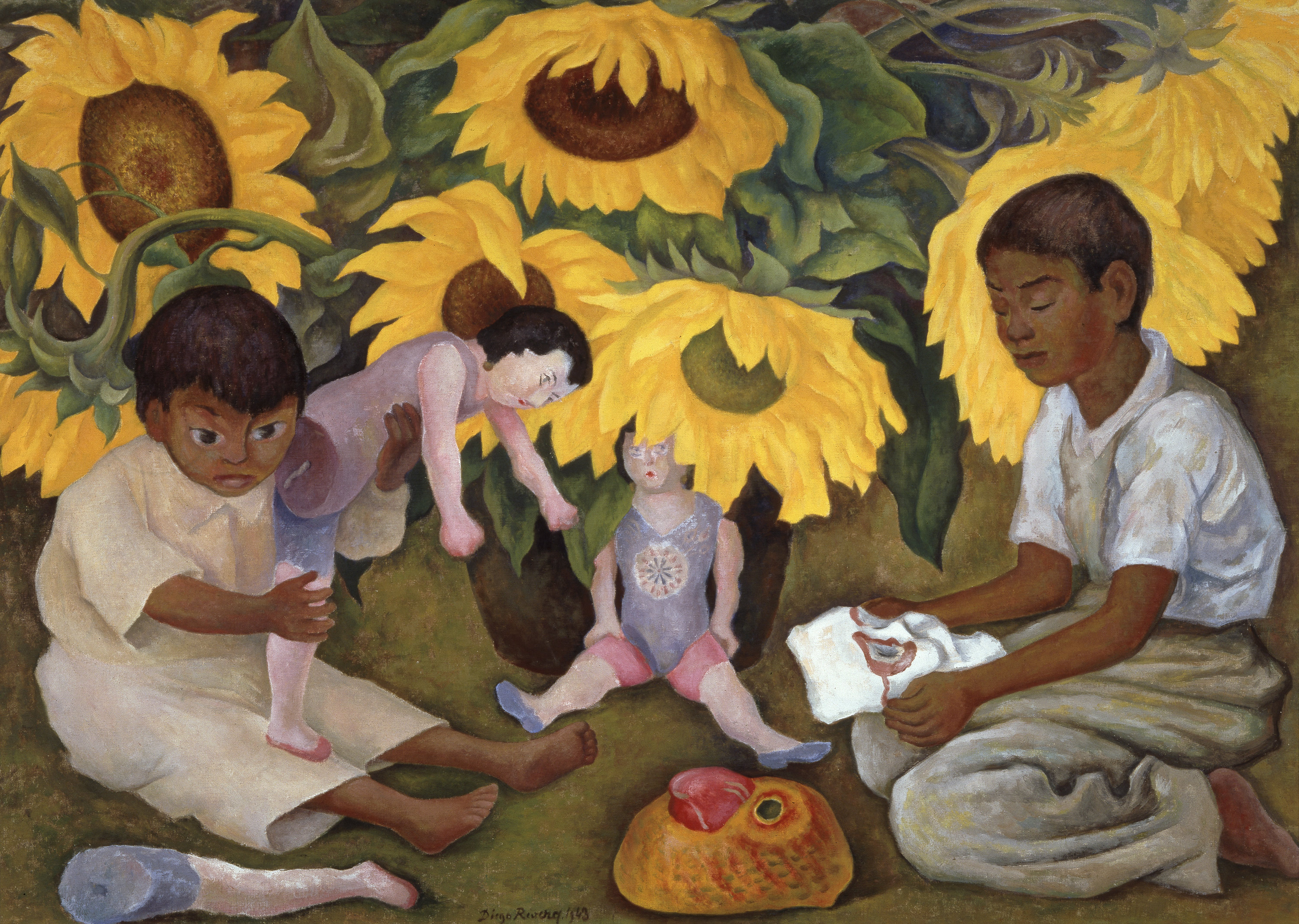 From 1949-50, Diego Rivera had a year of weekly Sunday discussions with poet Alfredo Cardona Peña discussing everything from art and Rivera's artistic process to politics and Mexico. The interviews became the book Conversations with Diego Rivera: The Monster in His Labyrinth. The following quotes are from these conversations.
On making one's own artistic opportunities
"When we began, we had no opportunities; we prepared in silence and created our own opportunity."
"…Dreams and daydreams are a terribly important source of nourishment for the nervous system; they have a decisive influence on the actions of the awakened."
On the power of art
"[Art] could be converted into an effective weapon against lying to the people, teaching [the people] to discover, through its contents, the lies power uses to exploit it."
"[C]hildren's paintings, fruit of concepts freer than those of adults, can serve to bring back to reason artists gone crazy with concepts and prejudices of their own and others. That's the great value of children's paintings, which we could well call therapeutic for adult artists, and not just for them, but for all human beings…."
Thanks to the Revolution, the people regained their own language and spoke through the receptors that were capable of capturing, condensing, and re-transmitting the popular voice.
On ancient art
"In the pre-Hispanic world everything in the life of the people was artistic, from the palaces and temples which are monumental works of sculpture, with their magnificent frescoes that amaze everyone peering at them in the jungle, down to the most humble pot used daily, and the children's toys, and the stone to grind grain. Everything was a work of art, ninety-nine percent of the time, a masterpiece."
On the significance of Mexican muralism
"This new worldwide public interest in Mexican mural painting did not rest, as some believe or pretend to believe nowadays, in that the work involved encaustic, or al fresco techniques nor on murals per se."
"The true novelty of Mexican painting, which I initiated in 1922-23 at the Secretary of Public Education, along with Siqueiros and Orozco in the National Preparatory School, was to make the people the heroes of mural painting; it consisted in representing the poor farmer and the industrial worker fighting to obtain land."