The Denver Art Museum design collection includes 80 posters by Milton Glaser, the legendary graphic designer and illustrator responsible for the "I ♥ NY" campaign and many other iconic designs. Glaser passed away this year. In his memory, we call out three examples of his work in our collection.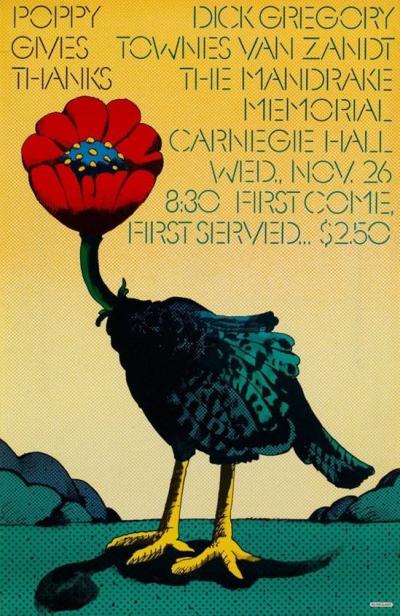 Poppy Gives Thanks
Poppy Records was the experimental music label of MGM Records in the late 1960s. This poster advertised an almost free concert ("$2.50 - first come, first served") held on Thanksgiving Eve at New York's Carnegie Hall in 1969. The diverse selection of Poppy recording artists included comedian and activist Dick Gregory and the psychedelic ensemble The Mandrake Memorial.
The surreal imagery combines the poppy motif that Milton Glaser created for the recording company and a turkey. It also features Glaser's signature stencil typeface Neo-Futura—one of the many that he had created during his lengthy career.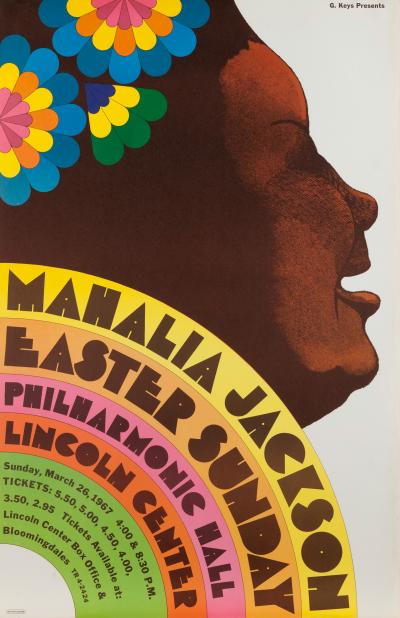 Mahalia Jackson, Easter Sunday, Philharmonic Hall, Lincoln Center
This vibrantly colored poster by designer Milton Glaser advertises a concert by the late gospel singer, Mahalia Jackson. Glaser's distinctively custom-designed lettering [Baby Teeth typeface] is positioned on rainbow bands of colors and balanced by a silhouette of Ms. Jackson. Glaser's work helped express and define the 1960s. The whimsical flowers in Ms. Jackson's hair would have been a common sight during the late 1960s when the American counterculture movement embraced clothing with vibrant colors and often wore flowers in their hair.
This poster was printed in two versions, one with her facing left and the other right; together the images form a rainbow.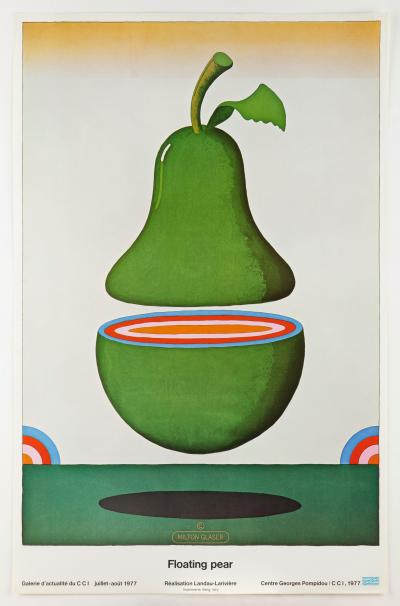 Floating Pear
The power of Milton Glaser's eye-catching, psychedelic compositions is in their simplicity. Unlike a painting, a poster must be bold, direct, and tell a story in a short length of time. Originally created to promote the Fruit Growers Association, this poster's visually compelling graphics were inspired by Magritte and are representative of Glaser's colorful and geometric creations of the 1960s.
This version promotes Glaser's solo exhibition at the Centre Georges Pompidou in Paris in 1977.