Happy birthday to architect and designer Alexander Girard, who was born on May 24, 1907! Girard, Director of Herman Miller's Textile Division from 1952 to 1973 and an avid promoter of folk art, saw things differently than most. It's impossible to talk about his designs for textiles, furniture, graphics, exhibitions, and residential and commercial interiors without using words like vibrant or visionary.
As the COVID-19 pandemic reshapes our lives, I have been thinking a lot about Girard's conviction that beauty can be found amid everyday life. For many of us, dinner has become an anchor of our day. I have been cooking a lot more—testing new recipes and freestyling. I have taken pleasure from these experiences. If food can make a difference, can the way we sit down to enjoy it do the same?
For Girard and his wife Susan, appealing table settings were not just for special occasions—they added delight to daily life. At the Denver Art Museum's exhibition Serious Play: Design in Midcentury America in the summer of 2019, we mounted a Girard-inspired table setting on the wall that evoked the eclectic table settings that the Girards popularized during the postwar era. Traditional table arrangements were replaced with a more casual mix-and-match approach. The Girards combined a variety of tableware, flatware, and glassware with delightful art and artifacts that reflected the couple's lifetime of travel, love of objects, and global view.
To nourish your creative spirit, we invited Megan Hudacky Larabee—founder of the Denver interior design firm cky design and co-founder of Laradacky handcrafted cutting boards—to inspire us with table settings to take us to dinner (or any meal of the day).
Here are some stress-free ways to create your own personalized table setting:
1. Always improvise with anything you have on hand, including bits and pieces from nature. The postwar designer Ray Eames would place weed arrangements on the kitchen table. For the setting below, Megan incorporated ivy from her front yard.
2. Any variety of fruits or vegetables in a vase or basket can double as a centerpiece or table decoration, as shown below in the second photo.
3. Make sure to have fun! For the third setting, Megan added a few of her daughter's wooden stacking toys for something amusing and unexpected.
4. Last but not least: by all means, let your four-legged friends play along!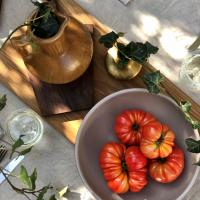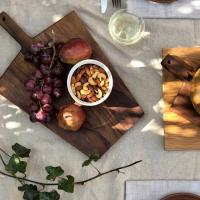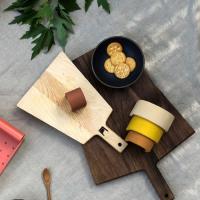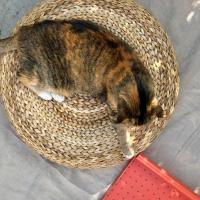 Table arrangement photos courtesy of Megan Hudacky Larabee.