Although today we know that artists of African descent left a vital imprint on colonial Spanish American art, we are frequently unable to establish the full extent of their contribution. Despite their importance and foundational role in the arts (if compared to artists from other ethnicities) with a few exceptions, little scholarly research has been carried on to ascertain the identities and personal histories of Black painters. Among the exceptions we can mention, Juan Correa (1646–1716) in Mexico, José Campeche (1751–1809) in Puerto Rico, and Vicente Escobar (1762–1834) in Cuba. However, they represent a small fraction; the artistic output and contributions from Black artists were substantial, particularly in the Spanish Caribbean.
As most painters from the period, they were busy producing art for the Catholic Church. Black and pardo (mulatto) artists built and embellished churches, convents, and monasteries; they made altars, furniture, liturgical objects, and images. In addition, some of them worked for private clientele, particularly painting portraits. It was not uncommon for artists to own and employ enslaved Black people as assistants and apprentices in their workshops. Through this practice, African artists learned the trades and imprinted their creations with their cultural sensibilities. However, it is often difficult to determine which artworks were created by artists of African descent.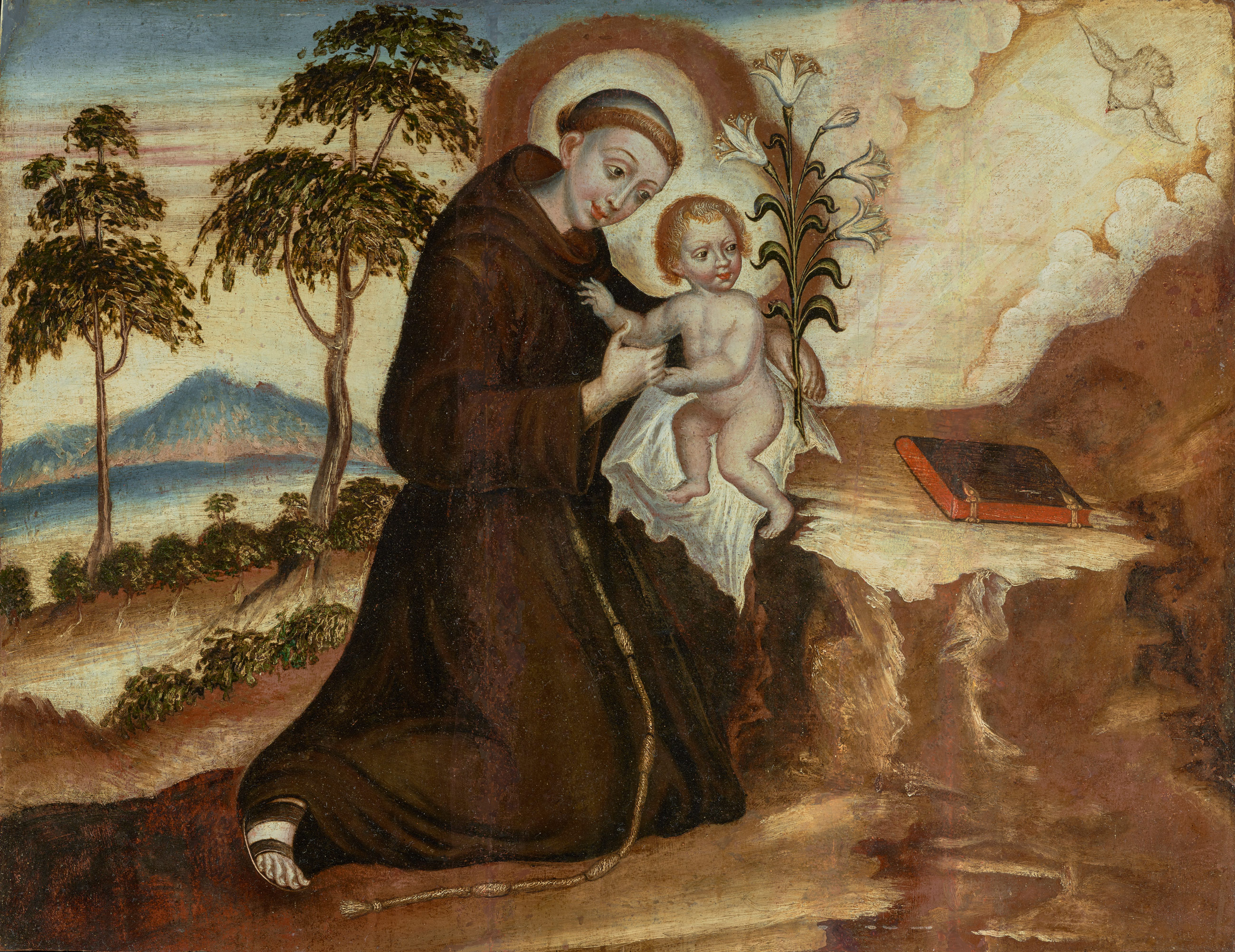 Francisco José de Lerma y Villegas
Thanks to a generous gift from Patricia Phelps de Cisneros and further acquisitions, the Denver Art Museum has the best collection of paintings by artists of African descent from 1700s Venezuela in the United States. The group's earliest work is a painting of Saint Anthony, possibly from the 1740s, by the Caracas painter, gilder, and master carver Francisco José de Lerma y Villegas. The oil on panel painting, likely based on a 1600s engraving by Gerhard Altzenbach (active, 1609–72), first belonged to Don Antonio Pacheco y Tovar (1694–1742), first Count of San Javier. Very little is known of the artist's life. The son of the painter and gilder, Juan Francisco de Lerma and his second wife Manuela Villegas, he was born in Caracas on an unknown date, likely in the late 1600s. The earliest reference to his artistic practice dates from 1718. We know that he married María Manuela de la Natividad Arráez, a woman of Black descent with whom he had at least six children. He died in Caracas in 1753 and was buried in the San Pablo Cemetery. Only two signed paintings by Lerma y Villegas are known to exist.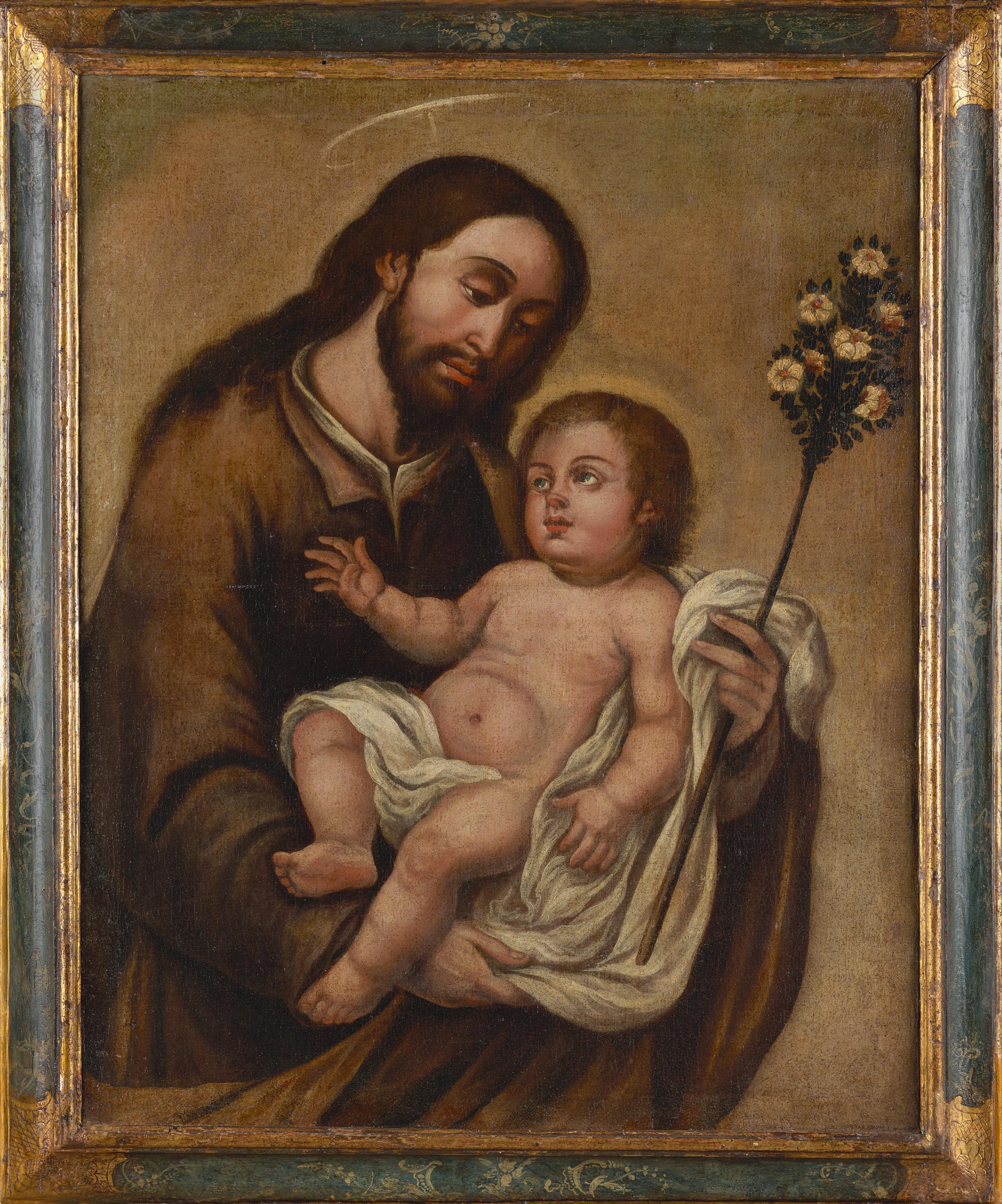 José Lorenzo Zurita
A painter and guilder, José Lorenzo Zurita (sometimes spelled Surita) was another important artist of African descent active in the first half of the 1700s in Caracas. He was born in the late 1600s in Guarenas, the son of Captain Pedro de Surita and Juana de la Concepción Díaz de Velásquez, both free pardos. He remained single and lived most of his life in the Altagracia neighborhood of Caracas. The first known record of his artistic practice dates from 1727. He had a significant career counting on private and church commissions, including Caracas' cathedral, for which he realized several works. Zurita's painting at the Denver Art Museum, a Saint Joseph with the Christ child in his arms, is a good example of his mature oeuvre. The color palette and composition suggest that it was likely based on a Sevillian painting of the same subject from the 1600s. Zurita died in Caracas on September 1, 1753. Following his death, his properties were sold, including two houses. He named among his heirs Pedro Agustín and José Jacinto, sons of María Cayetana, a Black enslaved woman he owned. He specified that both boys should be trained as gilders.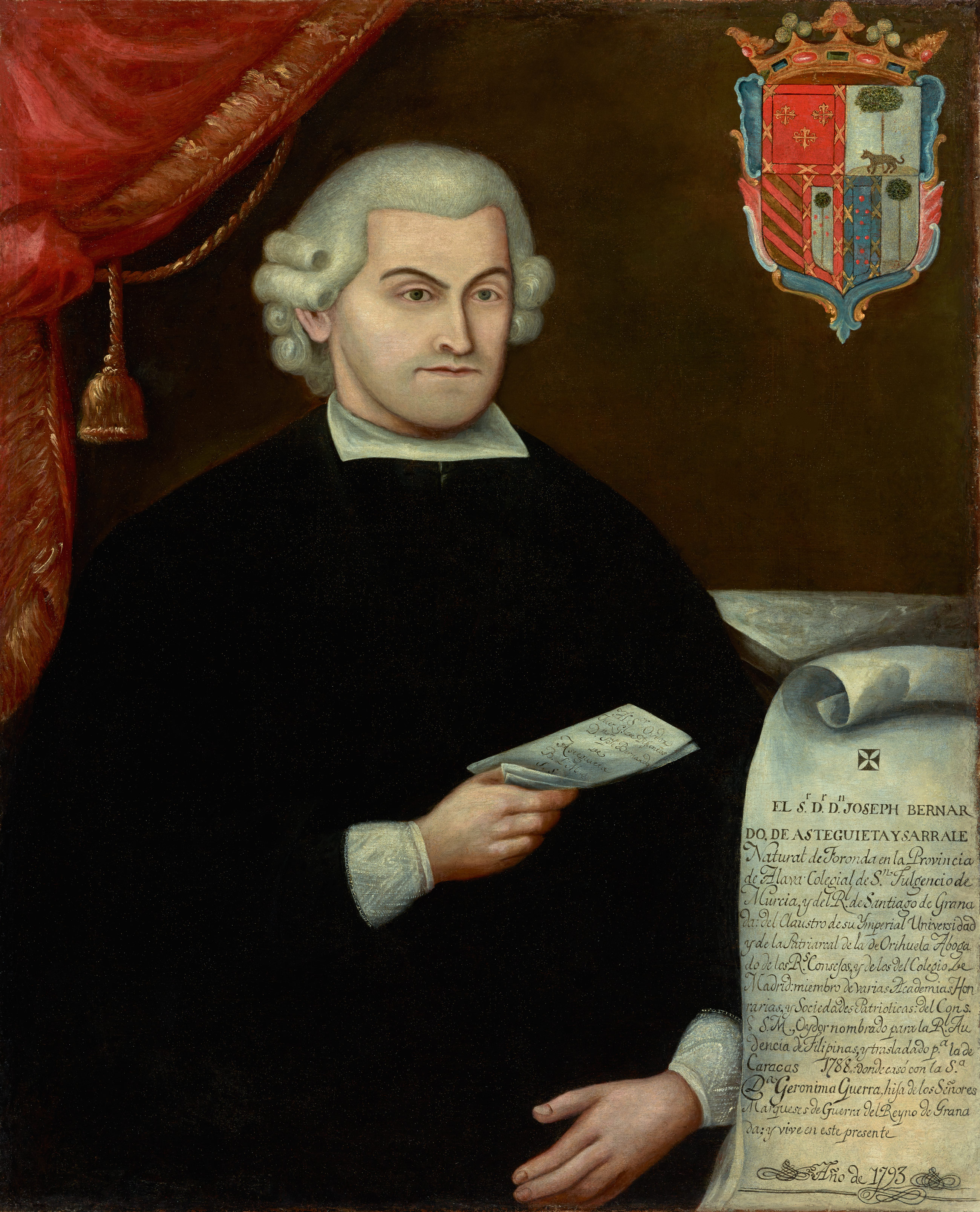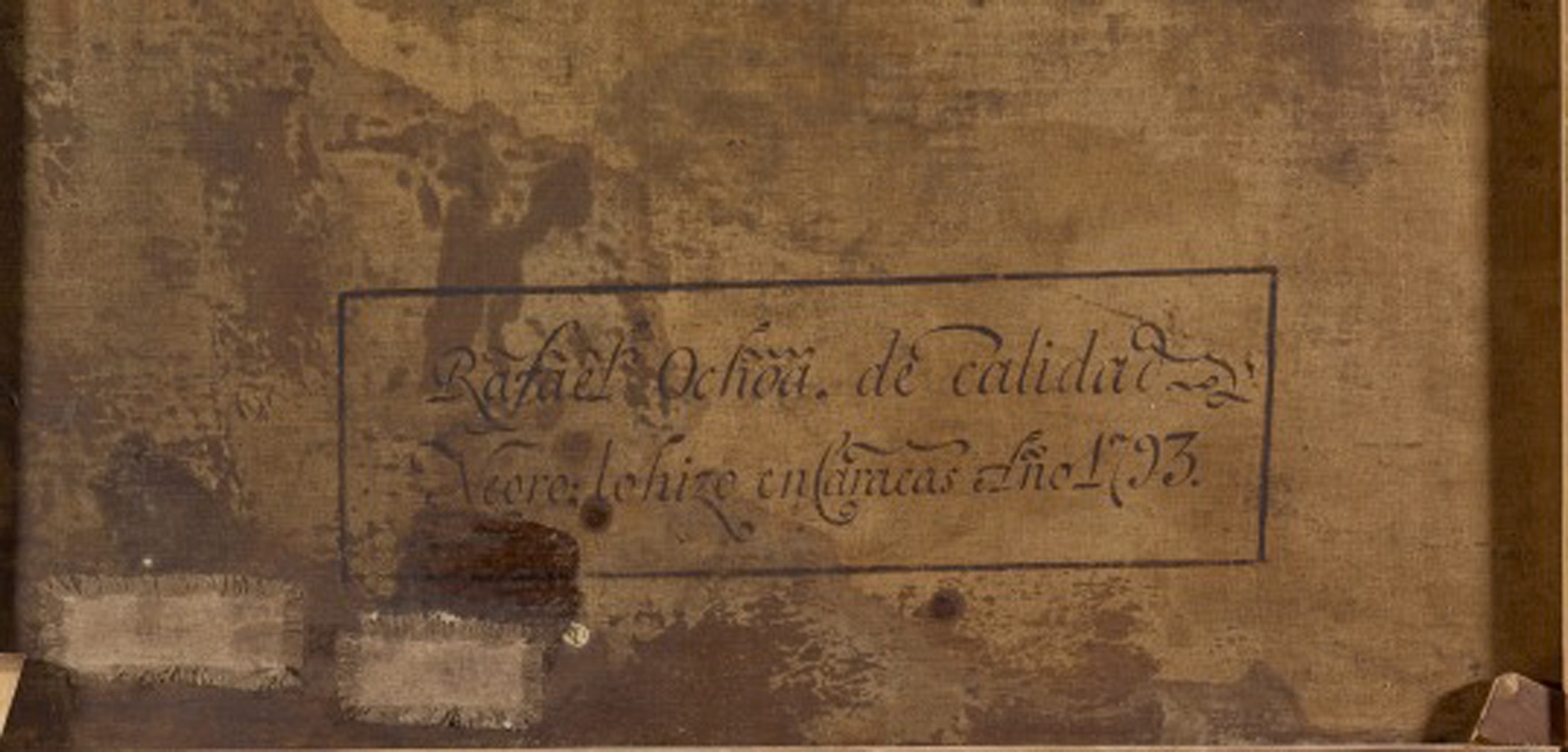 Rafael Ochoa
An interesting painting from this group of works by Black painters is the portrait of Don José Bernardo de Asteguieta y Díaz de Sarralde (1749–1812) by Rafael Ochoa. Very little is known about the artist other than that he was a pardo master painter and gilder active in Caracas between 1787 and 1809, where he also worked as an appraiser in wills.
The painting is signed and dated on the reverse with a large inscription inside a rectangular cartouche that reads:
Rafael Ochoa, de calidad Negro: lo hizo en Caracas Año 1793. (Rafael Ochoa, of Negro quality: he did it in Caracas year 1793).
Not only does the inscription on the verso state that it was painted by Ochoa in Caracas in 1793, but it also indicates that Ochoa presented himself as a Black artist, which was an exceptional artist's statement during the Spanish period. This is the only known signed artwork by Ochoa.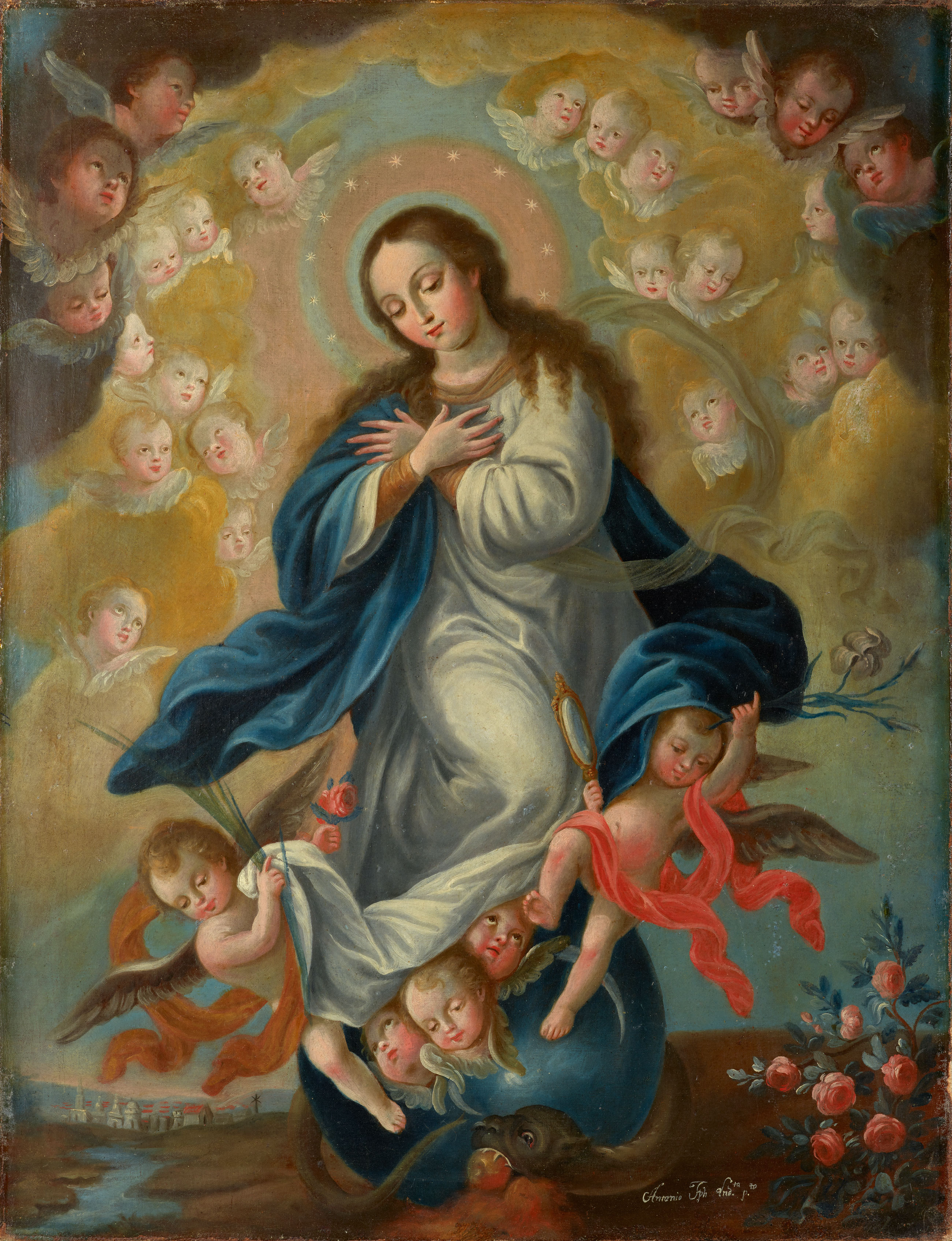 Antonio José and Juan José Landaeta
During the Spanish age, guilds regulated all aspects of economic life. By the late 1700s, the artistic trades in Caracas were in the hands of a close-knit network of families, several of African descent, who intermarried and passed the family trade to their sons. Notably among them was the extensive Landaeta family, which included painters, gilders, silversmiths, and musicians. The brothers Antonio José and Juan José Landaeta, sons of Alejandro Landaeta and Juana Estéfana García, both free pardos, were among the most accomplished artists of the time. They shared a workshop in Caracas and worked as painters and gilders. The Immaculate Conception at the Denver Art Museum is one of the two knowns signed artworks by Antonio José Landaeta. It was painted around 1795 and is based on a Spanish engraving by Juan Antonio Salvador Carmona (1740–1805) after a painting by Mateo Cerezo (1637–1666) now lost. The painting is signed "Antonio Jph Lnd.ta p.to" (Antonio Joseph Landaeta painted it). The painter died in March 1799 and was buried in the church of Our Lady of Altagracia in Caracas.