Quána Madison will be in the Paint Studio demonstrating expressionist painting as a path to well-being, noon–3 pm August 10-11 and August 17-18, 2019. The Paint Studio is included with general admission, which is free for members and youth 18 and under.
Quána Madison is an expressionist artist, author, speaker, model, and arts wellness workshop facilitator. She developed disruptive chronic illnesses after surgical treatments for the beginning of breast, ovarian, and uterine cancers. After surviving an extraordinary near-death experience, Quána discovered her artistic voice and experienced post-traumatic growth through expressive arts. She believes art nourishes physical, mental, emotional, and spiritual wellness. A graduate of New York University and Colorado College, Quána holds an MA in education and a BA in philosophy. She was a PhD student at the University of Colorado Boulder until she says her cancer treatments and chronic illnesses transformed her life.
Every human being deserves opportunities through their life to engage meaningfully in the arts. Given the current state of affairs in the world, I believe we need the arts now more than ever.
Laura Thompson: What will your demo at the DAM look like? What can visitors expect?
Quána Madison: Visitors will have the opportunity to sit with me and empathetically connect. Interacting with participants through storytelling and empathetic listening invigorates my expressive painting process. I play a variety of music on a speaker during my session. Music soothes my body and inspires my soul to dance through painting. You may see me moving, grooving, and dancing to the music—as I paint.
I invite visitors to sit down in a chair next to my easel—to discuss their feelings and responses to my artmaking process and selected artworks from my collection. Visitors are welcome to participate by selecting a tube of paint based on a color that represents an emotion in that moment that is important to them. I incorporate that color into my painting. There will be a few simple expressive art prompts that visitors can choose to explore. Prompts may incorporate writing, drawing, storytelling, poetry, or painting. Responses are recorded on sticky notes. Participants are welcome to post their responses on designated surfaces and read the responses left by other visitors.
You may see me using sticky notes to scribble, doodle, and to record reflective questions and responses to expressive art prompts. I use expressive writing to channel my painting. I weave together painting and reflective writing to deepen my understanding and personal practice of emotional wellbeing. I switch between multiple canvases to paint on based on my emotional journey in that moment. Painting helps me creatively cope with chronic pains, fatigue, and other symptoms that result from my chronic illnesses. Thus, I select expressive art prompts designed to promote emotional wellness with a focus on self-compassion, self-esteem, self-care, and self-love.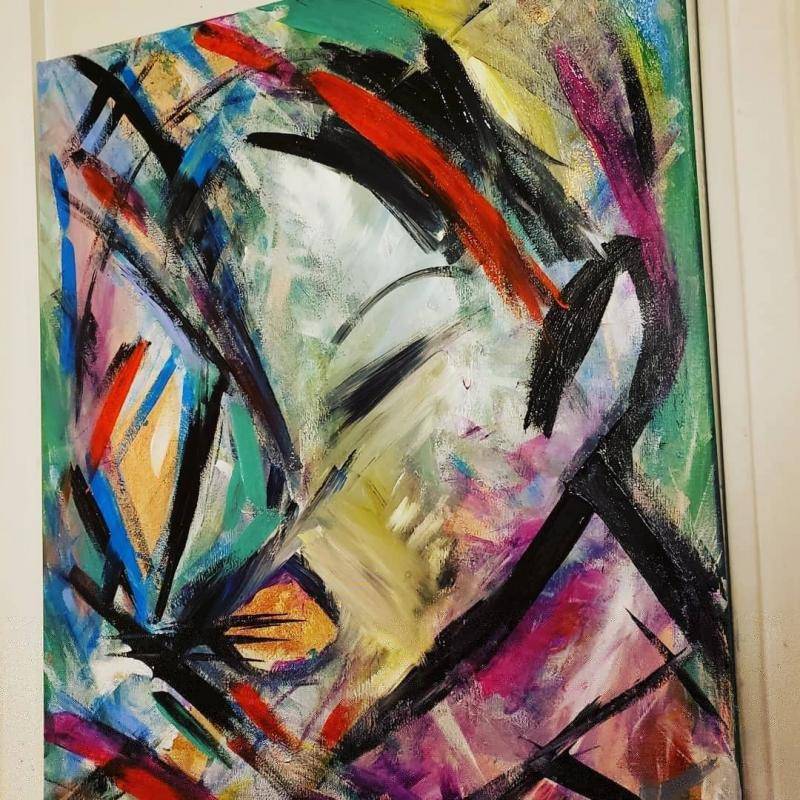 Painting acts as a form of creative meditation that nourishes my unconditional self-worth, self-compassion, self-love, and empathy towards others.
LT: Your artistic practice ranges from abstract expressionism to performance art to poetry to arts advocacy. You are also a scholar and an author. How does painting fit into your expansive artistic practice?
QM: As an expressionist artist, I embrace using a variety of expressive mediums including, but not limited to, poetry, personal narratives, journaling, performance arts, and painting. Painting is very special to me, because of the role it has played in my recovery process from cancer treatments and navigating new 'invisible' disabilities (fibromyalgia, myalgic encephalitis/chronic fatigue syndrome, chronic pain syndrome, and autoimmune disease). Painting restored my inner strength, hope, and courage to create a different life path.
Modern medicine saved my physical body from the beginning of breast, ovarian, and uterine cancers, but expressive artmaking brought my soul back to life. Painting is the poetry of my soul. It helps me cope with the debilitating symptoms of my chronic illnesses. Painting acts as a form of creative meditation that nourishes my unconditional self-worth, self-compassion, self-love, and empathy towards others. Expressive painting supports my self-actualization journey and deepens my feelings of connectedness to humanity. After I paint, I translate my visual art into words, poetry, personal narratives, performance art, arts advocacy, and relevant knowledge sharing.
Every human being deserves opportunities through their life to engage meaningfully in the arts. Given the current state of affairs in the world, I believe we need the arts now more than ever.
Art has a profound power to support personal development. When we find the right medium, format, expression or style of art that speaks to our soul, that heals our hearts, that resonates with unspoken experiences, emotions, thoughts—it expands your inner life force energy.
LT: How has your unique life journey affected the type of paintings you create?
QM: Painting brought my soul back to life after surviving the physical, mental, emotional, and energetic traumas associated with double mastectomies, oophorectomy, hysterectomy, breast reconstruction, and surgery. When I first began painting, it functioned as art therapy. As time went on, my painting evolved to help me creatively cope with incurable chronic illnesses that developed after my cancer treatments.
My lived experiences have culminated into a passion for the following subject matters: transmutation of trauma, feelings of hope, building inner strength, personal transformation, a sense of interconnectedness, identity evolution, mindfulness, increased self-esteem/confidence, nourishing self-actualization, and practicing inner peace. My paintings are visual mudras that focus on these themes.
LT: Your paintings feature a rich use of color. Could you discuss the role of color in your paintings?
QM: Colors help me communicate the emotional poetry of my soul. I associate colors with feelings, symbols, ideas, and the chakra system. When I begin painting meditation, I feel colors in my heart. I ask myself the question, 'Which color is speaking to me right now and why?' My chronic illnesses cause a plethora of symptoms that are debilitating, especially during a flare up. I live with chronic pains and severe fatigue every day. I manage depression and anxiety that are caused by my health conditions.
Depending on how my body, mind, heart, or spirit is feeling in the moment, I select specific colors based on their associated meanings. As I paint with a color, I meditate on the meanings associated with the color. This process helps me refocus and transform my energetic and emotional atmosphere in positive ways.
LT: What are you thinking about when you begin a new painting?
QM: I practice mindfulness when I begin a new painting. I consciously connect with my physical, mental, emotional, and energetic bodies. I notice my breath. I acknowledge the passing trains of feelings and thoughts. As I hold a tube of paint in my hands, my body gets inspired to move or dance. I give myself permission to be spontaneous. As I paint, I feel inner stillness and listen to the colors speak to me. As I paint from this emotional space, specific visions of patterns, lines, or abstract images emerge.
LT: Do you decide on a specific design beforehand or do your compositions take form more organically?
QM: Most of my compositions emerge organically as I engage in expressive mindfulness through painting. Some of my paintings are specific inspirations that I've seen during my expressive arts meditations. When I create commission art, I work with a specific design concept and combine it with my intuitive emotionally expressive style.