Jessica Loving grew up in the once sleepy mountain town of Conifer, Colorado. She spent much of her childhood being fortunate enough to experience extensive international travel with her family. This gift of ultimately, wanderlust, thoroughly enriched her being. Before the age of 20, she had already visited over 30 countries and seven continents.
Jessica is the co-founder of the full-service marketing boutique, (in)spiregraphics. Jessica is also the co-founder of artboss, a communications and branding agency for artists. When she is not busy in the studio, she can be found hiking, snowboarding, backpacking, kayaking, or embarking upon some sort of fantastic outdoor adventure with her husband and daughter.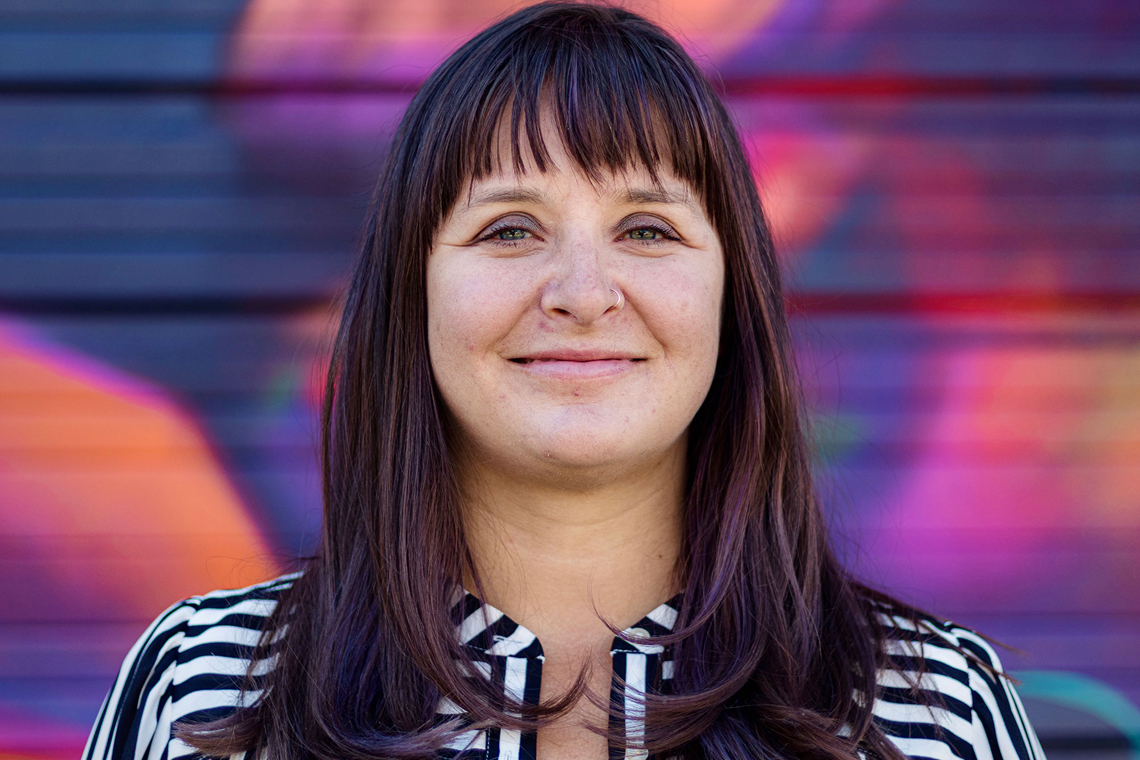 Jessica studied Fine Art at Eckerd College in St. Petersburg, Florida, from which she graduated in 2005. After moving back to Denver in 2006, she immediately became active within the art scene. She is a co-founder of Sync Gallery. She helped run several Denver-based co-op galleries including NEXT Gallery, EDGE, Sync and Core New Art Space. Currently, her work is represented by galleries in Texas. Her large-scale mixed media paintings are part of collections worldwide — private and corporate. Several of her works are showcased in high-end resorts, hotels, and spas around the US.
I hope my paintings bring a sense of the serene, an offering of silence, a revelation of something that perhaps someone has not thought about in a very long time.
Your technique and approach to painting is very unique and expressive, can you explain your technical process and choice of materials?
I build up my foundation by creating a developed underpainting that includes establishing a pronounced texture with various granular materials such as glass and crushed stone. I then construct a complex palette by adding layers of acrylic pigment — often through delicate layers of pours. An oil stick allows me to add expressive marks and details. Pigment stains the crystalline surface, clinging delicately to the peaks and troughs.
When beginning a new work, how do you choose what to paint next? Is there a particular process that informs or influences what you paint?
I notice that I am more moved by color than anything. I often find myself amidst an obsession over a particular hue. Currently, I am working on a body of work centered around the diurnal sky. These are not representational of cloudscapes or meant to capture the sky in a realistic manner, but are rather pulling from the palette and gauzy expansiveness overhead. I've been painting in this palette for several months now and will continue to do so until it feels complete. It feels like this idea just takes hold of me for months at a time.
Travel—specifically, spending time away from the buzz of the city, feeds and inspires my work. A camping trip will often give me plenty of fodder to work from. Most of my work draws inspiration from being in the outdoors—away from light and noise pollution and nestled amidst the natural landscape of Colorado and the greater southwest region.
Is there anything that you want people to see or feel when viewing your work?
I want my work to be experienced in the way that it shows up for each person—unique, personal and sometimes, intangible. These are meant to be meditations on color and space. Each person's experience is purely individual; a composite of experiences and memories that are revealed when looking at that perfect shade of blue. I hope that my paintings bring a sense of the serene, an offering of silence, a revelation of something that perhaps someone has not thought about in a very long time.
What are you up to next? Where can visitors see more of your work?
Next up, I will be participating in the upcoming Pink Progression show at the Arvada Center, this summer.