Emeka Dragonfly will be in the Paint Studio demonstrating energistic light and color painting noon–3 pm on February 22-23 & February 29-March 1, 2020. The Paint Studio is included with general admission, which is free for members and youth 18 and under.
Ultimately, it is the sense of that primal pulse, beat, vibration, movement, rhythm, rhythm, rhythm that in the beginning was the pulse and rhythm of the Creatress/Creator, which harmoniously manifested itself into all matter, humanity, and life that I am trying to convey.
In terms of a style, Emeka Dragonfly says he would say his style is no style. "I will use whatever is necessary, Abstraction, Impressionism, Realism, Expressionism, etc., to make tangible the intangible image that I have in my mind.
As far as a theme in my painting, I have labeled myself an "energist." In the work that I do, my primary concern is to convey a sense of energy. All of the visual elements (color, value, edges, texture, etc.) that I use are simply means to try and achieve that end. Rhythmic energy, that's the theme I am trying to accomplish in my work.
In my lifetime, I have been extremely fortunate and blessed to be in the presence of greatness and to have been surrounded by what I consider to be some of the most giving, brilliant, wise, and loving people on the planet (primarily my mother). Among my people, we have been taught to always honor, respect, and pay tribute to those who have come before us and greatly helped us along our path in life. So I give thanks and praise, first and foremost to the Creatress/Creator and to my ancestors, my mother, Edith Somolipi Cook and my father, Joseph Louis Cook, on whose shoulders I stand. Without them, there would be no me. Also, teacher and ancestor, Bwana Donald Todd, he made me strive for excellence. Artist Robert Ragland, he gave me my grounding. Artist Mark Daily, he solidified my basics, and artist Quang Ho, who helped me look a bit deeper. Artist Emanuel Martinez, who regularly reminded me that I hadn't achieved excellence. Last but not least, artist and painter, Richard Schmid, whose generous and shining words of encouragement, along with his extraordinary painting and teaching ability, helped me to look, see, observe, look again and refine my problem solving skills.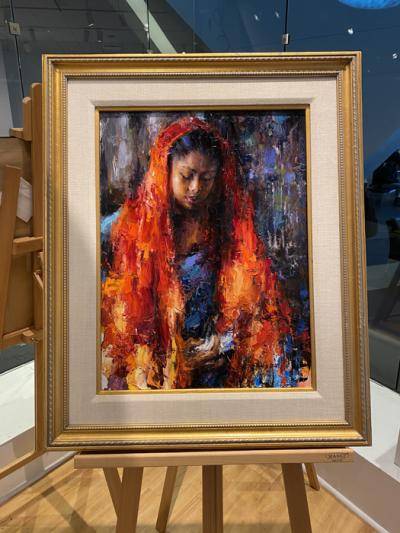 It is with this spirit, that I hope I can convey the inspiration and insights that have been so generously shared with me. In kind, I will continue to learn from the upcoming artists (young and elder alike) who have shining, promising, extraordinary concepts and innovations to share with us all. Thus, continuously completing the eternal circle.

–Emeka Dragonfly
What can visitors expect to see during your demo in the Paint Studio?
All of the work that I do is primarily concerned with trying to get across a feeling of energy, movement, and life.
What is your process for beginning a new work? What kinds of things are you thinking about before you paint?
I really don't have a process, so to speak. Generally, what is going through my heart, as opposed to my mind, is trying to get a feel for something and seeing if something will happen from that feeling.
I noticed that the subject matter in your works ranges from figurative, to almost abstract and more gestural in your cityscapes. Can you explain some of these stylistic choices?
No matter whether the subject matter is figurative, landscape, still life, or abstract, again, what is always primary is that I am trying to get a sense of energy, movement, and motion. Sometimes, with a figure or portrait there is something about the person that I want to be recognizable. So in that respect, it may not look as abstract simply because people will recognize the person as being of the human family.
What are you currently working on? Is there an opportunity for visitors to see more of your work?
Currently, I am working on a series of drawings. And as always I am trying to make certain they have a great sense of energy and movement. I will have an upcoming show in Louisville, Colorado in March. The gallery is called Creative Framing & Art Gallery and they will have some of my newer drawings displayed.