This Q&A was published when Adri Norris was in the Paint Studio demonstrating her Women Behaving Badly series of paintings September 21-22 and September, 28-29, 2019. The Studio is currently closed due to COVID-19.
I had to ask myself, why am I in my 30s and I'm just hearing about these women? What would my life look like if I had had them as role models?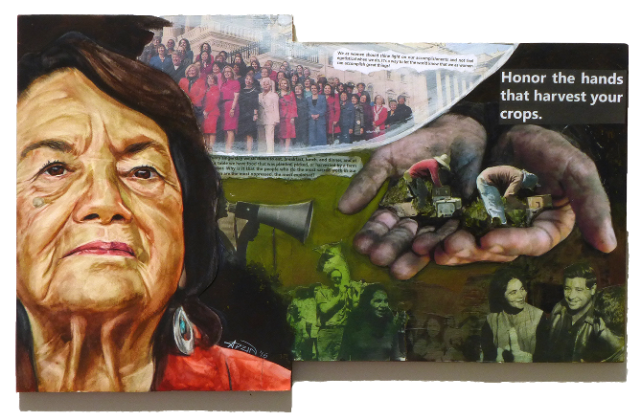 Laura Thompson: What will your demo at the DAM look like? What can visitors expect?
Adri Norris: My Denver Art Museum demo will look like paintings of women in history I've already created on display while I work on new ones. My process involves a combination of collage, acrylic painting, and watercolor painting, so I will do my best to focus on the painting portions during the demo.
LT: Your series "Women Behaving Badly" features women throughout history who significantly contributed to shaping our world. Could you talk about how this series came about and where you see it heading in the future?
AN: I started the Women Behaving Badly series because, in my mid-30s, I discovered NPR's podcasts. Listening to RadioLab led me down an information rabbit hole where I discovered all kinds of stories about how the world works and who made what happen. Among these were stories of women who had made a huge impact on the world. I had to ask myself, why am I in my 30s and I'm just hearing about these women? What would my life look like if I had had them as role models?
I had been looking for something meaningful to pair my art with so that I could get beyond custom portraits and paintings of celebrities. Women in history was the solution. Since I've started, it's grown bigger and taken me more places than I could have imagined. This series has been such an amazing tool for my own education, I want to share it with as many people as possible. Hopefully, they will have a similar experience.
LT: Each of your compositions from "Women Behaving Badly" is painted on a uniquely shaped canvas. Could you discuss how the shapes of the canvases and the content work together?
AN: I like to say that I've been painting on rectangles my whole life, so I build my "canvases" in crazy shapes because I wanted to see what would happen if I didn't paint on rectangles. That's part of it. The other part is that I was accustomed to filling the space with a portrait and not leaving room for much else. With Women Behaving Badly, the background is as important as the portrait, as it tells the story of each woman's life. By breaking out of the rectangle, I force myself to make room and still end up with a pleasing composition.
LT: Your Women of Colorado Trading Cards project features portraits of historical women and key facts about them. Do you see this project as an interactive extension of your "Women Behaving Badly" series?
AN: The Women of Colorado Trading Cards were created as a resource that will, hopefully, make their way into the classroom. Education is the hallmark of the series and why I create it. I want every product I create, whether it is an original painting or a reproduction, to be educational. The trading cards are just the first of many ideas I am kicking around.
LT: What are you thinking about when you begin a new painting? Do you decide on a specific design concept beforehand or do your compositions take form more organically?
AN: With each new painting I create, I put in as many randomizing elements as make sense. I have a tendency to get very formulaic with my process, so this helps me to be more spontaneous. I build my boards by assembling randomly shaped and sized rectangles. Once I find a pleasing shape, I build a frame in back to keep the pieces together. Sometimes I'll spray paint them, or collage random colors on to them. Then, I go into my research notes, choose a woman who fits the shape and the color I've created, and then start the piece. Because I build these six or so at a time, the last couple are less a matter of choice and more a matter of working with what I have. It's a problem I have to solve.
Image at top: Adri Norris. Photo by Lisa Rundall Photography.