Jeffrey Gibson: Like a Hammer is the first exhibition to focus on the art that one of the brightest stars working in the contemporary art world today has made since 2011, a creative turning point for him.
Gibson blends influences from American Indian and contemporary art to create unique, complex works. Fringed punching bags, wall hangings beaded with song lyrics, and geometric paintings on rawhide or canvas are some of the impactful artworks you will see here. He speaks of "charging these objects with a larger power."
Much of Gibson's work grows out of his search for his place in the world as a person and an artist. He also takes a hard look at the painful history of Native peoples in this country: As he says, "We are stuck in a present and past written and defined by non-Native people. I want to create work that makes the marginalized feel central."
About the Artist
Gibson holds an MA in painting from the Royal College of Art, London, and a BFA from the School of the Art Institute of Chicago. He is a citizen of the Mississippi Band of Choctaw Indians, like his father, and his mother is Cherokee. He lives with his husband and daughter in New York's Hudson Valley, where he runs his studio and teaches at Bard College.
About the Exhibition
Gibson's words lead the narrative of the exhibition. While the works loosely follow a chronology, they more so follow points in his career where he developed new ideas and added to his visual vocabulary.
Each section provides a deep look into aspects of his work that he builds upon over time and each provides visitors different and distinct ways in which to connect with his work.
Gibson's complex blending of inspirations can be seen in his unorthodox mashup of materials. Nothing is chosen at random: from metal cones to beadwork, painted animal hides to fringes and repurposed blankets, these materials have meaning in Native dances and cultures. He brings them together in a way that maintains each element's individual identity while melding them into a unified whole.
You can see that in this work, Like A Hammer, from 2014. This is where the show gets its name.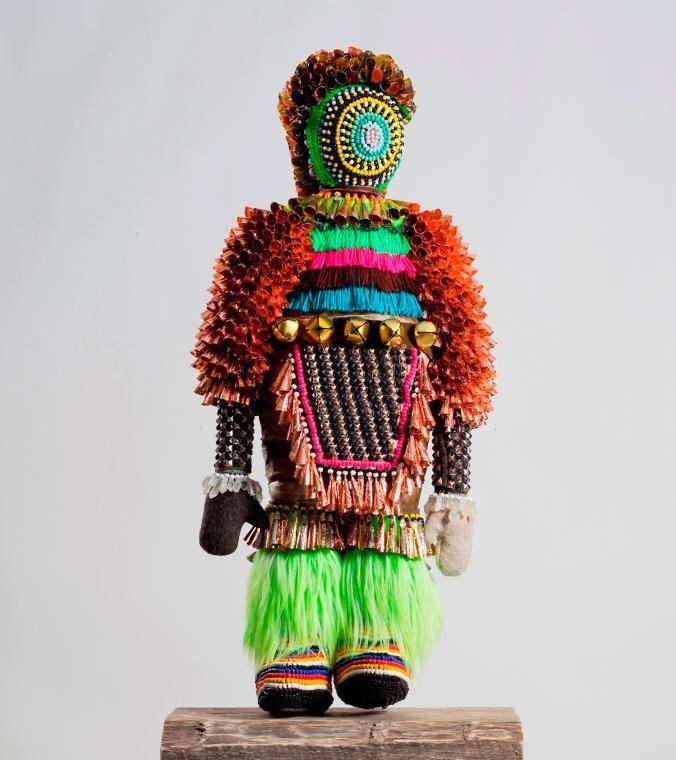 Details
This exhibition is on view May 13-August 12, 2018 here at the DAM. It is included with general admission, which is free for members and youth 18 and younger.
After this presentation in Denver, Jeffrey Gibson: Like a Hammer travels to the Mississippi Museum of Art (September 8, 2018–January 20, 2019), the Seattle Art Museum (February 28–May 12, 2019), and to its final destination at the Madison Museum of Contemporary Art (June 7–September 14, 2019).
Top image: Jeffrey Gibson (Mississippi Band Choctaw/Cherokee), WHAT WE WANT, WHAT WE NEED, 2014. Repurposed wool army blanket, glass beads, tin jingles, nylon fringe, acrylic yarn, artificial sinew, copper-coated wire, copper cones, turquoise, amethyst, quartz crystals, plastic sequins, cowrie shells, horn, druzy quartz beads, dentalium, malachite, stone arrowheads, and nickel beads; 68½ x 128½ x 8 in. Courtesy of Jeffrey Gibson Studio and Roberts Projects, Los Angeles, California. Image Courtesy of Jeffrey Gibson Studio and Roberts Projects, Los Angeles, California. Photograph by Peter Mauney. © Jeffrey Gibson