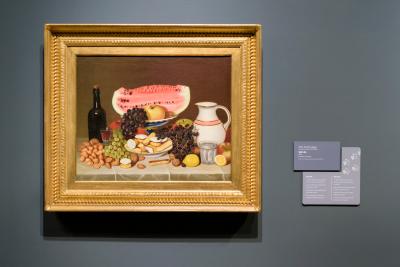 A Fun Way for Children to Explore European and North American Art
In 19th Century European and American Art, go on Rip's Adventure, a fun puzzle game. This game follows the story of a dog named Rip who jumps out of his painting and ends up getting lost as he wanders through landscapes, portraits, and still lifes. Find the four clues—marked with his paw prints—and make sure he finds his way back to the correct work of art. Continue the fun by searching for Rip's self-portrait, which is hidden in one of the rooms.
A Game for Mini-Designers and Fashionistas
Also, in Paris to Hollywood, enjoy the mobile family game that takes you and your family into the dazzling closet of fashion influencer Véronique Peck. Explore one-of-a-kind garments that Véronique wore and discover what makes them so special, from their surprising materials to their creative design. Try the game at the Denver Art Museum website and access it via the QR code at the exhibition.
Be sure to visit the museum's website for upcoming summer programs, such as the Simphiwe Ndzube: Oracles of the Pink Universe exhibition guide for families.