Every year between 1908 and 1952, Swedish-born American artist Sven Birger Sandzén (1871-1954) traveled into the Colorado Rockies and produced vibrant interpretations of the state's "beauty of bigness." Thanks to the generosity of the DAM Westerners, the Petrie Institute of Western American Art's acquisitions group, Sandzén's A Mountain Symphony (Longs Peak, Rocky Mountain National Park, Colorado) is on display to the public for the first time in 90 years.
The 'American Van Gogh'
Sandzén called Colorado "paradise for a painter." Through plein air sketches he developed form, visual rhythm, and color before executing a larger work in a single, confident layer of sculptural brushstrokes that emphasized what he called "the sensuous charm peculiar to the oil medium." In A Mountain Symphony we see the rich colors and broad strokes that inspired some to refer to him as the "American Van Gogh."
Sweden, Paris & Kansas
Sandzén believed firmly in maintaining true to one's artistic vision and in studying directly from nature. His personal values grew from the advice of art instructors from his youth in Sweden, as well as from his time in Paris. While living there in 1894 he visited the Louvre and studied the work of the impressionists and post-impressionists. (During a later visit he also saw work by the fauves.) In Paris he met a number of friendly Americans and learned of Bethany College in Lindsborg, Kansas, established in 1881 by Swedish Dr. Carl A. Swensson (1857-1904). These factors, as well as his boyhood interest in the novels of James Fenimore Cooper and Mayne Reid, resulted in his writing to Dr. Swensson asking for a job in Kansas. From the fall of 1894 until his death in 1854, Sandzén lived in Lindsborg and taught two generations of artists at Bethany College.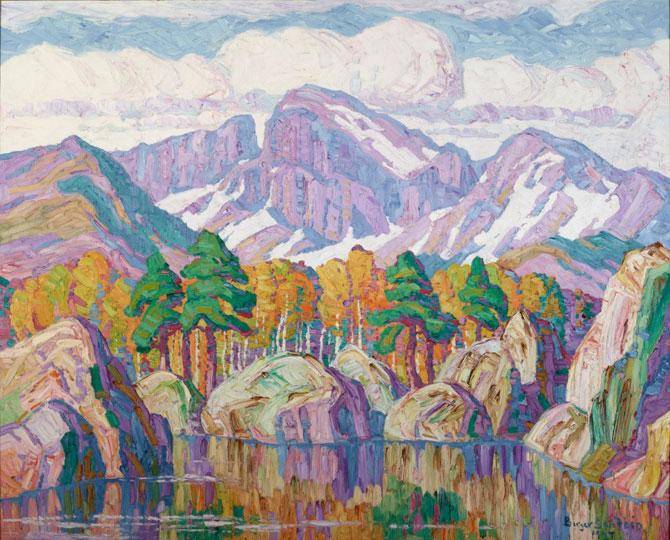 Personal Messages From 'Soul to Soul'
The influence of Sandzén's studies in Sweden and France can be seen in the vivid colors and expressive brushstrokes of A Mountain Symphony, but he never fully embraced any one style. Building upon the lessons of his teachers, he devoted his career to developing an individual artistic vision. A work of art "cannot be made after formulas," he wrote in 1915, because each one "is a personal message from soul to soul."
See It & Learn More
View this painting of Rocky Mountain grandeur on level 2 of the Hamilton Building to see what message it might have for you.
Learn more about the western American art collection at the DAM.