We worked with CU Denver's Associate Professor Brian Leister's students to design a bilingual app experience that empowers visitors to learn more about the scenes portraying Malinche and her role in Cortes' campaign. Users can also play a close-looking game that challenges visitors to distinguish from the threaded Indigenous peoples, vessels, and objects from Western ones. Download the La Malinche app now to experience this incredible artwork and come see a part of it in person in the Traitor, Survivor, Icon: The Legacy of La Malinche exhibition, on view through May 8, 2022.
Tillet Tapiz
The Spanish conquest of Mexico in 1521 irrevocably changed the political and social landscape of the Americas and the balance of global power for the next three centuries. Hernan Cortes set forth from Havana, Cuba, in February 1519 and landed on Mexico's gulf shores in March. The scope and impact of the historical moment compelled both native and Spanish chroniclers to recount the events of the campaign in detail leaving behind a rich a varied historical record.
The Tillett tapiz, an embroidered cotton cloth created by British-born American textile designer Leslie Tillett, depicts the two-year Spanish campaign to bring down the Aztec empire and conquer Mexico.
Tillett conducted extensive research combing through both native and Spanish accounts of the conquest for inspiration; the singular work underscores Tillett's depth of research as well as his sensitivity to the subject. After its completion, the tapiz toured the United States making stops at Santa Fe's Palace of the Governors and the Cooper Hewitt Museum, but ultimately returning to the family where it lived until this past year.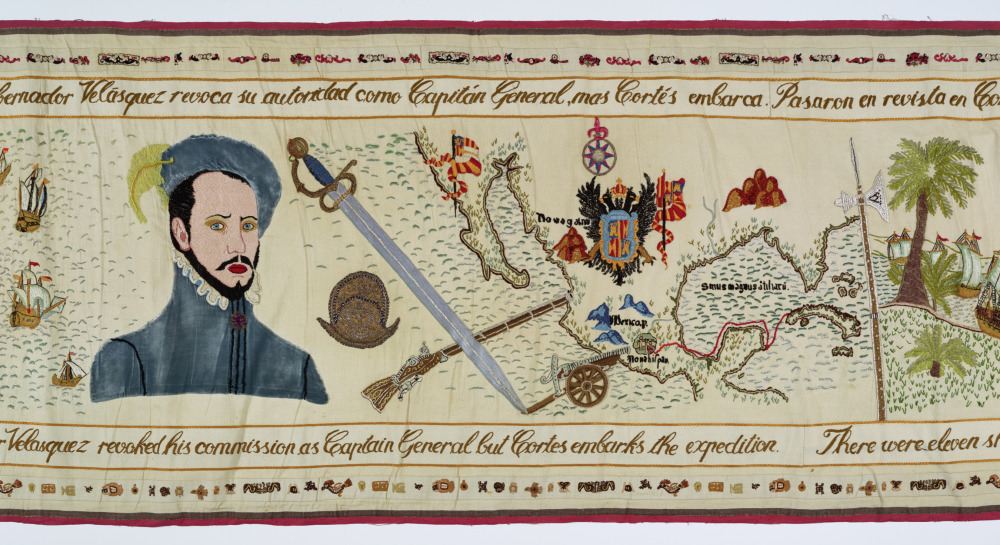 Designed as a visual narrative inspired by both pre-Columbian and sixteenth-century sources, the story unfolds as a series of vignettes along the 100-foot length of cloth annotated by Spanish and English captions running along the upper and lower frames respectively.
Tillet and his brother Charles began designing printed textiles using the handspun cotton cloth produced in the region. Eventually the brothers established Artes Tillett, a textile design factory with a shop in the nearby town of Taxco. At the time William Spratling, an American jewelry designer best known for his silverwork, had fostered an artists' haven in Taxco attracting American expats mostly from Hollywood, California, as well as Mexican artists such as Miguel Covarrubias, Diego Rivera, and Frida Kahlo. Leslie and his wife D.D. moved back to New York City in the late 1940s where they founded Tillett Designs and continued to create custom fabrics for clients such as Jackie Kennedy.