Like many artists before her, Jordan Casteel is drawn to Harlem's vibrant street life and arts scene. Casteel's early paintings depicted black men and their relationships with one another. Later, the people and streets of Harlem became the subject of her work. As the artist shifted her gaze to her community at large, a focus on locally owned businesses emerged—the Ethiopian restaurant that she frequents, a shop owned by an acquaintance—which led to more frequent representations of women. The museum had the opportunity to acquire two recent paintings that are included in Jordan Casteel: Returning the Gaze. From a group of three new works, we selected Fatima and Sylvia's (Taniedra, Kendra, Bedelia, Crizette, De'Sean) for purchase, and we were so pleased to have the support of generous individuals in our community to make these acquisitions possible.
Fatima depicts a street vendor seated on the bumper of a food cart filled with baked goods. The artist encountered her warm smile frequently because she parked her cart outside of The Studio Museum of Harlem where Casteel had residency in 2015-16. The donuts, muffins, and rolls on the shelves are popular American street foods. Clothed in an embroidered blouse, sneakers, and headscarf, Fatima seems equally comfortable in her identity as a Muslim and a New Yorker.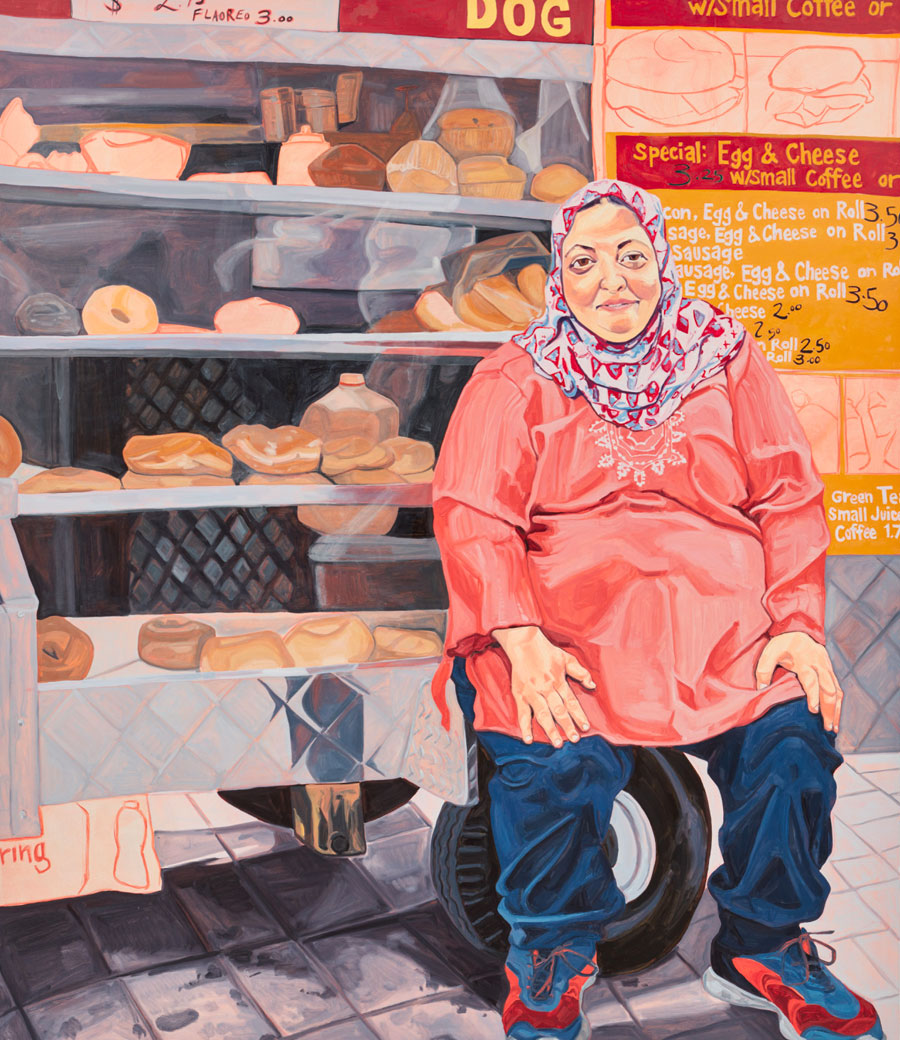 Sylvia's (Taniedra, Kendra, Bedelia, Crizette, De'Sean), pictured below, shows Sylvia's descendants seated in the matriarch's establishment, a well-known soul food restaurant. Sylvia's "Queen of Soul Food" Restaurant is in Casteel's sphere and appears in the background of an earlier painting.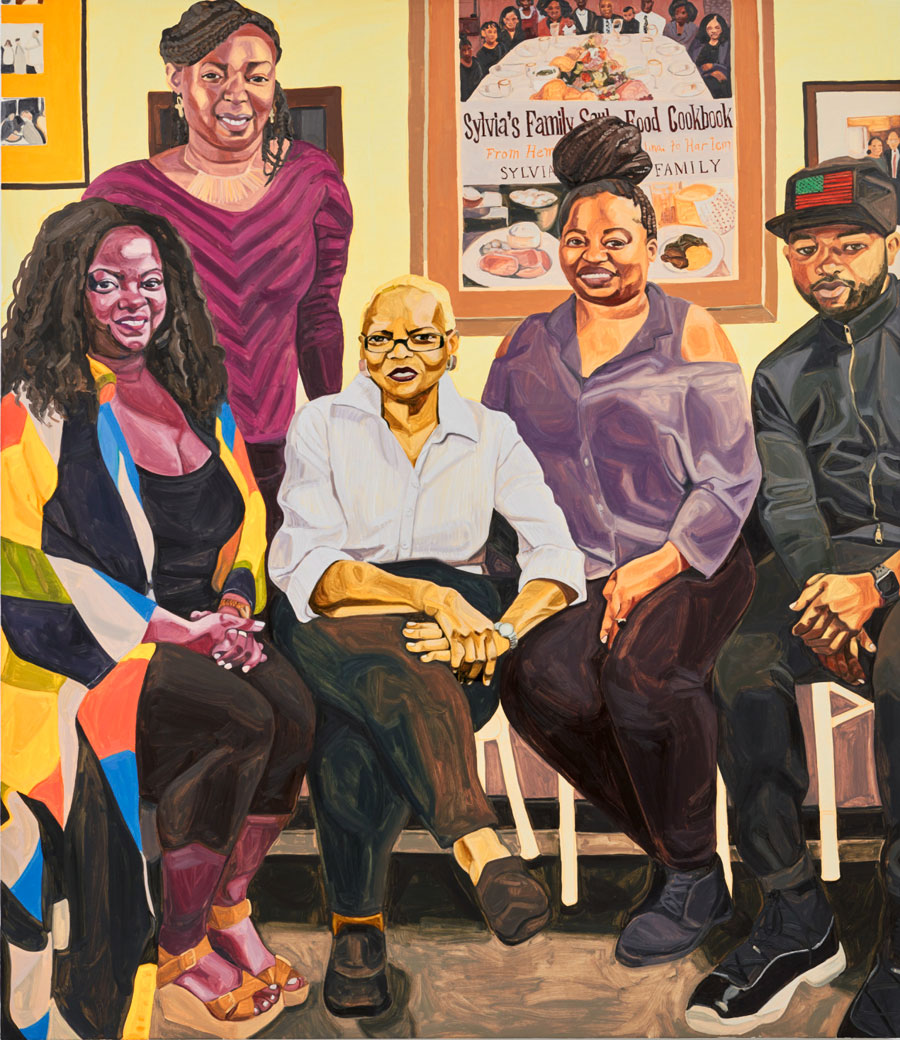 Each of Casteel's portraits begin with the click of a shutter to catch the fleeting expressions of her sitter. Conversing with her subjects as she takes a quick series of photos, the artist puts them at ease, invites them to be themselves, to direct the moment, to control how they are portrayed. She then studies the photos in the studio for a period of time before beginning to paint. As she told me, "My goal is to capture something that's only felt when thoughtfully engaging with someone. The paintings are meant to capture an immediacy similar to someone sitting for a painting from life—I'm acting out of instinct."
Traditionally, the power dynamic between artist and subject tilts in favor of the artist. It is the artist's gaze, and what catches her attention, that she then translates through her hand into a lasting image. The sitters in Jordan Casteel's work, however, return both the artist's gaze and ours. They invite our respect with their eyes, implying a genuine exchange between artist and sitter. Far from being passive models in an impersonal setting, they are pictured either in the comfort of their homes, on the streets of their neighborhood, or at work. "There are certain eyes that are asking and other eyes that are demanding," Casteel notes. But in her work, there is no turning away.
Image at top: Jordan Casteel speaking at the media preview for Jordan Casteel: Returning the Gaze.