Following the trauma of World War II, American architects and designers began to explore new ways of living and reimagined ordinary objects throughout the home in innovative ways. The Eames Storage Unit (ESU), a lightweight system of freestanding cabinets, was promoted as an inexpensive solution to the changing storage and display needs of postwar families. With the end of wartime rationing and a booming economy, Americans were acquiring more goods, and the storage and creative display of their possessions became a significant interest. Constructed of plastic-coated plywood, enameled Masonite, and enameled steel framing, the ESU was an example of Charles and Ray Eames' continuous effort to design and produce economical household furniture using industrial production techniques.
In designing this system, the Eameses took their cue from the type of metal shelving found in warehouses and factories; no attempt was made to disguise or soften the "nuts and bolts" vocabulary of its industrial parts. These various components were entirely interchangeable and could be easily combined into almost limitless configurations to suit the desires of the consumer; whether in living rooms, dining rooms, bedrooms, or anywhere else. The units were available in single and double widths—in the 100 (one unit high), 200 (two units high) and 400 (four units high)—as well as desks.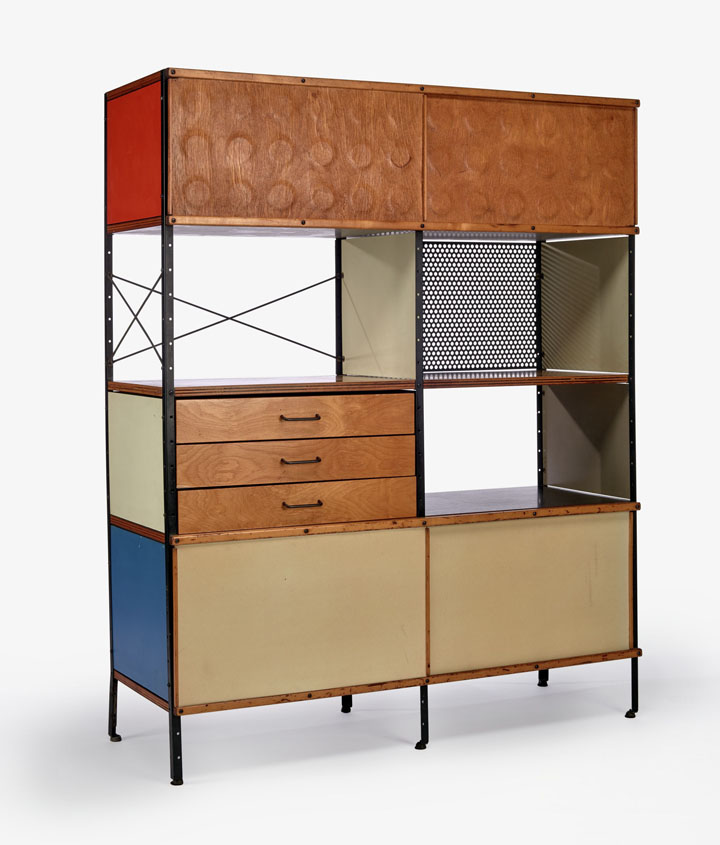 PLAYFUL APPROACH
As husband and wife, Charles and Ray placed play at the core of their lives and work; it was a dominant personality trait, a work ethic, and an undercurrent of their design process. Expressing the couple's playful approach, the ESU turned furniture into a creative plaything—a kind of Tinkertoy for adults. Although the perforated steel framework was standardized, buyers could choose from many options to customize the interior arrangement. Shelf tops were made of plywood with an upper veneer of birch, walnut, or solid black plastic laminate. Sliding door options included a thin birch plywood with a vacuum-pressed circular or "dimple" design. Enameled Masonite, produced in eight colors (including brilliant red, yellow, and blue), was used for filler panels. Perforated metal backs were also available. Owners could also take them apart and rearrange or add on, treating the furniture as a series of modular boxes, amendable as needs changed.
The Herman Miller Furniture Company began marketing the Eames Storage Units in 1950. The first-edition cabinets were originally sold as a knockdown product, requiring customers to screw and bolt the parts together. Assembly tended to be laborious, and Herman Miller later offered the storage units fully assembled around 1952. A new and stronger leg with a triangular support replaced the earlier light-gauge legs of the initial knockdown version, which occasionally buckled when mishandled in shipping. Production of the ESU ended in 1955.
The first-edition 400-series ESU, a recent addition to the architecture and design collection, is featured—alongside other works by Charles and Ray Eames and other designers—in Serious Play: Design in Midcentury America. Organized by the Denver Art Museum and the Milwaukee Art Museum, the exhibition opened in Denver on May 5, 2019.
Image at top: Gallery view of Serious Play. Photo © Denver Art Museum.