Inside the Collection is a series from the DAM's curatorial team detailing the history and significance of a piece from our collection. Find an archive of art stories on our blog and explore more by viewing our entire collection online.
Altarpiece, gifted to the Denver Art Museum by Yoko Ono, is considered Keith Haring's final work, executed weeks before he died of AIDS on February 16, 1990. It serves as a testament to the power of creativity and the artist's willingness to share his vision even as he was mortally ill. Featuring his signature hieroglyphic figures, this bronze triptych recalls Christian altarpieces as well as devotional shrines dedicated to the deities of world religions. Determined to finish it before he died, Haring rapidly cut the design into clay, which was later cast in bronze. Using a loop knife instead of a brush, and without making any preliminary sketches, Haring found freedom and spontaneity working on the panels.
The graffiti-style figures that emerged are related to a personal religious narrative based on the martyrdom of Christ—an unusual subject for the artist. Stylized figures reach upward, gesturing towards heaven, while fallen angels fill the side wings of the triptych. In the center, we see Haring's "Radiant Baby" supported by hands in a tender embrace as a metaphor for the infant Christ. According to the artist, the luminous or enlightened child was the "purest and most positive experience of human existence," an image that implied universal hope and redemption.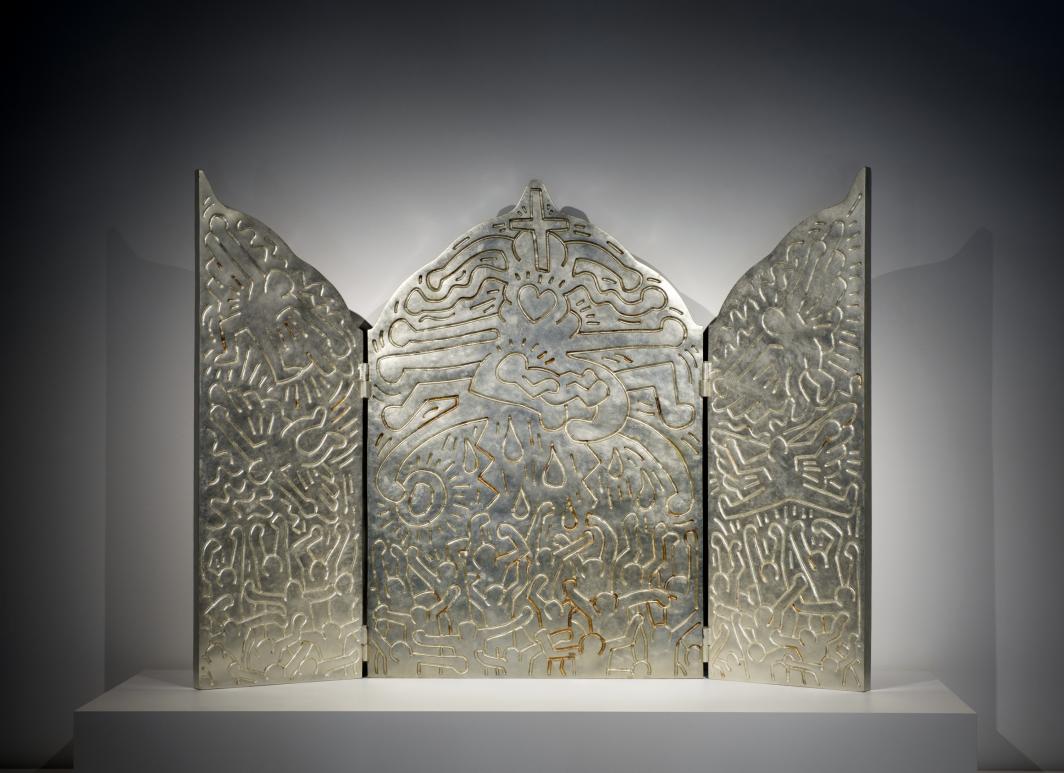 Altarpiece was posthumously cast. The first edition became a monument to the artist when it was dedicated during Haring's own memorial service at the Cathedral Church of Saint John the Divine in New York City. It reflects Haring's fundamental belief that art "should be something that liberates the soul, provokes the imagination and encourages people to go further." Altarpiece is an homage to the people who succumbed to AIDS, memorializing and commemorating those who fell victim to the epidemic. This work encourages us to mediate on vulnerability, mortality, and loss, while offering the possibility of reconciliation through a moment of prayer or meditation. It invites the viewer to heal the wounds of the past and reimagine a more peaceful future filled with love and compassion.
Image: Keith Haring, Altarpiece, 1990 (cast 1996). White gold patina on bronze. Edition 2 of 9 Denver Art Museum: Gift of Yoko Ono, 1996.204A-C. © The Foundation of Keith Haring