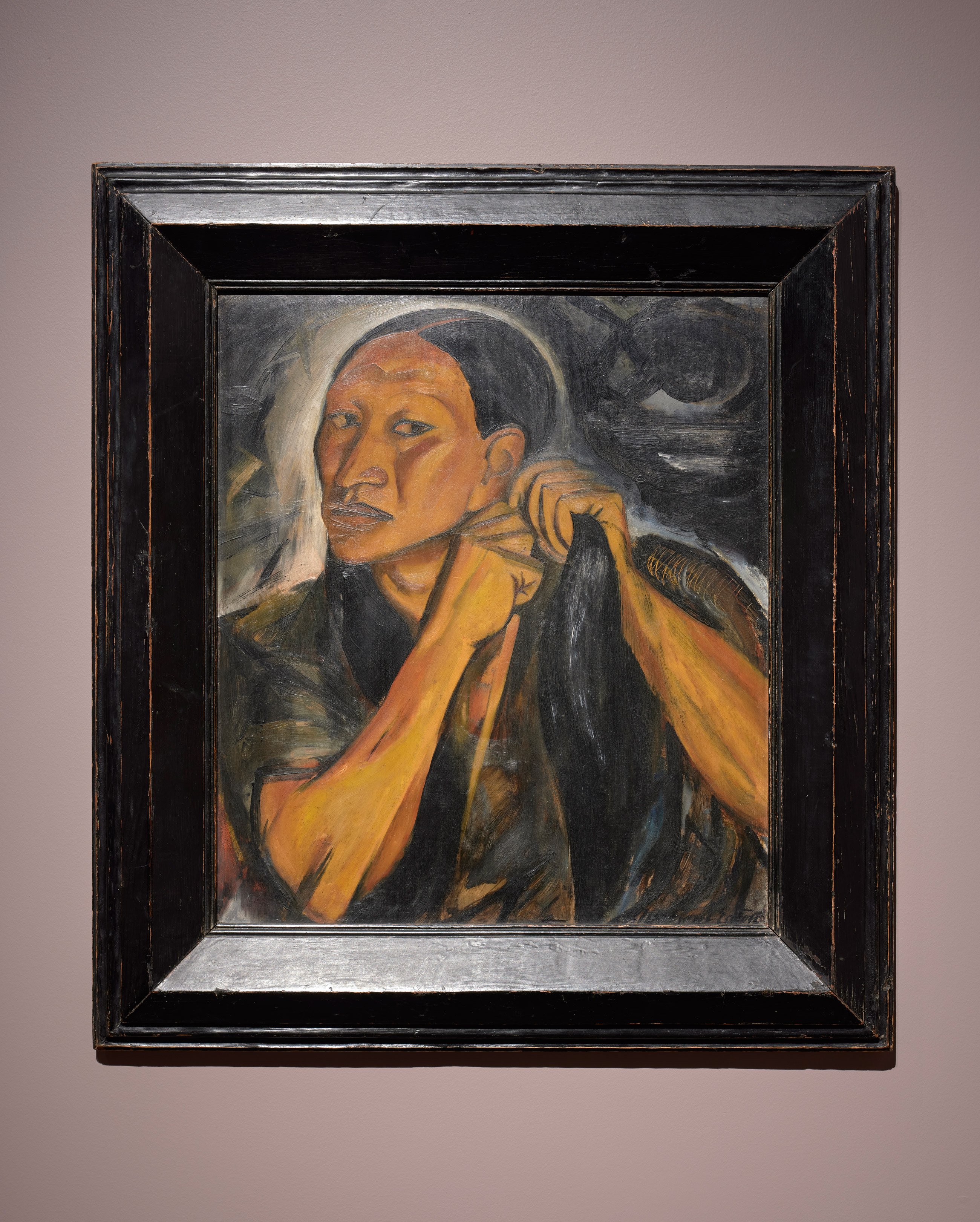 When planning the reinstallation of the Martin Building's galleries, we wanted to expand outside of our collection and bring in specific works that helped tell stories in each gallery. One such piece was brought to our attention after seeing a thoughtful exhibition of the works of Marjorie Eaton, which had been on display at the Taos Art Museum at Fechin House in 2020. The piece in question was Juan Braiding and because of the compelling presence of the work, combined with the remarkable artist who created it, the Denver Art Museum was excited when the owner agreed to let us display it in our western American art Modern Portraits gallery .
Born in Oakland, California, in 1901, Marjorie Eaton was fortunate to have Edith Cox Eaton, a creative mind and well-regarded British dressmaker, as a stepmother. Edith would take young Marjorie along on dress-buying trips to Europe, and these early trips fueled in Marjorie an interest in the arts. A consummate student, she studied at several institutions including the School of Fine Arts, Crafts and Decorative Design in Boston, the California School of Fine Arts in San Francisco, the State School of Florence, Italy, and eventually the Arts Union League in New York City.
Her style was heavily influenced by modern artists of the era such as Matisse, Cezanne, and Picasso. This modernism is apparent in a work like Juan Braiding, a portrait of Juan Mirabal painted during her time in Taos. Notice the thick blocks of color, the strong lines making up his face and figure, but also the striking intimacy of the work. She pulls the viewer into the tight and confined space that she shares with her subject. She lived in Taos on and off for five years, where she and Juan developed a romantic relationship and the closeness between them is apparent in his portrait. Even after the relationship ended they remained good friends, and she helped establish Juan's own artistic talents. He went on to be a well-regarded painter in his own right.
Throughout her career as an artist, she was quite active in the modern art scene, exhibiting artworks in various exhibitions and becoming close friends with many well-known artists, including photographer Edward Weston, and sculptor Louise Nevelson. California artist Lucretia van Horn introduced her to Diego Rivera, who would invite her to help him with his murals at the New Workers' School while she was studying in New York City. He and his wife Frida Kahlo later invited her to visit them in Mexico City where she could continue her artistic training. After a few years, she left to live on her own in the remote Mexican mountain village of Pahuatlán, painting and photographing the locals before returning to California upon learning of the death of her father.
It was only after this, in the early 1940s, after she had spent many years as an artist that she decided to switch to acting. She was primarily considered a character actor, with roles ranging from Miss Persimmon in Mary Poppins to an uncredited part as Emperor Palpatine in Star Wars: The Empire Strikes Back. And while her acting career would last four decades, it was only half of the story of this talented artist. A story filled with famous personalities, art, and adventures; a story as interesting as any she presented on the silver screen.