Norman Rockwell: Imagining Freedom features illustrations that have been cemented into American culture for many years. The exhibition is historic, focusing on events that helped shape America from the Great Depression through the Civil Rights era and the role that popular illustration had in people's response to those events. Even today, these illustrations remind us of where American values are rooted. Yet, it is obvious that these images are only telling one side of the story.
Rockwell's illustrations of the Four Freedoms reflect a certain time, and only certain citizens, creating an idealized image of an America that left very little room for groups of underrepresented people. In his 1960 book, My Adventures as an Illustrator, Rockwell stated: "The view of life that I communicate in my pictures excludes the sordid and the ugly." In other words, in the beginning of Rockwell's career, he preferred to create feel-good images that did not necessarily portray the reality of the world around him.
In contrast, in a 2013 interview artist Kerry James Marshall said: "We tend to assume there is one history of America: the mythical, heroic narrative of an all-inclusive, grand project that had at its inception the goal of embracing differences and treating all as equal. If we allow ourselves to be lost in this mythology, we overlook the more disturbing, less humane dimensions of our history."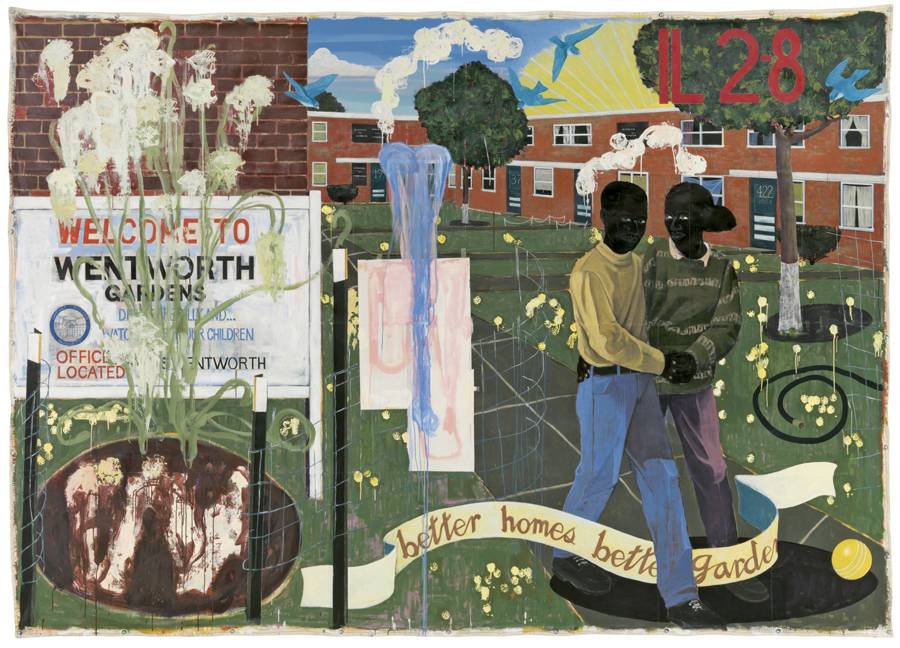 How can we be part of the change?
During these turbulent times it is rather difficult to define what change looks like. For many, these are the changes they have been fighting for their entire lives. The only problem is that their voices and stories have been largely overlooked by the dominant narrative. Change needs to start from within, and we need to hold ourselves accountable for our actions. Only then, will we be able to focus on creating a better future.
As we move forward, we all need to commit to taking the first step toward change. In the exhibition we have included prompts asking our visitors to reflect on the question "We all want a better future; has anything changed?" regarding several issues explored in Rockwell's artwork and the artworks of others in the exhibition:
Economic inequality
Privilege
Detainment
Militarization ("The war on…")
Racism
Please join the conversation on Instagram and Twitter. Use #FourFreedomsToday so that your response will be projected onto a wall within the exhibition for others to read and reflect upon.
Norman Rockwell: Imagining Freedom is included with general admission, which is free for members.
Image at top: Norman Rockwell (1894-1978), Freedom of Speech, 1943. Oil on canvas, 45 ¾" x 35 ½". Story illustration for The Saturday Evening Post, February 20, 1943. Collection of Norman Rockwell Museum. ©SEPS: Curtis Licensing, Indianapolis, IN. All rights reserved.