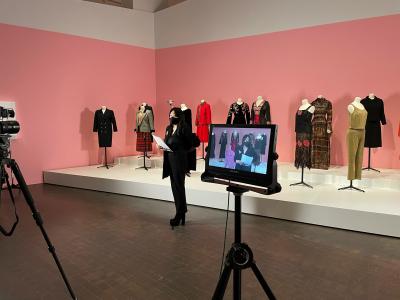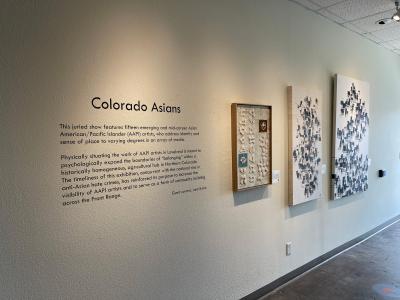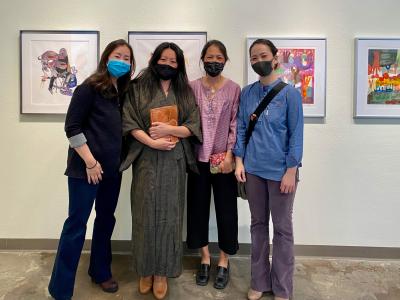 Do you do any creative or community based work outside the museum? How would you describe it?
I have recently been freelance curating exhibitions as a form of community building for various galleries and art nonprofits.
What's your motivation for this work? Why is it important to you?
I have been wanting to apply my curatorial and project-management skill set to other models outside of museums, which function at a faster, more immediate pace.
My motivation is to work with living artists and to create platforms to express alternative narratives in response to the current socio-political climate.
In the case of the Colorado Asians exhibition at Artworks Center for Contemporary Art in Loveland (on view through May 29, 2021), the two-month production coincided with back-to-back mass shootings, including Atlanta and Boulder. This exhibition, featuring 15 local AAPI (Asian American/Pacific Islander) artists, was not specifically intended to address anti-Asian hate, but speaks to the underlying root cause in its effort to combat the ongoing "othering" of Asian Americans. I wanted to expand the psychological boundaries of who "belongs" in Colorado by visibly taking up collective space to bring awareness not only to the public, but for each other. From my own personal feeling and feedback from artists and the public, it has succeeded to increase our solidarity as an AAPI community.
What advice would you offer someone who wants to be more involved with the local art community?
Engagement is key. I think this past year has taught us, even if we can't physically make it to see shows in person, we can access so many of them online. Instagram and Zoom talks have made artists more accessible than ever. So, there are plenty of ways to see who and what is out there. Obviously, nothing can truly replace seeing art in person, so of course, visiting art in museums and galleries or even in your friend's (home) studio is still, ultimately, the ideal method of connecting.
In what ways have you seen the power and importance of art and creativity exhibited while the museum was closed or since it's reopened?
Working on Paris to Hollywood prior to and during the pandemic had its set of challenges and advantages. I went to Los Angeles in February last year to secure our final shipment, which we received literally right before the lock down. So, this show in many ways feels like a miracle. Since the exhibition opened to the public in mid-March, it has been extra rewarding to see visitors soak up the ambiance of the set design created by Sort Studio and the simplicity of a Hollywood love story told through fashion. Fashion is seemingly especially nostalgic for us all right now in the case we've all been dressed down or have succumbed to "uniform" dressing in sweatpants and pajamas.
Again, this show reminds us that fashion can uplift us and help us (re)shape our identity. It will be fascinating to see how we look back at this past year through a future fashion retrospective!
Other than the DAM, where do you recommend people go to either participate in an artistic effort or see and support others' work?
There are too many places to mention, but I'll just give a shout out to RULE Gallery, where I'm guest curating another show at their satellite gallery in Marfa, Texas...and to Redline Contemporary Art Center.
Redline, as many people know, not only offers "the" residency program in Denver, but also supports countless artists through their open calls. Checking In is a particularly meaningful "call to action," which was conceived by Redline's executive director, Louise Martorano, and artists, Laura Shill and Derrick Velasquez, in response to artists impacted by the pandemic through partial and complete shutdowns of shows and venues and moreover, emotionally, through social isolation. I've joined in on the tail end to help behind the scenes, in an effort to accommodate nearly every single proposal by matching resources and physical spaces. The work of this team is true community work in action for the sake of keeping the local art scene literally alive.
Video Tours of Paris to Hollywood