Terezita "Tere" Romo, co-curator of Traitor, Survivor, Icon: The Legacy of La Malinche, is a Lecturer and Affiliate Faculty in the Chicana/o Studies Department at University of California, Davis. She has published extensively on Chicana/o art, most recently as a contributor to the Smithsonian American Art Museum exhibition, ¡Printing the Revolution!: The Rise and Impact of Chicano Graphics, 1965 to Now and A Companion to Modern and Contemporary Latin American and Latina/o Art (2022). She is the author of the artist monograph, Malaquias Montoya as well as the coeditor of Chicano and Chicana Art: A Critical Anthology (2019). She has served as the Chief Curator at the Mexican Museum in San Francisco and as the Arts Director at the National Museum of Mexican Art in Chicago. As an independent curator she has organized numerous exhibitions of Chicana/o art, including at the Crocker Museum in Sacramento, Oakland Museum, Galería de la Raza in San Francisco, Autry Museum in Los Angeles, and most recently, National Museum of Mexican Art in Chicago.
Traitor, Survivor, Icon grew out of Tere Romo's exploration of Malinche's impact as a historical figure and feminist icon. Victoria Lyall, exhibition co-curator and Frederick and Jan Mayer Curator of Art of the Ancient Americas at the DAM, interviewed Romo on her first impressions of this historical figure and the experiences that prompted the development of this project.
Victoria: Can you describe your earliest memories and associations of Malinche? What did you learn about her story?
Tere: I grew up with the image of Malinche and Cortés in Jesús Helguera's La Noche Triste. The framed print had been part of a calendar that my parents brought with us when we immigrated to the US. While I never talked to them about her or the print, the fact that it was in a prominent place in our living room made me see her depiction in a positive light. She helped explain why our family had a spectrum of hair, skin, and eye colors. It wasn't until I was in college that I was introduced to the concept and name for this racial mixture, mestizaje.
[Malinche] is a complicated person who does not fall into neat positive and negative categories.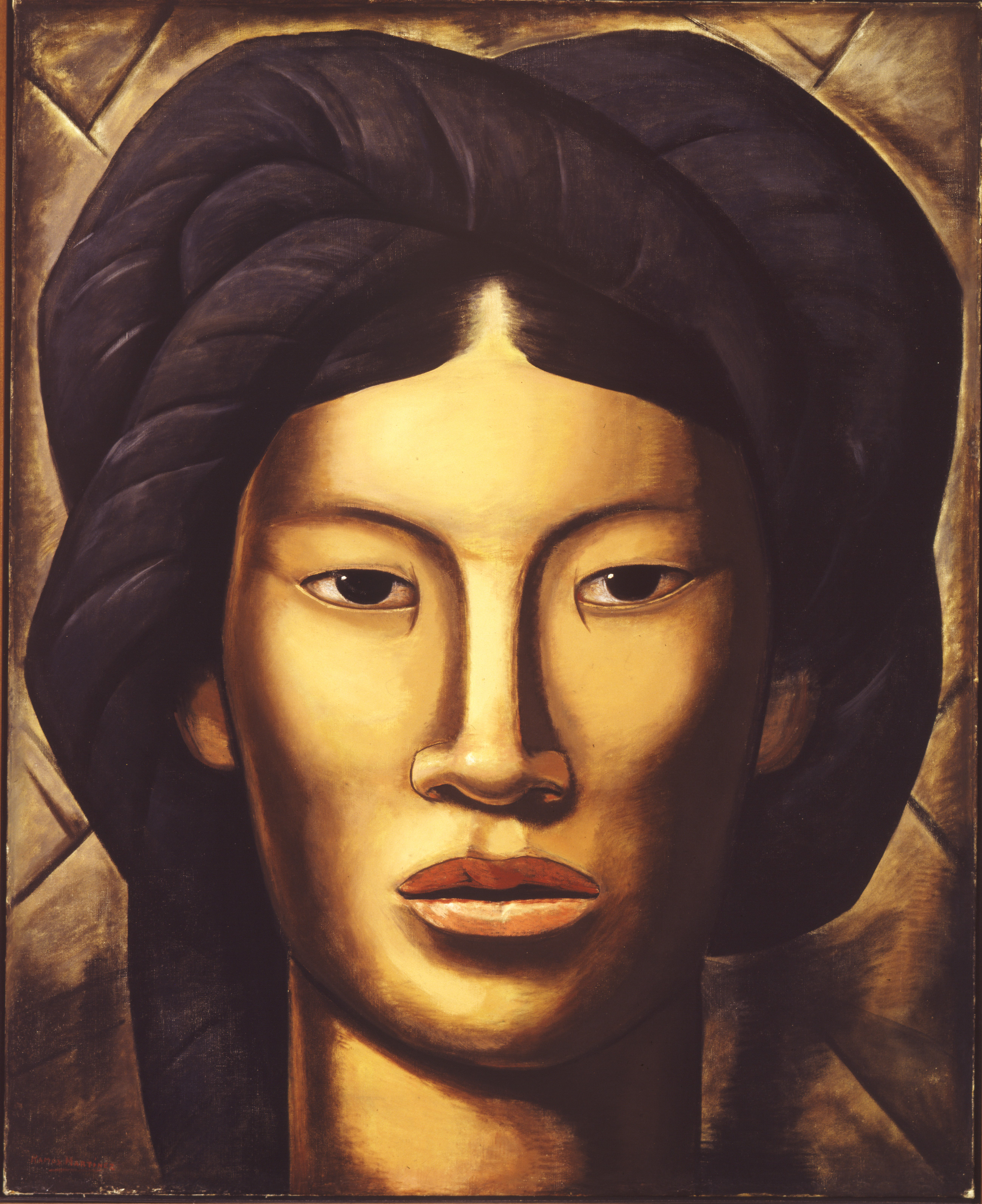 Victoria: When did you learn that people outside of your family had negative views of Malinche?
Tere: When I was in graduate school in the early '70s just as the Chicano movement was taking off. I read Octavio Paz's Labyrinth of Solitude. I had graduated from what is now University of San Francisco, and enrolled in a graduate program here at Sacramento State University (now Cal State Sacramento).
I had always been an avid reader and Labyrinth of Solitude was one of the books that we were told to read. Initially, I read [Paz's] essay on Pachucos because some of the artists that I was associated with were doing artwork [related to that theme] like Jose Montoya.
After that, I came across Paz's essay "The Sons of La Malinche." I learned that Malinche was known as a traitor, not just for being an interpreter for the enemy (Cortés and the Spaniards) but also for her sexual treachery—all of which caused Mexicans—but especially males—to be cursed and traumatized by their national "Chingada" (violated) mother.
Paz's essay was brutal in terms of castigating her and her role and basically blaming her. I couldn't believe it. Later, I heard that some Chicano professors were assigning that essay as part of their class to read. Why would you do that? I didn't understand it.
I also heard the term "malinchista" (a term derived from Malinche, which is a slur in Mexican Spanish and means to be a traitor to one's own) in Chicano movement meetings directed at Chicanas, but also at persons who favored Anglos, or gavachos as they were called then. I didn't understand why it was being leveled against Chicanas. The Chicano movement was about liberation and self-determination and the Chicanas who were being called "Malinches" were breaking out of limitations and restrictions, mostly in terms of gender roles. But, within the movement, they were being held back and told: you shouldn't be looking for leadership positions; you shouldn't think about dating who you want, even if it is a white person, because then you're betraying your race. These were seen as acts of treason against the Chicano movement.
I always found it interesting, but fitting, that it was the poets and writers who first rehabilitated Malinche, given her historical role with words as Cortés's interpreter, translator.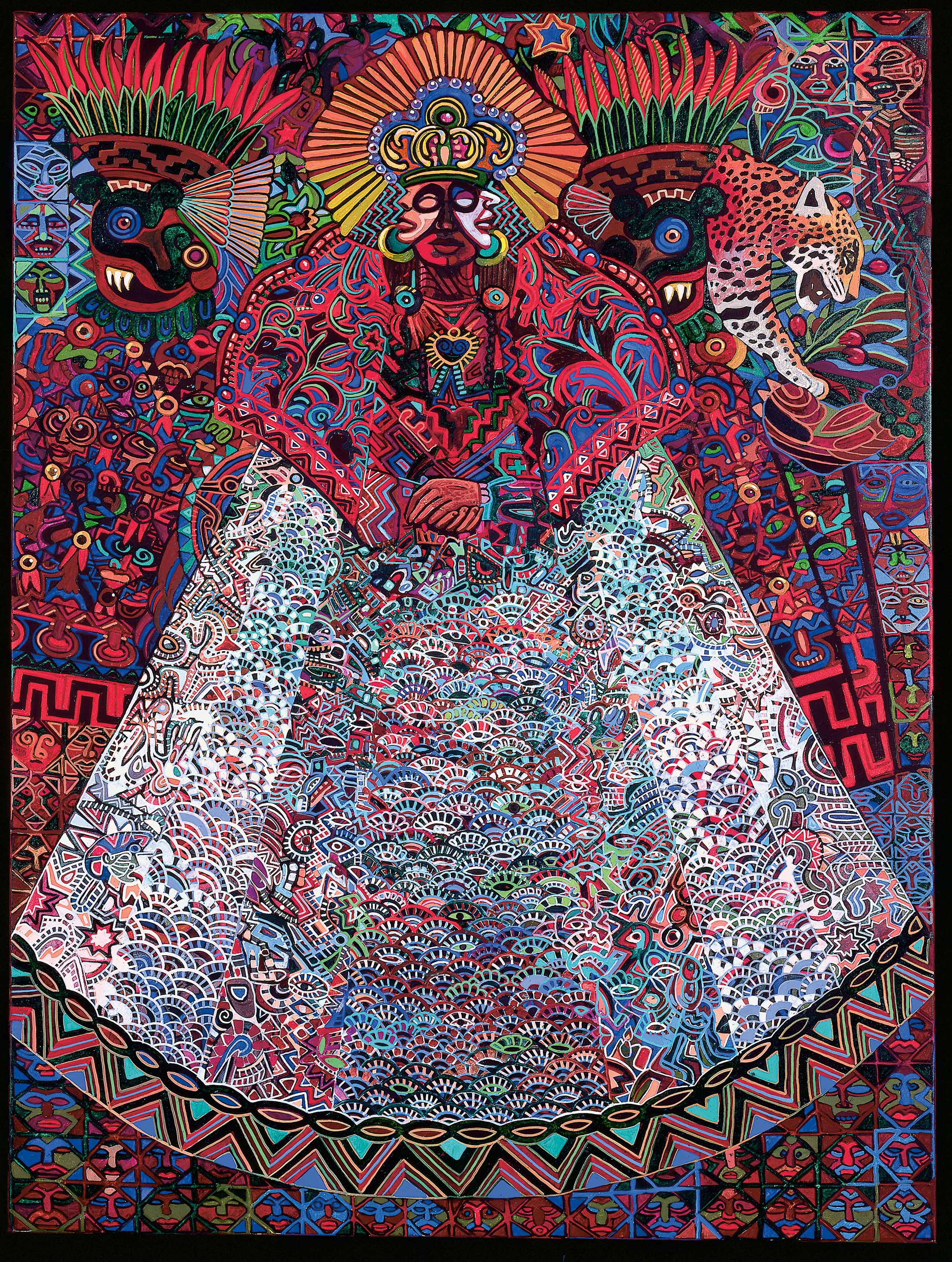 Victoria: I can imagine hearing that Chicano professors were assigning Paz and perpetuating this vision of women as second-class citizens, even among the Chicano movement, must have been demoralizing.
Tere: Yes, but I did get lucky. Because I was an avid reader, I came across La Raza Bookstore, a community bookstore that had been established by students from Sacramento State University. I started volunteering, and eventually I became director and curator of its gallery space. There, I was introduced to a wider variety of books, including Chicana poetry and scholarly writings. I discovered the poetry of Adalijza Sosa Riddell and Alicia Gonzales, both of whom referenced Malinche, not only as a historical personage, but also in rebuttal to her use as an affront to Chicanas. There were all these layers and all of these obstacles that made Chicanas feel very much like second-class citizens and caught between cultures. I think that is what appealed to them when they read about Malinche and the fact that she was caught between two different worlds.
Victoria: If I understand you correctly, there's a connection that bridges the centuries between them. The struggle that they see in her story mirrors the struggle that they are living in their present.
Tere: Right. Yes. I think it's important because it speaks to me about the relevance of someone like Malinche. And, so, I think part of it is the ability to take a historical figure like that and be able to see themselves in her and what she had to deal with. It's something that I think is unique to Malinche, especially for Chicanas not only during that Chicano movement period but today.
Victoria: You hunted down so many of the early poems that first rehabilitated and reclaimed Malinche. What impact did they have on you?
Tere: I always found it interesting, but fitting, that it was the poets and writers who first rehabilitated Malinche, given her historical role with words as Cortés's interpreter, translator. I think the poets, especially, saw themselves as conduits for her words and her perspectives in order to rescue her, her legacy, and her voice.
This is reflected in the first Chicana essay about Malinche, which was published in Stanford's Chicana journal, Imágenes de la Mujer. Delia Islas weaves a story about her mother's strength and the opportunities it gave her in pursuing higher education—she was a student at Stanford at the time—with her own discovery of Malinche. I love this quote of hers, "For too long, only men have written our history and I feel have done injustice to this extraordinary woman." For Islas, Malinche's legacy is tied to the resilience of her mother, other women like her, and in her awakening as a Chicana. It's not only about standing up for Malinche, but saying this is all part of the larger issue, which is men get to tell the story. They get to tell the history. So we either get left out or we are interpreted through their eyes. I think that's one of the main things that she wants to talk about: the absence or erasure of Chicana history.
So for me there was this confluence of narratives: Paz's essay with its brutal accusations, Chicanos' invocation of Malinche's name to control Chicana behavior, and the Chicana poems and writings that refuted these patriarchal and racist personifications of her. Writers like Sosa Riddell pushed back on the use of Malinche's name to keep Chicanas in their place, especially by male leaders fighting for Chicano liberation. Given my prior personal experience with her as a positive figure, I was fascinated and intrigued by these multiple and competing views of her.
Victoria: She re-emerges as a subject in the 1990s. Chicana visual artists feature her heavily in works created in the first half of the decade, and like the poets, she's portrayed positively. What was the catalyst? What kind of relationship do you see between the artists and their subject?
Tere: In the early '90s with the promotion of Columbus Quincentenary celebrations Chicana visual artists—and some male artists—first begin to create positive images of Malinche. It becomes an opportunity for Chicana/os to counteract the sanitized "discovery of the New World" media blitz and educate the public about the destruction of cultures and genocide of Indigenous people that resulted from Columbus' accidental landing in the Caribbean and subsequent European invasions.
Chicana artists took this opportunity to recover Malinche as part of the reclamation of pre-Conquest Mexican history. They participated in group exhibitions, such as the Counter Colon-ialismo and the more specific Rethinking Malinche show at the Mexic-Arte Museum in Austin. I think that they also saw it as a way to highlight female figures left out of the Chicano-centric rewriting of Mexican and American history.
Whereas the poets and writers had given her a voice, visual artists were now giving her an image, an actual body and a presence.
I hope our visitors will be able to experience the multiple dimensions of her life as presented in each section—as Indigenous woman, slave, interpreter, negotiator, mother....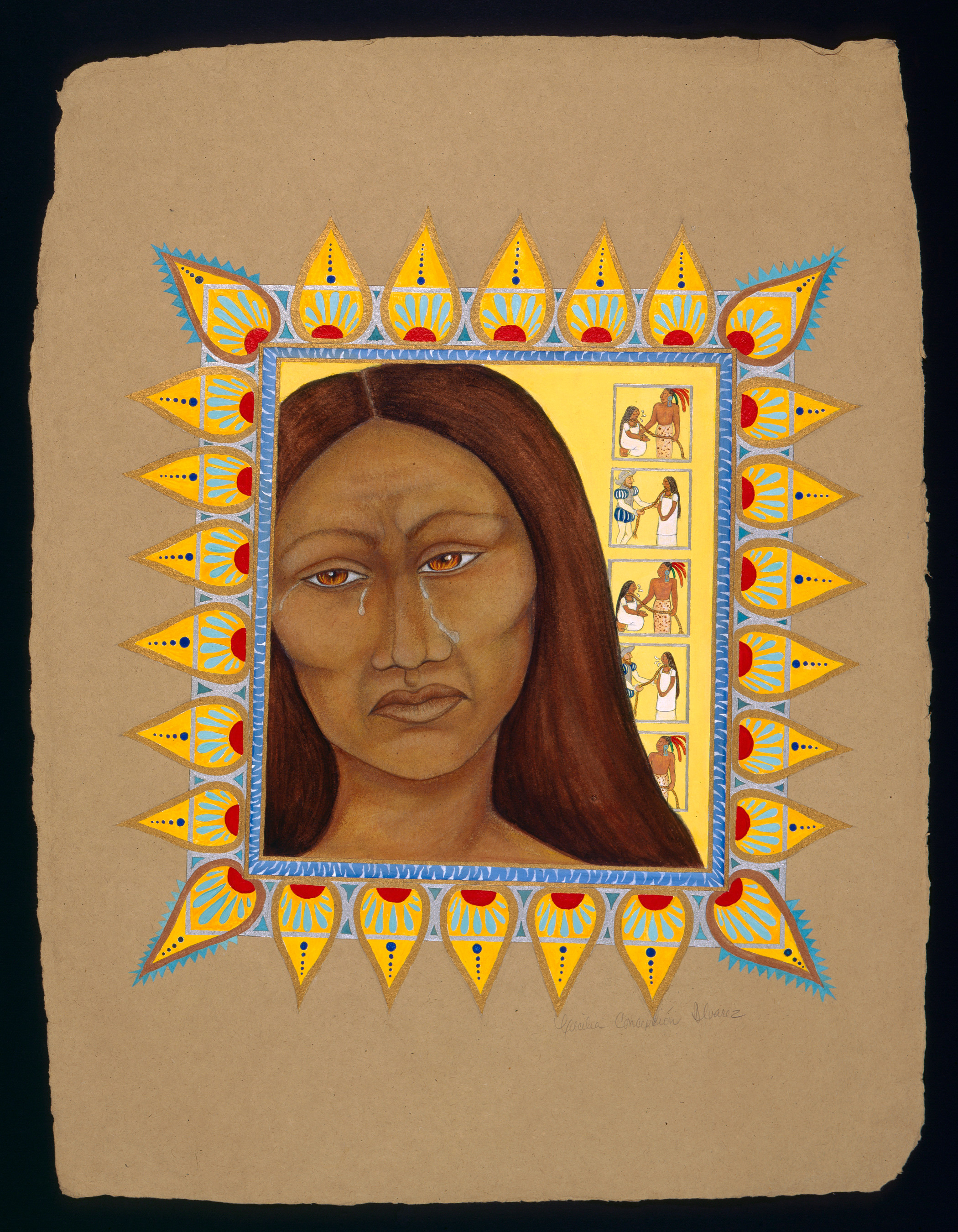 Victoria: You were working as a curator during this period. What are some of your memories of the early reactions to these works?
Tere: When I was the director and curator at a community art organization, we presented exhibitions that featured artworks of Malinche, including those by Santa Barraza, Delilah Montoya and Cristina Cárdenas. In 1995, I became aware of Mexic-Arte's exhibit of contemporary art on Malinche. I contacted Sylvia Orozco, the curator. She was very generous and sent me slides of all of the artwork and the artist statements. What impressed me was the range of the work in Austin: it focused on contemporary artists and they were not all Chicanas. There was Regina Vater, who's from Brazil, for example.
I think what impressed me about the art created by Chicanas was the range of portrayals—some more narrative works that featured images of her story as exemplified by Santa. Others placed her in a lineage of other strong females, like Delilah and Cristina. There were also examples of Malinche being transformed into family members, such as those by Annie Lopez and Gloria Osuna Perez. There was this desire to show her in multiple ways that humanized her as well as cast her as a historical figure. I think that is when I began to formulate an exhibition grounded in metaphors—in how she came to represent/ stand in for different narratives—negative and positive—that supported specific agendas depending on who was recounting her life and legacy. All of this motivated me to begin research for an exhibition while I was the chief curator at the Mexican Museum in San Francisco.
Victoria: It's interesting that Malinche at this time became a point of interest for so many artists around the world. And yet one of the strange discoveries of our research is that in the decades since Malinche fell out of consciousness for young artists. Why do you think she faded from view? Did the body of work from the 1990s not have a longer impact?
Tere: I don't think that Malinche has fallen out of consciousness more than other historical figures do—male or female. For example, there are not a lot of images of Zapata now, not like during the Chicano Movement or in 1994 with the Zapatista uprising. Yet, he remains a potent figure for artists.
Malinche continues to be an important image for some artists, like Santa Barraza who continues to depict her and recently she was discovered by Sandy Rodriguez as part of her research into the Florentine Codex. Others were reintroduced to her—especially in Mexico—because of the commemoration activities related to the Fall of Tenochtitlan. I think that exhibitions such as ours will continue to keep her relevant as well as provide another means for younger artists to learn about her.
Victoria: What prompted you to embark on this project in the first place? How do you feel about where it ended up after all these years?
Tere: Personally, I think that I wanted to understand how this person, whose image I saw everyday growing up as positive, could be seen as a vile traitor by the majority of Mexicans and even politicized by Chicanos. She's a complicated person who does not fall into neat positive and negative categories. Her life as a teenaged female slave, within the context of cultural and political turmoil during the Spanish invasion made for a very complex set of decisions and reactions on her part.
As a curator and art historian who deals with images and their impact, I am fascinated with how artists throughout the last five centuries have created Malinche's image to transmit their story about her. Within that, it became important for me to support the art of Chicanas who not only saw themselves in her but also an obligation to channel her side of the story—from a women's perspective, which in the art world—here and in Mexico—is very limited. I think that as co-curators we were able to provide a wide range of artworks that explore the power of Malinche's image over 500 years in Mexico and in the US as well as support divergent viewpoints regarding her legacy.
Victoria: What do you hope visitors will take away from this project?
Tere: As with all historical figures, there will always be interpretations of their life and its meaning. This is made more complicated with protagonist involved in momentous events, such as the conquest of the Aztecs, in which Malinche was a key figure. I also believe that one exhibition cannot—especially the first of its kind—be all encompassing or the final word. However, I hope our visitors will be able to experience the multiple dimensions of her life as presented in each section—as Indigenous woman, slave, interpreter, negotiator, mother—and including being a traitor and icon. And that after they consider all these facets of her life, viewers will come to a more multilayered understanding of her and her legacy.