The Denver Art Museum seeks to establish a safe, welcoming, and respectful environment that ensures the widest range of people will enjoy, learn from, and be inspired by their visit. We aim to support full access to museum spaces, exhibitions, and programs for visitors of all ages and abilities. One of the ways we have provided access to our exhibitions for visitors with low vision and blindness is with our Exhibition Access Guides. These online guides enable visitors to take a closer look at the artworks and corresponding wall text of the exhibition from the comfort of their own digital device. Inside the entry wall of each exhibition is a QR code to load the guide onto your phone. Alternatively, by visiting the DAM's Accessibility web page from a home computer, a visitor can browse the guides online ahead of their visit.
Alt Text
Visitors with low vision can access these guides through screen readers—assistive technology that converts text, images, and other screen elements into speech or braille output. In order to ensure that our guides are accessible to screen readers, we attach alternative text (alt text)—short visual descriptions—to every image in an exhibition guide. In fact, all the images on the DAM's website, and in each Exhibition Access Guide, have alt text. Including alt text for images adds valuable information for screen reader users who cannot otherwise access this visual information. Furthermore, alt text is also a benefit for people who have low quality or unstable internet (as alt text shows up on a webpage when an image does not load).
Alt text should be short and sweet—100 characters or less—and describe the general content and purpose of the image (i.e., what is important for people to know and understand about the image?). When writing alt text for works of art, we consider the reader and the context of the exhibition (the exhibition labels and extended content written by curators and interpretive specialists), as this helps inform what information is most important to describe for each work of art.
There are best practices for writing alt text for typical images, as well as practical guidelines for describing artworks. Yet even with these guidelines and tips in hand, creating alt text for an Exhibition Access Guide is a complex endeavor. This was indeed the case for the exhibition Simphiwe Ndzube: Oracles of the Pink Universe. For this exhibition, Ndzube created eight large-scale artworks that combined themes related to power, conflict, and the search for freedom through a Pink Universe, an imaginative world that combines fantasy with the history of the artist's post-apartheid South Africa. It seemed impossible to condense the intricate narratives of these artworks into 100 characters and truly feel that we had included ample information for our visitors with low vision to access. Due to the rich complexity of the images, and the relatively small size of the exhibition, we decided to create lengthier image descriptions for each artwork.
Image Descriptions
Like alt text, image descriptions provide descriptive information of an image or space that enables people who are blind or have low vision to form an image in their mind. A description may be anywhere from a couple of sentences to multiple paragraphs; the complexity of the image will contribute to the length of the description.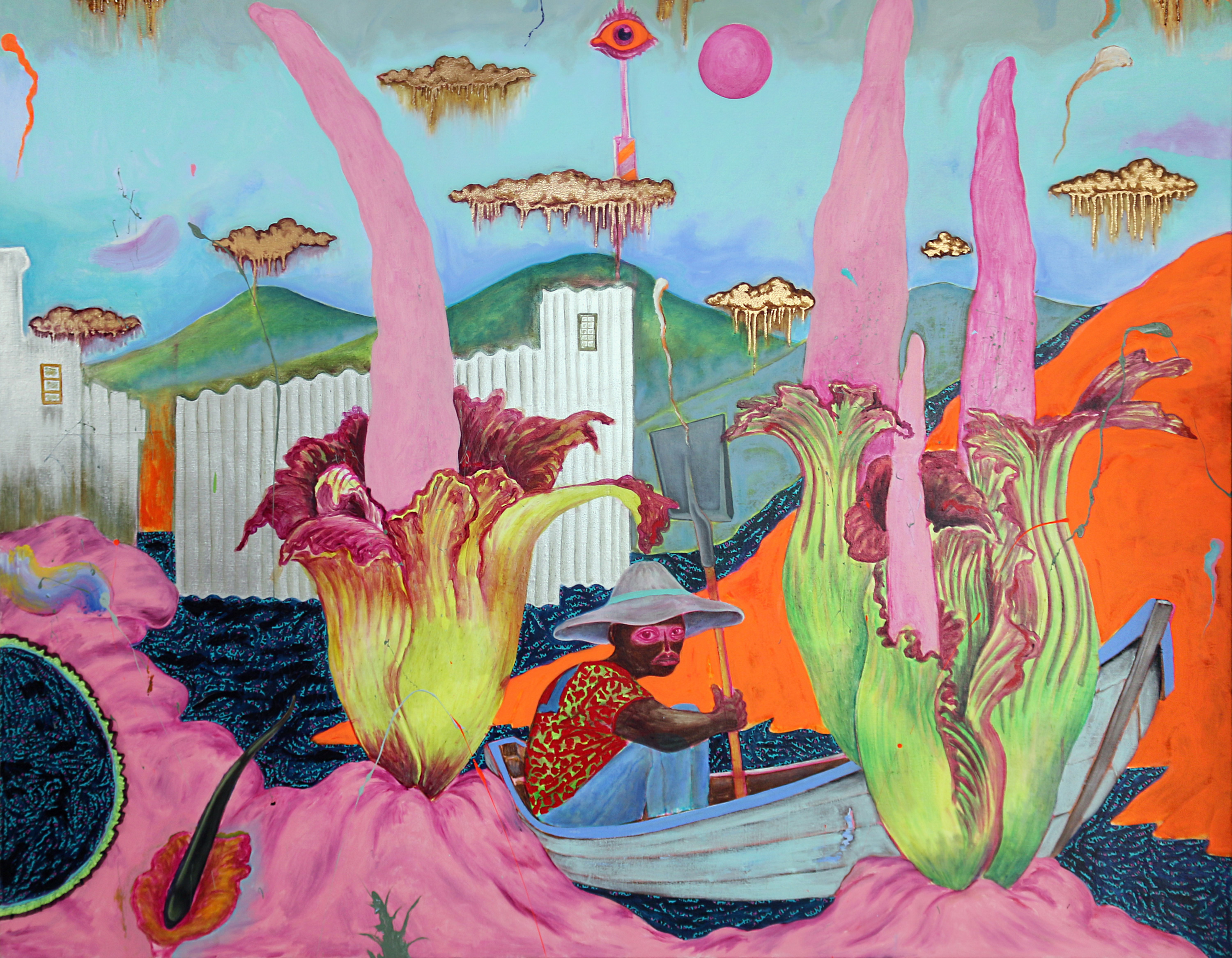 To create image descriptions for Oracles of the Pink Universe, we worked with Beth Rypkema, founding partner of Artful Access and an Audio Description Specialist. Rypkema reviewed background research and exhibition content and spent multiple hours in the exhibition before it opened. The writing process took time and artistry—Rypkema crafted illustrative descriptions that highlighted the many intricate details and multimedia imagery of each artwork. She even added a playfulness to the descriptions to match Ndzube's creativity, as seen in the opening line of her description for The Bloom of the Corpse Flower:
We stand in front of a celebration of pink—a pink sun, copper clouds with pink highlights, and four gigantic pink flowers rooted in pink soil.
In the description for When Grass Meets Fires, we are immersed in a multisensory experience: "Rolling hills of shamrock green. Distant rivers, lakes, and moody mountains. You can almost smell freshly cut grass and hear the buzzing bees."
Each description transports the reader into Ndzube's Pink Universe, whether you can see the paintings or not.
Image descriptions of artworks are not just for visitors with low vision and blindness—though that is the main audience. These expressive depictions also support sighted visitors to notice elements and details they may have overlooked upon first glance. We encourage you to explore Oracles of the Pink Universe through these image descriptions and see what surprises you find. Visit the Exhibition Access Guide and click the 'Show image description' button found under each artwork.