As the Native arts department's inaugural Andrew W. Mellon Postdoctoral Curatorial Fellow, my first assignment was a project to provide provenance (ownership history) information to the St. Louis Art Museum about objects once in the Denver Art Museum's American Indian collection.
One goal of the project was to acquaint me simultaneously with the Native arts department's old card catalog, the DAM's online database of objects in our collection, and correspondence and records related to the collection. These are some of the tools that I will be using regularly during my fellowship.
Unique Records
I thought all of these elements would be similar to those that I had encountered at other institutions. However, I was surprised, delighted, and intrigued by the Native arts department's card catalog. What makes these records so unique is that the majority of the cards include hand-painted drawings or sketches of the artworks, some of which were executed by Works Progress Administration (WPA) workers. To put it simply, many of the cards are themselves works of art.
Below are examples of some of the catalog cards, as well as photographs, so you can see how the artists captured the vivid details of each of the artworks.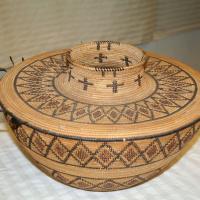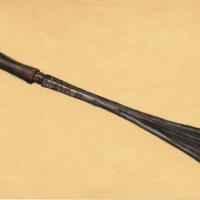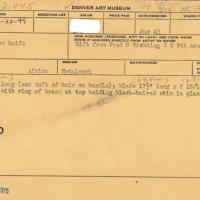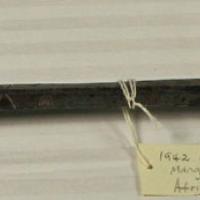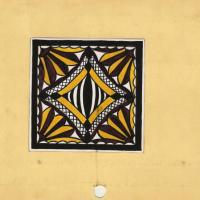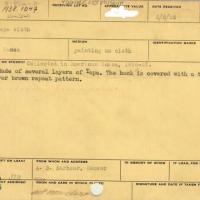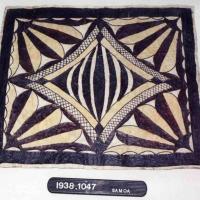 The card illustrations span the Native arts department collections, including African, Indigenous art of North America, and Oceanic arts. They were begun by museum staff in the 1920s and continued until the 1970s or 1980s. Beginning in the 1930s, a majority of the cards were illustrated by WPA workers. Frederic H. Douglas, one of the DAM's preeminent curators, commissioned the WPA workers when the museum was low on funding and many Americans were in need of employment.
The workers not only illustrated the card catalogs, but also repaired textiles and made dioramas for the museum amongst other things. The card catalog illustrations are their most visible achievements, but because of their historical significance, their access is limited to researchers and the Native arts department staff.
Who Were the Artists?
We do not know much about the WPA artists who worked on the card catalog drawings; nevertheless, some of the cards are signed. We know some of their names such as, "Roy Hunt," and "O.M. Johnson" and "Red Robin," a man thought to be a member of the Zuni nation. If these names sound familiar and you have any information about the WPA workers who worked on these cards, the Native arts department would appreciate you sharing this information with us.
The Native Arts department's card catalog is quite special. The DAM is amongst a small group of museums that have such a captivating catalog.