Like many people, the staff at the Denver Art Museum has been dealing with how to stay inspired and creative while quarantined. Below are some of the ways 20 of our team members have kept themselves occupied and energized at home these past few weeks:
1. Lizzie Terry Dolan, Associate Director of Development
I have been doing a lot of cooking! I am trying new recipes, but often having to adapt to what we have in our pantry and fridge—being creative! Here are a couple of my favorite quarantine recipes so far: Greek Chicken & Lemon Rice; One Pan Spaghetti with Cherry Tomatoes, Olives, and Lemon; and Crispy Tofu and Broccoli with Peanut-Sesame Pesto.
2. Laura Caruso, Director of Publications
I've been trying new recipes to keep things fresh. I challenge myself to use up all leftover ingredients—half a jar of sauce from the other night's pasta becomes jambalaya sauce tonight. I've also been painting (pictured above). I am not sure it's done but I am leaving it alone for now. But can I also say that if every day is not productive or creative, that's ok? My sister is homeschooling her two kids while her husband—an essential worker—goes about his job. She's been furloughed. They're on Long Island. So no shame! Just getting through the day counts right now.
3. Eric Berkemeyer, Project Manager
I recently participated in Adobe's Photoshop Daily Creative Challenge. It is sort of a nine-day mini class. There is a live instructor for 30-minutes each day at 10 am MDT (or, you can watch a recording later). They demonstrate a basic skill or technique and then participants are tasked with completing and posting the related challenge. If Photoshop isn't your thing, Adobe offers other similar projects for their various programs.
4. Greg McKay, Associate Director, Retail Operations
I have been sewing face masks for our community and other sewing projects, like making puppets for Poppy (my granddaughter). I've also been working in the garden when there isn't snow.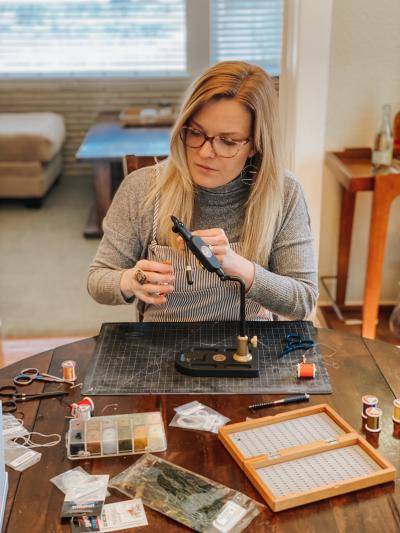 5. Katelyn Odenheimer, Program Assistant
I have been learning new fly patterns to tie. Fly tying combines all of the important aspects of my life: art, fishing, and meditation. It challenges me creatively and keeps me grounded. I am looking forward to fishing when quarantine is over!
6. Stefani Pendergast, Assistant Collections Manager
I've also been sewing face masks! I've been using fabrics purchased from one of my favorite local craft stores, Fancy Tiger Crafts, and I'm hoping to have 20 finished this weekend to send off to Operation We Can Sew It. Additionally, I've been doing a lot of baking (many of the recipes have come from my colleagues, a few of which I've linked below), and my husband and I broke out the old Xbox Kinect so I can exercise to one of my favorite dance games, Dance Central 3.
And here are some of the recipes I've been using for baking: Almost No-Knead Sourdough Bread; Sourdough Crackers (to use up the excess starter); and Tasty Toaster Tarts.
7. Sarah Rockett, Coordinator of Creative and Public Engagement
Gardening and sun breaks—any reason to be outside and get some sunshine. Sewing face masks for family, friends, and coworkers. And yoga with cats—it is increasingly more difficult to create boundaries between daily activities and pets.
8. Heather Haldeman, Associate Registrar/Exhibitions
I don't qualify as very creative, but it was nice to get back into yoga and running with our dog. I've also been learning the hard way how to bake at high altitude here. And I've been biking whenever possible—cheers for JeffCo open space parks!
9. Laura Levy, Coordinator of Family Programs
I've taken up embroidery in the past couple of weeks. It's been kind empowering to try different types of stitches and find that they aren't actually as difficult as they look. Plus, it's a great activity to do while watching highbrow, educational documentaries (read: Tiger King).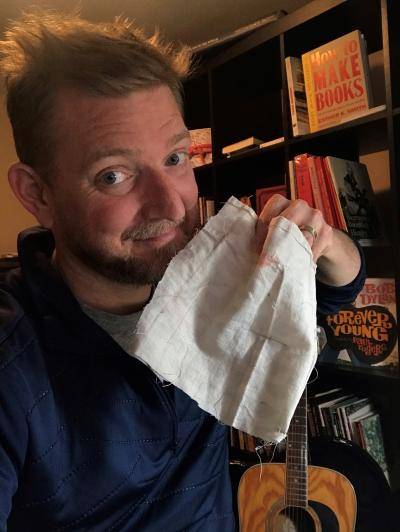 10. Adam Million, Major Gifts Officer
Here are a few ways I'm staying creative, fit, and full (not in that order): For gluten-sensitive folks, I highly recommend the Chocolate Chip Banana Oat Bars. For the savory fans, the Bacon Fried Rice with Kimchi is life-changing. For those who like it hot and spicy, order some of the Flatiron Pepper Company spices and try out one of their recipes or make your own or just put them on pizza. Also life-changing. To fight back all the delicious food you're making (or hot dogs I'm eating), there are a lot of home workouts available. I'll plug the Les Mills at-home workout app. Body Combat is a good way to train for your starring role in the new The Karate Kid: Quarantine Edition and de-stress. And for anyone looking to learn an instrument or improve their ukulele shredding skills, many of the instructors at Swallow Hill Music are now offering online lessons.
Finally, I busted out the sewing machine my mother gave me years ago for the first time. I cut up an old pillowcase and have been folding remnants of it and stitching them together. Eventually, I'll work my way up to making a few masks.
11. Robyn Halvorsen, Accounts Payable Specialist
I set up a mini "home gym" in our basement until I can get back to the real gym. Taking the dogs for walks—I have three so that equals two walks a day (weather permitting). I tried walking all three at once and decided I wouldn't look good in a full body cast. I also have an old wooden dresser that I'm in the process of sanding and refinishing.
12. Erin Cousins, Associate Manager of Creative and Public Engagement
After procrastinating for years, I finally sat down and wrote a draft of a children's book. This idea has been in the back of my mind for ages—it feels great to finally put it on the page.
13. Eric Stephenson, Photographer
I'm mainly trying to entertain my seven-year-old, and help her out with online school. I also took apart a couple of electric guitars to do some work on the frets and play around a bit with the internals on one of them. I don't know how creative that is, but it does help to pass the time.
14. Erica Richard, Coordinator of School Programs and Teaching Resources
I have been working on lots of painting and drawing, and making teaching resources lately. However, something I have started that is just fun and joyful is pom pom making! What will I do with all of the poms poms you ask? No idea! Anyone need a garland or key chain?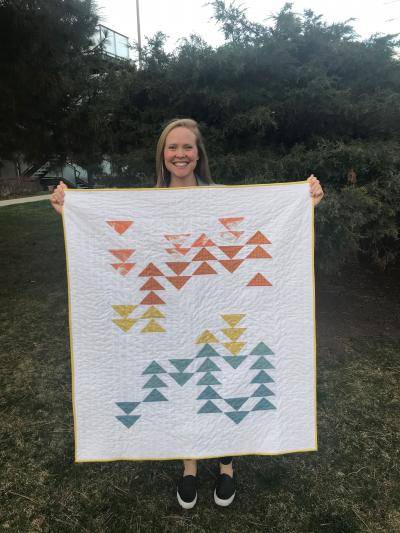 15. Kati Woock, Editor
I made a quilt (my first!) for my baby (also my first!). I also made 66 masks—41 for Operation We Can Sew It and the rest for friends and family. Jumping on Stefani's plug for Fancy Tiger Crafts! They are the best.
16. Jodie Gorochow, Associate Director of Creative and Public Engagement
I have been wanting to try a creative practice I could do at home and have always looked at embroidery. I've always put it off, as I thought it was too hard or that I didn't have time. When all of this uncertainty began, I decided to order my first embroidery kit. Four weeks later, I have completed three designs and am on my fourth! The repetitive motions and the focuse required for each stitch has been an incredible catharsis. It takes my mind off of my anxiety, fear, and the uncertainty, and in a small way has restored more joy to my day-to-day life.
17. Laura Pratt, Director of Human Resources
I took the mattress off the spare bed to keep kickboxing, with guidance from Total Fitness Kickboxing Littleton. The cardio and ab workout is the best. No supplies are needed, so try it out! It's free and the owners are fun and amazing.
18. Melora McDermott, Chief of Audience Engagement Strategy
My apartment is ridiculously full of sharp objects: X-Acto knives filled with non-sterile surgical blades for paper cutting, knitting needles of all shapes and sizes for projects including knitted beads (a great stash buster), and freshly sharpened knives in my kitchen. I'm also indulging in Ingrid Lee's book, Joyful: The Surprising Power of Ordinary Things to Create Extraordinary Happiness. It has led me down numerous wonderful rabbit holes, including discovering Arakawa and Gin's reversible destiny lofts in Japan and an amazing pencil store in New York.
19. Dahlia Lopez, Coordinator of School and Community Programs
Beading is something that helps calm my hands and breathing to manage my anxiety during this time. I've been beading for years but amazing works by artists (such as Jeffrey Gibson) have inspired me to push my practice as a way of exploring my identity.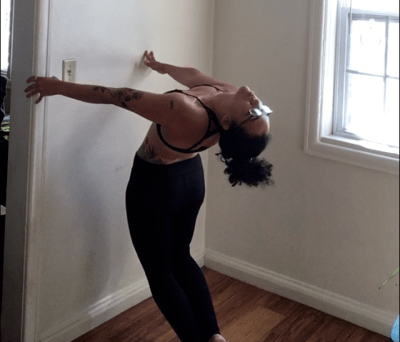 20. Janée Artis, Intern
As a dancer and a musician, I was unsure about how to express myself creatively in my home being that I don't have aerial silks in my apartment nor any musical instruments at this time. A fellow dancer and Instagrammer (@ladyly.pole) created a series of prompts called #NoPoleNoProblem, which inspire creative movement using things that you have around you (a chair, the wall, etc.). It has been very stimulating and inspiring to challenge myself to create choreography with objects that I've never really used before. Throw on your favorite tunes and have a go at it!