Rare-earth magnets are frequently used in the mounting or hanging of textiles, as has been previously highlighted in Denver Art Museum blog posts on the installation of American Indian, Chinese, and resist-dyed objects. For the recent installation of the exhibition Printed and Painted: The Art of Bark Cloth the museum used these magnets to hang Oceanic bark-cloth textiles, or tapas, on metal bars suspended from the ceiling.
This hanging technique involves placing the metal bar on the back of the tapa along the top edge and applying magnets to the front of the tapa, creating a sort of bark-cloth "sandwich." We used smaller magnets throughout the body of larger textiles for added support.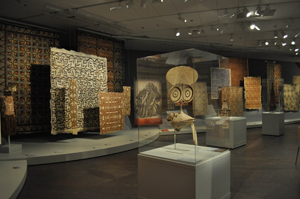 One consideration when using magnets to hang objects is how to disguise them. The bare magnets have shiny, silvery surfaces that would distract the viewer and detract from the overall visual harmony of the installation. The conservation department provided a solution by covering and painting the magnets to blend with each textile.
First, we cut strips of Japanese paper and toned them to the general background colors of each tapa. We then cut the paper to size and wrapped it around the magnet, taking care to ensure that there were enough layers of the paper over the front surface to obscure the magnet's color and shine. We used acrylic paints to mimic the pattern of the bark cloth in the exact location where the magnet was placed. Finally, we applied thin pieces of board to the back of the magnets, adjusting the magnet to an appropriate strength.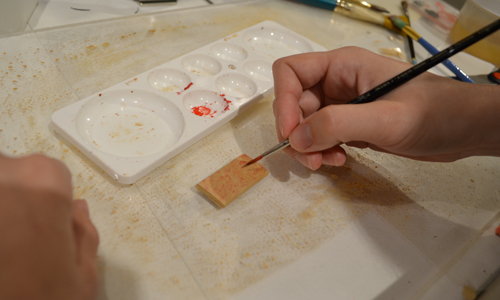 The result is a strong, safe, and effective display technique allowing the textiles to hang elegantly without the visual distraction of hanging mechanisms. See if you can pick out the magnets on your next visit to the museum.
Top image: Close-up view of rare-earth magnets wrapped in paper and painted to blend in with the pattern of the tapa.