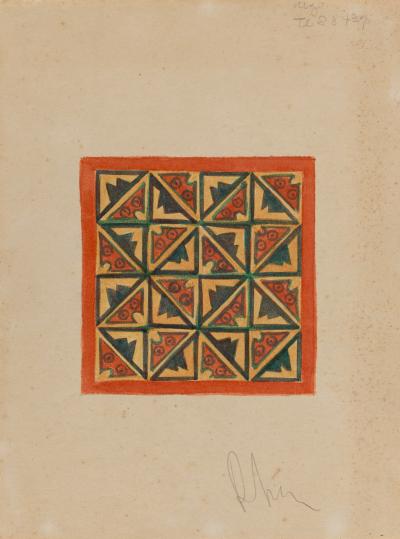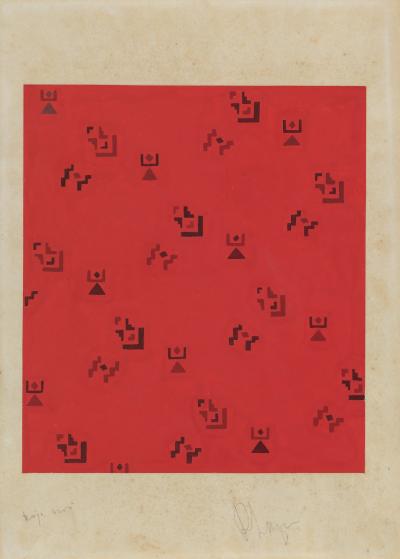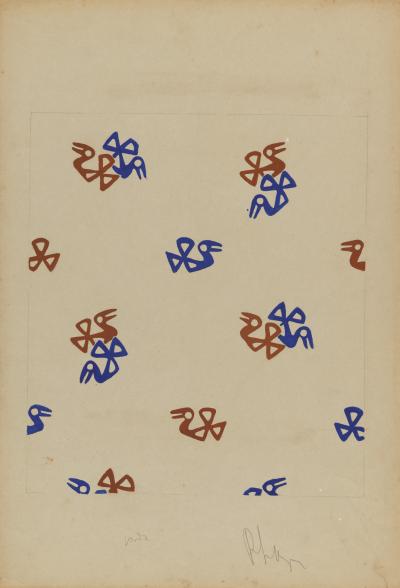 A few years later, in 1921, Luza became Harper's Bazaar chief fashion illustrator. Although Luza was originally hired to work for Harper's New York City office, in 1922 he relocated to Paris, where he produced illustrations for various editions of the magazine. While in France, Luza worked closely with some of the most important fashion designers, illustrators, and artists of the time, including designers like Paul Poiret, Jean Patou, the House of Worth, Coco Chanel, Madeleine Vionnet, Edward Molyneux, Elsa Schiaparelli, Lucien Lelong, Cristóbal Balenciaga, and artists such as Salvador Dalí, Carl Erickson, Max Ernst, and Man Ray. In 1937, the government of Peru appointed Luza, together with Elena and Victoria Izcue, as artistic directors of the Peruvian pavilion for the 1937 Exposition Internationale des Arts et Techniques dans la Vie Moderne in Paris. However, due to war hostilities in 1939, Luza returned to New York City, where he continued his work for Harper's. That year he collaborated again with the previously mentioned Izcue sisters, in order to design the Peruvian pavilion for the 1939–40 New York World's Fair.
Fashion and Textile Design
In 1940, Luza traveled across South America for several months. The trip reconnected the artist with his cultural origins, and sparked creativity. Once back in New York, he prepared a fashion collection presented in November of that year at the luxury department store Bonwit Teller's. Virginia Pope, who was considered the most influential fashion journalist during the period, wrote for The New York Times about Luza's collection:
"An interesting new liaison was established yesterday afternoon between North and South America —the catalyst on this occasion was fashion … the costumes, vibrant with color, lent themselves in an extraordinary manner to translations into the idiom of New York fashions."
This collection was a turning point in Luza's career. In 1940, Luza shifted to working on fashion and textile design, drawing inspiration from Peru's ancient cultures. He introduced in his design practice what he called "The Colors of the Andes," which was a chromatic palette that reflected the nature and colors of South America.
In the 1940s and 1950s, textile designs were receiving a certain attention, mostly because textile production was being promoted and was vital in the role of recovery for the economies of the Americas after World War II. When Luza started to design fabrics, he would utilize recovered motifs that he found in ancient Peruvian textiles, which he collected. He reinterpreted them in his "The Colors of the Andes" chromatic palette. His choice of colors, the hue vibrancy, and the historical precision of many of his designs can also be interpreted as Luza's longing for his homeland, and its artistic and cultural traditions.
It was around this time that he also ventured into interior design. In 1941, Nelson A. Rockefeller, then Coordinator of Inter-American Affairs, commissioned Luza to design the United States pavilion for an exhibition in Guatemala; and later, in 1943, he designed the interiors for the Peruvian embassy in Washington D.C. During his time in New York, he designed movie costumes, including those for the 1944 movie The Bridge of San Luis Rey.
In 1950, Luza permanently relocated to Lima, Peru, where he focused on interior and fabric design, becoming the preeminent 1950s and 60s Peruvian interior designer. Despite his experienced work as a designer in the 1940s and 50s, Luza, a skillful artist, kept working on multiple mediums such as drawing, painting, and photography. He regularly exhibited his work as a portraitist, which gained renown in New York and Peru high society circles. Inspired by the majestic ruins of ancient Peruvian cultures and the beauty of the rocky desert Peruvian coast, from the 1950s until his death in March 1978, he also engaged in landscape painting giving him a prominent place among local artists.