The highlight of the Denver Art Museum's Ganesha: The Playful Protector is a seventh-century sculpture from Cambodia, a remarkable work of sacred art on loan from the National Museum of Cambodia.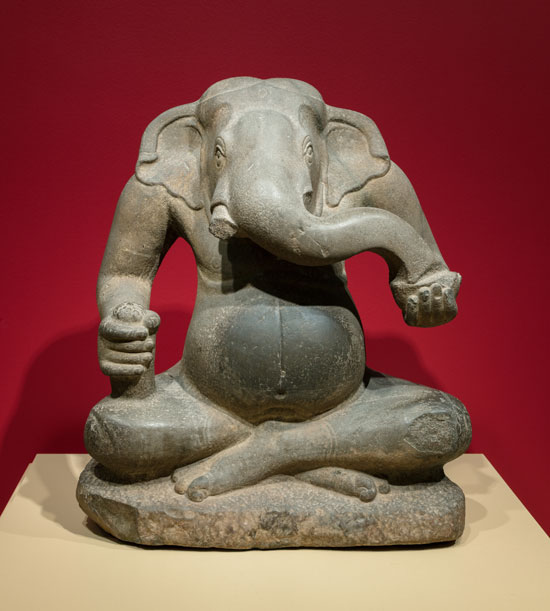 Visitors to the exhibition will note that the belly of this Ganesha is quite a bit darker than the rest of his body. This is due to the practice by some devotees of touching the feet or belly of the figure for luck. Since visitors are not allowed to touch artwork in the galleries, we decided to commission an additional Ganesha sculpture that is touchable.
Many of the works in the Ganesha exhibition are from India and so it felt appropriate to commission the stone sculpture from an Indian artist well-versed in traditional Hindu practice and appropriate image construction.
Artist Sumant Shetty began the work by completing a clay mock-up of Ganesha complete with four of his typical attributes: the axe, the rope, a bowl of sweets, and his broken tusk (you can learn how Ganesha broke his tusk in the gallery game in the exhibition). Once the mock-up was completed, Sumant began carving the image out of Jaisalmer sandstone, a strong stone commonly used in Indian temple construction. The statue was then shipped to Denver from India, where he took his place at the entrance to the exhibition.
In their original temple sites, many of the Ganesha images would have been covered in offerings: flowers, coins, or powders and pastes specifically created for this purpose. For our touchable Ganesha, we commissioned local artist Sangeeta Reddy to create a silk flower garland to mimic the garlands used in practice. The result is a welcoming and approachable (and, touchable!) Ganesha. With each subsequent visit, look for Ganesha's belly to darken over time, a visual reminder of his welcoming nature.
In addition to providing a visual link to the Cambodian work, this touchable Ganesha is a part of the museum's upcoming Access programming. He will be featured in the next Tactile Tables programs in December.
Ganesha: The Playful Protector is included with general admission, which is free for members and youth 18 and younger.