Colorado painter and muralist Frank Mechau (pronounced "may-show," 1904–1946) championed the American West as a subject for modern American art. His 1934 painting Rodeo #1, which visitors can see in the western American art galleries on the seventh floor of the Martin Building at the Denver Art Museum, marks a pivotal year in Mechau's early career and represents a strong statement of his ideals about American art.
Mechau grew up in Glenwood Springs, Colorado, and attended the University of Denver before he moved east to New York then on to Paris where he worked for a few years and traveled across Europe. He returned to Colorado at the height of the Great Depression in 1932, and his success in Europe helped him establish a place in the Denver art scene. 1934 proved to be a monumental year for Mechau. He received his first of many mural commissions through the New Deal's Public Works of Art Program (PWAP), painting the successful Horses at Night for the Denver Public Library. In May of 1934, Mechau was awarded the prestigious Guggenheim Fellowship, becoming the first Colorado artist to achieve this honor. The Guggenheim Fellowship provided financial support over the course of a year for promising intellectuals and creatives who were required to spend their year of study abroad. Exceptionally, Mechau was allowed to stay in the United States during his fellowship; instead of returning to Europe, he spent the summer in Colorado's Roaring Fork Valley, among the mountains in which he was raised. In Cile Bach's book Frank Mechau: Artist of Colorado, she notes that he wrote:
In this year of study I want to saturate my mind with the rich material of landscape, rodeos, horses with which this territory abounds.
He felt these to be thoroughly American subjects, and they became the focus of his art.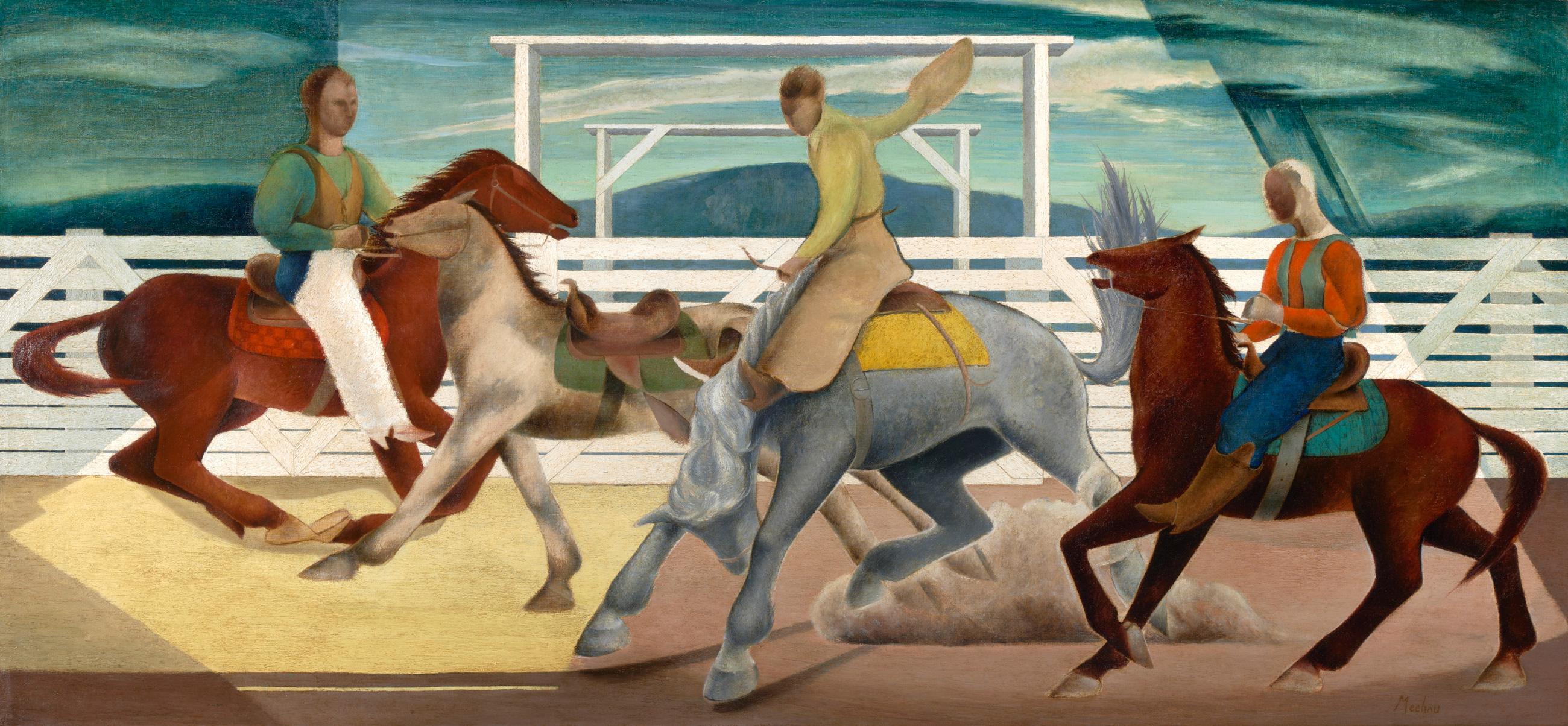 During this summer in the mountains, Mechau painted Rodeo #1, an energetic rodeo scene featuring four horses and three riders in front of a bright white fence and dramatic, cloudy sky. This work is characteristic of Mechau's early style. His use of one-point perspective, simplified figures, and strong linear forms reveals his interest in early Italian Renaissance and modern European painting. By juxtaposing the horizontal, vertical, and diagonal lines of architectural forms with the curving lines of horses and riders, Mechau expresses a sense of energy and vitality.
At the end of 1934, Mechau submitted Rodeo #1 to the Second Biennial of Contemporary American Painting at the Whitney Museum of American Art in New York City. Amongst the 153 American artists—including Charles Demuth, Georgia O'Keeffe, Thomas Hart Benton, Edward Hopper, Marsden Hartley, and Grant Wood—only a handful were from the West, making Mechau's inclusion even more impressive. This exhibition of contemporary American painting centered East Coast artists and focused on the ongoing Depression. Many artists presented bleak and hopeless representations of the Dust Bowl's devastating effects in the West. Mechau, however, took a different approach. Rodeo #1 depicts a vibrant, energetic scene of the West that Mechau knew intimately. He elevates western life to a grand scale on a canvas that measures over 3 feet by 7 feet. The inclusion of Rodeo #1 in the Whitney Biennial boldly declared not only the vitality of the American West, but also the importance and viability of western subjects in modern American art.
Restoring the painting's original appearance
Before the DAM acquired the painting in 1972, the original surface coating (suspected to be a mixture of shellac and natural resin varnish) had discolored to a dull, dark yellow tone. Thick black lines were painted on top of the coating at some point. Although it is unknown who had added these dark lines, it may have been to differentiate forms after the coating had discolored and rendered the entire image monochromatic. Their heavy-handed application disrupted the composition and energy of Mechau's painting as it would have been seen at the 1934 Whitney Biennial, a point underscored by an archival black-and-white photograph of the painting from around the time it was first exhibited.
After consulting with the Mechau family, and thanks to a generous financial gift from a donor, the Petrie Institute of Western American Art at the DAM initiated the process of conserving the painting and restoring its original appearance. Paintings Conservator Yasuko Ogino removed the black overpaint and discolored surface coating, a process made difficult by extreme variations in paint application from highly textured areas of many small, fine peaks to very thin, solvent-sensitive passages. The painting transformed from a drab, though dynamic, subject into the lively and expressive masterwork that had originally been presented to the public nearly 90 years ago.