Note: This blog was originally published for the exhibition Drawn to Action. Since Don't Buy Ivory is on view again in Stampede: Animals in Art, we are republishing it.
In 1989, designer Kiyoshi Kanai depicted a charging elephant in his poster Don't Buy Ivory, a work created for the World Wildlife Fund's effort to raise awareness of the illegal ivory trade in Asian countries. "I designed the poster at the time feeling the fierce urgency to protect the African elephant from unnecessary slaughter," said Kanai by email. Unfortunately, 25 years later the slaughter continues driven by a demand for items made from rare materials including ivory.
Kanai created his elephant by using impressions from various seals. In east Asian countries such as China, Japan, Taiwan, and Korea people use seals-or stamps-as a method of identification similar to a written signature. They are traditionally used in place of signatures on documents, letters, or art.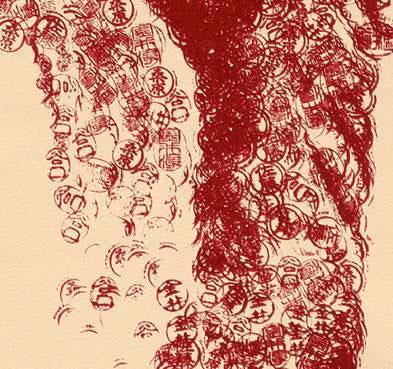 Kanai said the small individual stamps that make up the elephant include his family name Kanai (金井), as well as personal seals he borrowed from Japanese friends living in New York City at the time. His use of this simple and traditional tool highlights the complexity of a modern global problem. Ivory has long been used to make seals and one that is custom-made from ivory signifies wealth for many people. "By showing an angry elephant, I wanted people in Asia to realize that a small seal that fits in your pocket must come from a large, dead elephant," wrote Kanai.
According to the U.S. Fish and Wildlife Service, elephant poaching and ivory trafficking is at its worst in decades. U.S. buyers help to create demand for ivory and are a factor in the global market that threatens elephants in Asia and Africa with extinction. On November 14, 2013 the U.S. Fish and Wildlife service conducted a huge ivory crush at the Rocky Mountain Arsenal National Wildlife Refuge outside of Denver. The goal was to try to slow the illegal trade in ivory and draw attention to the global elephant poaching crisis. More than six tons of ivory seized by U.S. Fish and Wildlife Service law enforcement from the late 1980s to the present, including tusks and carvings made of ivory, was pulverized using a rock crusher.
Image (top): Kiyoshi Kanai, Don't Buy Ivory, 1989. Offset lithograph; 40-1/2 x 28-3/4 in. Denver Art Museum: AIGA Design Archives: Gift of AIGA, 2007.6171. Image courtesy of AIGA Design Archives.