Claude Monet's paintings of his waterlily pond at Giverny are some of his most renowned works. The Denver Art Museum will have a dozen of these paintings on view in Claude Monet: The Truth of Nature (October 21, 2019-February 2, 2020). To prepare for the exhibition, I talked on site with Tamara Kilbane, curator of aquatic collections at the Denver Botanic Gardens, about their Monet Pool. Some of our conversation will be included in the adult audio tour that visitors can use during the exhibition. In the meantime, learn more in this excerpt from our conversation, check out Tamara's blog about the Monet Pool, and see the waterlilies that are in bloom now at the Denver Botanic Gardens.
Stefania Van Dyke: Tell us about waterlilies.
Tamara Kilbane: Waterlilies are aquatic herbaceous plants, so they don't have woody stems that persist through the winter months; they die back in the fall and new growth comes up in the spring. They can be found growing in bodies of still water. So, no rushing water or waterfalls; like the one next to us here that would be splashing the leaves. They grow from rhizomes (modified stems running underground horizontally) in the muck at the bottom of the pond. They start blooming in late spring, about mid- to late-May. The plants continue to bloom all the way through September, normally. This year, due to our cool and wet spring, the waterlilies were late to come into bloom but they are currently putting on a spectacular show.
SVD: What do you know about Monet's water garden, and the types of lilies he grew?
TK: Monet grew and painted hardy waterlilies. He got many of them from Frenchman Joseph Bory Latour-Marliac, who is considered the father of hardy waterlily hybridization. Later in his life, starting in the late 1800s, Latour-Marliac created over 100 hardy waterlily hybrids from species that he sourced from around the world.
The species that is native to Europe (Nymphaea alba) has a pure white flower, but he was able to get hybrids that had bloom colors from light yellow to pale pink, as well as fuchsia to deep red. Those were some of the first colorful waterlilies that people saw in Europe, and they actually first saw those in a display that he did at the World's Fair in Paris in 1889. That's where Monet first saw them as well. Monet was fascinated with them and contacted Latour-Marliac soon after to purchase the waterlilies for his garden at Giverny.
Latour-Marliac's nursery is still in operation today, and according to their website, they still have in their archives the original invoices from when Monet ordered his first waterlilies from the nursery. You can see those today when you visit.
I think Monet put a lot of attention into detail and making sure his paintings accurately depicted the plants. The spacing of the blooms, the growth habit of the plants, the color of the leaves and the blooms—it's all very accurate to what you would see with your own eye. But the way that he painted them, the style, to me, kind of brings in more of a feeling of tranquility, almost like a magical element.
SVD: How did you get interested in waterlilies? What intrigues you about them?
TK: From a really young age, I would spend summer days at my grandfather's. He had a dairy farm in Southern Oregon, where I grew up, and I would hang out and catch tadpoles in his irrigation ponds, and I just became fascinated with ponds and all the life around them. It wasn't until high school that my dad and I built a pond in our backyard, and I got my very first hardy waterlily.
I didn't know much about waterlilies at the time, about the different species or the different hybrids, but it turns out I got one of Latour-Marliac's—the first hardy waterlily hybrid that he created, which was 'Marliacea Chromatella.' It's kind of a funny thing, looking back, that I ended up with that as my first waterlily. From there I worked at a water garden nursery, right out of college, and I just thought, what better job could there be than growing these for a living and sharing them with other people? So I feel really lucky to be here, at Denver Botanic Gardens, doing just that!
Waterlilies make me feel tranquil. It's calming to see the way the blooms catch the sunlight as they float on the surface. I think a lot of our visitors come to the gardens and sit beside the pond and get that same feeling, that beneficial effect of a calm oasis in the middle of a bustling city.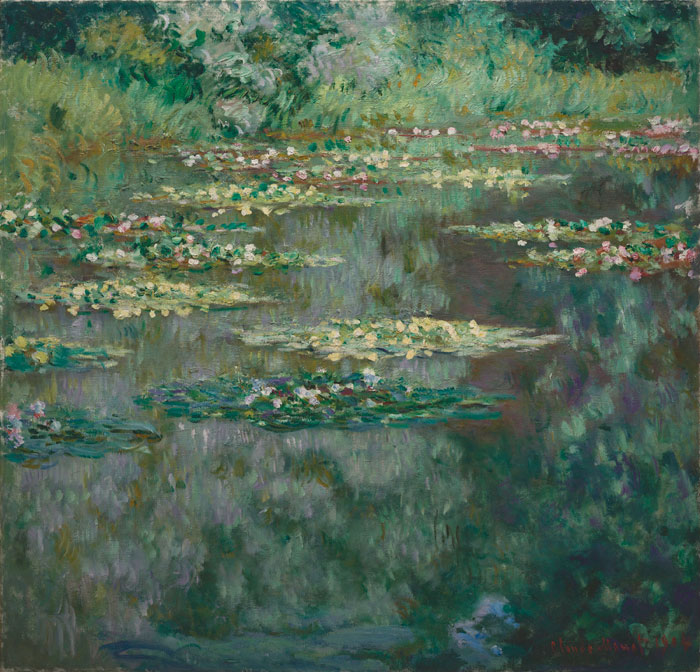 Image at top: Claude Monet, Water Lilies (detail), 1908. Oil on canvas, 31 1/2 in. (80 cm) diameter. Dallas Museum of Art: Gift of the Meadows Foundation, Incorporated. 1981.128.