In a film debuting to the public at 7:30 pm on March 23 (watch on Facebook and YouTube), Ralaya "Rai" Goshea and violinist Monique Brooks Roberts will be activating Senga Nengudi's sculpture, R.S.V.P. Performance Piece, which is on view in the exhibition Senga Nengudi: Topologies at the Denver Art Museum through April 11, 2021. Get to know Rai in the following interview we conducted after a rehearsal, and then tune in on March 23!
With my pantyhose series, in particular, it lends itself to actually being activated by movers, dancers....With these activations… it's enhancing the power of the piece as another energy, a human energy, is coming up against the sculpture.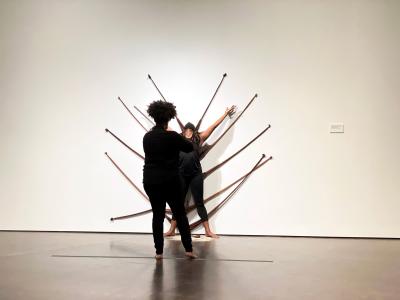 Tell us a little about yourself. What is your background?
I am a mother. I'm a wife. I just moved to Aurora, so I'm a first-time homeowner. And all of this happened in the last two years, so I've been going-going-going. I love dance. I am an artist by career. I do full-time dancing with a 52-week contract with Cleo Parker Robinson Dance, and I'm the costume mistress. So I like to make the dancers look good! I've been with that organization for 10 years—as long as I've been in Denver. I'm originally from Detroit, Michigan.
What does it mean to you to work on a project with Senga Nengudi?
It means a whole lot. I feel very honored to work with her. I think this is going to be a life-changing experience for me. I'm going to walk away from this with more knowledge and clarity and fulfillment with myself. This is kind of my first time getting to participate in a live art experience (besides just being on stage), where what I feel really matters. When you are a professional dancer, it's mainly about being a blank canvas. Working with Senga is different; she wants me to be me. She wants to see how and who I am in the context of this artwork, and allow me to tell my story as a person and as a mom.
What is the collaborative and improvisational experience like for you?
It is enlightening. It makes you more transparent. It's vulnerable for me. As a professional dancer, being told what to do is sometimes easier than just being yourself and doing. So I think that working in general with improvisation is transformational. I also feel like how I'm working with the material [the nylons], the delicacy of it, the coloring, the material, all of it is a learning experience. Just looking at her sculptures, I'm like 'wow, I would have never thought to create something like that.' On the one hand they seem simple, but then they have such deep meaning. And all of that comes into play, I feel very grounded, but very light.
What do you hope to communicate to the audience through your artistic practice? What do you hope they think about as you perform?
Anytime that I'm doing anything I always want to educate in some form. Yes, dance is entertaining, but I want to inform. I want to help to facilitate this pathway of a true commiseration with what the artist is trying to say. Even though I am facilitating body-wise, I want to facilitate the word, the personal dialogue that the artist or choreographer wants to portray. I'm hoping that I'm able to do that. Everyone is coming to understand the work differently, but as long as they understand something when they leave then I'm happy.
Is there an upcoming project that you are excited about working on?
We're hoping to do a virtual spring concert at Cleo Parker Robinson Dance where we're embedded into the local communities and converse with people through a raw dance form. I'm also excited about the Vail Dance Festival at the end of the summer, that is going to be major, I'm super excited about it.
Learn more
Rai Goshea is on Instagram and Facebook. Find information about Monique Brooks Roberts on her website, Instagram, and Facebook.