It's not fair to suggest that what makes this place [the museum] run is only the artists that made the paintings and the curators who've decided that they're interesting.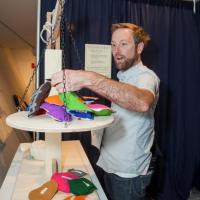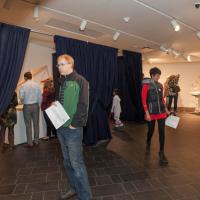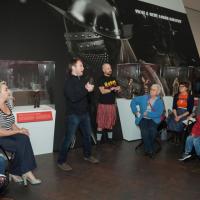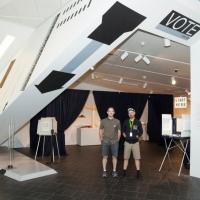 Evan Weissman and Chris Getzan brought their civic health club, Warm Cookies of the Revolution (WCoR), into the DAM from September 2015 through the beginning of January 2016, for the longest of the six residencies. With the help of partner creatives, WCoR developed an installation called Vote Every Day, a series of eight interactive stations that examined voting and civic health from different perspectives.
WCoR were present in the space for several scheduled hours each week, but they also designed the installation to work on a self-serve basis. This was the first extensively installed space in the museum designed entirely by creatives and creative partners.
The setup of Vote Every Day gave visitors options for different levels of participation and engagement, which allowed for a greater sense of personal agency. The space became a hub of conversation and local connections, and it introduced visitors to politics and civic engagement in the unexpected setting of a museum.
About the Creative: Evan Weissman and Chris Getzan make up the world's very first civic health club, Warm Cookies of the Revolution (WCoR). You go to a gym to exercise your physical health, a religious institution to exercise your spiritual health, a therapist to exercise your mental health—but where can you go to exercise your civic health? WCoR was founded to provide a forum for people to gather and discuss issues important to the community, and to take actions to be a part of the decision-making process. WCoR's name comes from the fresh-baked cookies served as both a gesture of hospitality and a reflection of the group's dual beliefs that civic participation is a group activity and that civic health is nourished by a social setting.
Image at top: Warm Cookies of the Revolution (from L to R: Evan Weissman and Chris Getzan).